David Wilson McLin
Cumberland Presbyterian Minister
1785 - 1836
---
REV. DAVID WILSON M'LIN.
No man connected with the Cumberland Presbyterian Church in Illinois, all things considered, acted the part which this father did in establishing the Church on Illinois soil. It is strange, and sad, too, that a fitting tribute to his memory has not been long since published. We feel that the data now within reach is so defective, that it is impossible to do justice to the self-sacrificing toil of this indomitable and successful minister of Jesus. It was not our privilege to meet with him, but, what is perhaps better, we have met with his mighty influence, or rather the influence of our holy religion through his instrumentality, over all our Church territory in Illinois. Everywhere we meet the saving influence of his life and noble character. Whether we traverse the country and talk with the "old settlers," or read the records of Presbyteries and Synods, the name of D. W. McLin stands pre-eminent over all others. We are, therefore, glad of the privilege to do at least a little toward redeeming from oblivion a character and life that ought to be ever held sacred by all Cumberland Presbyterians. The following touching letter from his youngest daughter in Sherman, Texas, will be read with interest:
"I, being the youngest of the family, have no recollection of ever seeing my father, and can only very indistinctly remember my mother; but I do revere and love their names, and feel to ask the blessing of God upon any one who may wish to perpetuate the memory of my sainted father. I will give a few items in reference to his early history, which may be of some importance. Having lived the greater part of my life away from my older sisters and brothers, I have had but little chance to know of my parents' history.
"My father, David Wilson McLin, was born in North Carolina, December 24th, 1785. He was of Scotch-Irish descent. His parents, James and Catherine McLin, moved from North Carolina to Middle Tennessee when he was quite young. They were of the Presbyterian faith. Father was a convert of the revival of 1800. His early education, I think, was limited, but, from what I have been told, he was a life student. He learned the tailor's trade, and at times during his whole life worked at his trade, when in need of means of support for his family. he often came home after being away preaching for days, and sat up all night working so as to leave the means of subsistence for his family while on another missionary tour, though never neglecting the work of his Master. He was received as a candidate for the ministry March 10, 1810, with Robert Donnell, Robert McCorkle, William Bumpass and William Barnett.
"He remained in Tennessee, riding and preaching, until the division of Cumberland Presbytery; then he joined Logan Presbytery. He preached in Kentucky and Tennessee until sent out as a missionary to Illinois by the Western Missionary Board, of Kentucky, which, from his journal, seems to have been in either 1819 or 1820.
"He was married in 1812 near Hopkinsville, Ky., to Nancy Johnson Porter, daughter of William and Sarah Porter. She was born in Virginia. Her parents moved to Kentucky when she was a child, and settled near Hopkinsville. They were Baptists, but she was not a member of any Church at the time of their marriage. She professed religion soon afterwards and joined the Cumberland Presbyterian Church.
"Father died in Fairfield, Ill., in the Fall of 1836. His disease was dyspepsia. He was a great sufferer a long while before he died, but continued to ride and preach as long as he could sit on his horse, and even after he had to be helped into his saddle from weakness. Just before his death he was making preparations to attend a camp-meeting a few miles from where he lived. He directed all arrangements himself. He had his camp built near the pulpit where he could lie in his bed and enjoy the meeting; but before the time for the meeting came on he grew worse. As death approached, he called his wife and children around him; bade each one an affectionate farewell; advised the older ones in reference to their spiritual interest and their mother's welfare; and then, as might have been expected from the life he had lived, had nothing to do but to calmly fall asleep in Jesus. After his death it was soon ascertained that comparatively nothing was left for the support of his family. The church then bought a place near Fairfield, and gave it to mother, at which she remained till her death, she and her older daughters supporting themselves and the younger children by their own exertions.
"Mother died in the Winter of 1838 of pneumonia. She was an unassuming quiet Christian, of a sweet, gentle disposition. She had a firm and abiding faith in her Savior, and just before her death expressed the belief that her children would be taken care of. Since then we have been a broken, scattered family, yet the Lord of the orphan, whom our parents loved and trusted, has kindly provided for and taken care of each and every one of us. Although we, as a family, have been separated the greater part of our lives, we have the blessed hope of meeting again a happy, unbroken, re-united family in heaven. Only four of us are living now. All the rest have passed through the 'pearly gates,' and are now waiting and watching for those of us left behind."
The following sketch is from our worthy brother, Rev. J. M. Miller, pastor of the church at Enfield, Ill., and who knows whereof he writes:
"In 1815 he was examining committee when John Provine was licensed. He organized Dry Fork church, Middle Tennessee, in the Winter of 1817, where, on October 7th, 1850, his youngest daughter, N. L. McLin, was converted to God. He organized Village church, White county, Ill., in the Fall of 1819; Shiloh church at Burnt Prairie, Nov. 22, 1821; the church at McLeansboro, I think; one near Shawneetown; think he organized Union church in White county; Fairfield and Thom's Prairie churches in Wayne county; and New Pleasant congregation in Gallatin county. About 1829 he moved to Equality, Gallatin county; in 1831 to Burnt Prairie, White county; in 1832 to Fairfield, Wayne county.
"At his death he left a wife, six living daughters and three sons, one son (Finis Ewing) having died July 19, 1825, at the age of 14 months and 25 days. All his children who grew to adult years became members of the Cumberland Presbyterian Church, except, perhaps, one. His fame was not only in all the churches, but in all this country. Mr. A. Stewart, an aged elder in the Cumberland Presbyterian church in Albion, Ill., soon after his arrival from Scotland, heard him preach in Carmi, White county. While the young Scotchman much admired the speaker and the sermon, he thought it strange to see a minister in a mixed jeans suit! With safety it may be said, the fruit of early labor is not only abundant here, but many, following the tide of emigration, went North and West in this State, and into Iowa, Oregon, Colorado, Kansas, Nebraska, some to Missouri, and some to Texas.
"Rev. McLin was present at the first meeting in Illinois Synod, Mt. Gilead church, Bond county, Ill., Oct. 11, 1832. At that time he, J. S. Alexander, Jesse Pearce and Richard Harris were the members of Illinois Presbytery. Within the same territory are Illinois, Ewing and McLin Presbyteries, with about 30 ordained ministers, and 85 or 90 organized churches. The Presbyterian Church was organized here before Mr. McLin came. Two of my uncles were elders. My father, James Miller, and one uncle, James Mys, became elders in the Cumberland Presbyterian Church, both possessing about equal chances. The growth of the Cumberland Presbyterian Church in the same territory, numerically, is about ten fold greater, indicating zeal, and doctrine that commends itself.
"His mission work, I think, often took him to Shoal Creek, Big Muddy and Silver Creek, as the names became quite familiar to me by hearing him so often speak of them. Travel then was on foot or horseback, and often in the night, to avoid flies.
"The evidence of lasting work might be given at great length. Multitudes will trace their salvation to his instrumentality. His remains rest near Fairfield, Ill."
The following interesting letter is from Rev. J. T. Borah, now of Rienzi, Miss. Mr. Borah was for years a minister in Illinois:
"Rev. David McLin was ordained to the ministry by Cumberland Presbytery in the month of February, 1813, in the neighborhood of Mr. McGhee on Three Forks of Duck River. Some time after his removal to Illinois he and Rev. Nimrod Furguson bought the freedom of a negro preacher. Their object was good. At the time of the purchase, it was believed that the negro might accomplish good as a preacher. But the manumitted slave turned out badly: proved wicked and ungrateful. The former owner exacted rigidly the payment of the purchase money. The conduct of the negro had destroyed all confidence and sympathy. The purchasers had expected assistance; but the whole amount fell upon McLin and Furguson. With that amount to pay, and a large family to support, McLin was pressed for years. Poor Furguson! he fell upon breakers, and finally stranded among the quicksands of infidelity.
"Mr. McLin was a tailor by trade, and had the reputation of a being a good one. But he abandoned 'the bench,' entered upon the practice of medicine, and was a successful physician. During all these changes, and under all these trials which fell thick and hard upon him, he faltered not, but was indefatigable in his efforts in the ministry. That great and pressing work seemed ever to absorb his heart and sympathies, notwithstanding the demands upon his energy in supporting his family. He had appointments far and near, in church houses, school houses, and very often at private residences. He possessed the happy art of presenting the beauties of religion, and impressing them upon heart and mind, when out of the pulpit, as well as when in it. Especially among the children did he reign, and his scepter was love. the writer has often sat upon the knees of that sainted man, and listened to the story of a Savior's love, that seemed ever on the lips of the loving, faithful disciple. Whether in the pulpit, at the bedside of the suffering, in the social circle, or amongst romping children, he turned all to account for the advancement of the cause so near his heart. He was a charming preacher, with a clear, ringing voice, pleasant gestures, and eyes that became luminous when excited or enthused with his subject. In stature he was rather low, and somewhat inclined to corpulence; had a bald head, but was exceedingly fine looking, and the neatest man I ever saw. Mr. McLin was once preaching at Shiloh (Burnt Prairie neighborhood), on the old camp-ground. His theme was: 'The Pure River and the Tree of Life.' The effort was truly grand. He was exceedingly brilliant in his descriptions, and carried his hearers onward and upward until it seemed that the preacher stood upon the radiant shore hard by the throne, and the audience were gazing upon the rapt scene. There was a shout sent up by that large concourse, the refrain of which I expect angels took up, and carried to the 'most excellent glory.' The preacher sprang from the pulpit and burst into loud hallelujahs. Many were converted and made happy on that occasion, who, with the grand old preacher, have crossed the dark river and have entered the heavenly city through gates of pearl.
"Dr. McLin preached his last sermon in July or August of the year he died. The meeting was at the residence of Daniel Kinchello in Wayne county, five miles southwest from Fairfield. His text was Isaiah xxviii, 20: 'For the bed is shorter than that a man can stretch himself on it, and the covering narrower than that he can wrap himself in it.' The writer was only a youth, yet the scene will never be forgotten. There stood the old warrior, worn and feeble, trembling under the weight of years and toil, with pale brow, sunken eye, body all emaciated, but the shadow of a man of a few years ago. While elaborating the doctrines of the text he was solemn, pointed, earnest; but when he came to the peroration he was almost fearful in the grandeur of his appeals to the dying sinner without a covering to shelter his suffering soul. It was the last struggle. The work of Rev. David McLin was done, his warfare ended. He went home, and laid by his armor, calmly and sweetly to die amidst his loved and loving family. His wife and some of his sons and daughters have followed, and are now with him resting under the shadow of a throne white and glorious."
[Source: Logan, J. B. History of the Cumberland Presbyterian Church in Illinois, Containing Sketches of the First Ministers, Churches, Presbyteries and Synods; also a History of Missions, Publication and Education. Alton, Ill.: Perrin & Smith, 1878, pages 145-152]
---
The Rev. David W. McLin
1785-1836
The Rev. David McLin, was one of the early ministers who came to this community in those long ago days, and he was an inspiration to all who heard him.
In those days, a minister must make his own living and do the preaching, too. Mr. McLin was here for the first presbytery and acted as moderator. He had appointments far and near. He had the way of presenting the beauties of religion, andof impressing them upon the heart and mind of hearers when in the pulpit. He was liked especially by all the children. He was a charming preachers, with a clear, ringing voice, pleasant gestures, and eyes very bright, when he became enthused with his subject. His descriptions were brilliant, carrying his listeners with him. Hundreds will trace their salvation to his explanation of the Scripture. He lies buried near Fairfield, Illinois.
[Source: One Hundred Twenty Years of Donnellson Presbyterian Church History 1819-1939. Compiled by Olive F. Kaune, page 32]
---
Illinois Pioneer Preacher Memorialized in Dedication
On a pleasant August Sunday afternoon in the shade of a hundred year old oak tree, amidst an old Illinois cemetery a new stone marker was dedicated to a pioneer leader of the Cumberland Presbyterian Church.
In the small Curry Cemetery in the city of Fairfield a stone erected by Ewing-McLin Presbytery was dedicated "to the glory of God and to the memory of Rev. David W. McLin," on Sunday, August 26.
"The history of the world is but the biography of great men." said Dr. C. Ray Dobbins, editor of THE CUMBERLAND PRESBYTERIAN, in the dedicatory address. He was quoting Thomas Carlyle. The speaker pointed out the contribution that David McLin made to the development of the church in Illinois.
The pioneer preacher joined the presbytery in 1810, the year the first Cumberland presbytery was organized; he went to Illinois in 1818 where he organized churches and held camp meetings. McDonnold, the historian, described him as "a preacher of the original type."
Those attending the dedication were challenged, as members of the church, to help it to listen to the questions that the world is asking today and to seek to answer those questions in a way that will persuade people to believe in Christ.
Presiding at the service was Rev. J. G. Whiteside, Fairfield pastor, who was chairman of the presbyterial committee responsible for erecting and arranging for the dedication of the monument.
Giving the prayer of dedication was Rev. Kenneth Hooper, also of Fairfield and a committee member.
In possession of a lady attending the dedication was David McLin's Bible and also some notes that he had written regarding his work. This was in his own handwriting and was well preserved.
Possessing the Bible is Mrs. Mable Boze, of Fairfield, whose late husband, John Herschel Boze, was a great-grandson of the pioneer minister.
In some of the notes written by McLin, between the meeting of the presbytery in the area of 1827-28, he wrote these words, "Help me Lord, to do better."
The whereabouts of the unmarked grave of McLin was not generally known until recently.
The Fairfield pastor became interested in this and began to search for its location. He went to the State of Illinois archives and found information which indicated that he was buried in the "Curry Cemetery." This cemetery is a small, obscure, and little known cemetery, which has not been used for many years.
The minister, in seeking McLin's grave, talked with older people in the area and they indicated that he was buried in the family plot in this cemetery. This cemetery is cared for by the township. Illinois has a law that cemeteries without sponsorship become the responsibility of the township for care.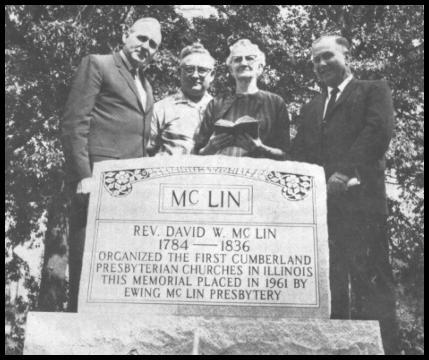 DAVID McLIN DEDICATION IN ILLINOIS--A new stone marking the grave of Rev. David Wilson McLin, who organized the first Cumberland Presbyterian churches in Illinois, was dedicated in special services on August 26 at Fairfield.
In the picture are Dr. C. Ray Dobbins, editor of THE CUMBERLAND PRESBYTERIAN, who delivered the dedicatory address; Rev. Kenneth W. Hooper [article is incorrect, correction: Rev. Kenneth V. Hooper], a member of the committee, who gave the dedicatory prayer; Mrs. Herschel Boze, whose late husband was a great-grandson of David McLin, who is holding a copy of McLin's Bible; and Rev. J. G. Whiteside, chairman of the committee, who presided.
[Source: The Cumberland Presbyterian, September 11, 1962, pages 3 & 13]
---
McLin Family Information
---
Please Contact the Archives with Additions/Corrections
Updated January 17, 2012
HOME