Hopewell
Cumberland Presbyterian Church
Sidonia Community, Weakley County, Tennessee
1877 - present
West Tennessee Presbytery
Midwest Synod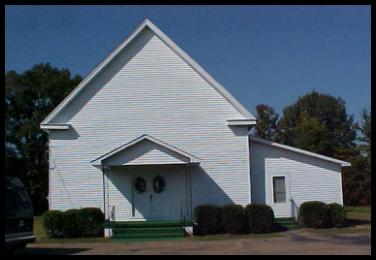 Hopewell Cumberland Presbyterian Church

Physical Address
3212 Sidonia Road
Sidonia, Tennessee
Mailing Address
c/o Shirly Gardner
496 Gaylord Road
Sharon, Tennessee 38255
History of the Hopewell Cumberland Presbyterian Church
By K. F. Gardner
ORGANIZED 1877
The Hopewell Cumberland Presbyterian Church was organized on September 30, 1877, in the Old Pleasant Grove Baptist Church which was located one mile west of the Hopewell church on the Bill Darling farm. For sometime previous to the organization of the Hopewell church, several Cumberland Presbyterians had been worshiping with the Baptist. Apparently they continued to worship in the Baptist Church after the organization of the Cumberland Church until their own place of worship was finished in 1879.
The Hopewell Church was organized by Rev. E. O. Kerr with twelve Charter Members. Ten of these by letter from other Cumberland Churches and two by Profession and Baptism. The charter members were as follows: F. M. Gardner, L. W. Harkey, J. N. Julian, G. W. Goodlow, W. J. Roberts, America Brown, J. G. Howard, Ulys Howard, J. W. Howard, M. P. Goodlow, Mary Gardner and Launa Howard.
Four of the charter members were elected and ordained as Ruling Elders. They were as follows: F. M. Gardner, W. J. Roberts, J. G. Howard and J. W. Goodlow. J. G. Howard was elected as Clerk of Session.
Rev. E. O. Kerr was called to serve as Pastor for the coming year at a salary of $75.00.
A HOUSE OF WORSHIP IN 1879
As stated above, prior to and for some time after the organization the group continued to worship in the Baptist church. At the first meeting of the Session after the organization, however, a committee was appointed to look for a suitable location for a church building of their own. This was on October 4, 1877. The committee consisted of F. M. Gardner, chairman; W. J. Roberts and G. W. Goodlow.
The committee secured the plot of land on which the church is located today. It was given by Mr. and Mrs. Harkey. The deed was made to the Hopewell Cumberland Presbyterian Church and when it ceases to be such the property reverts to the heirs of the W. A. Harkey estate.
When the land had been secured, the committee was made a building committee to supervise the erection of a House of Worship. Soon after the work was actually begun John Parish and H. J. Shannon were added to the building committee. Through the help of the church and the community the building was completed in April, 1879. On September 18, 1879, the building was dedicated with Rev. E. W. Edwards and J. F. Croffard in charge of the service. The same building is being used today; of course, there have been several redecoration and repair jobs down through the years. At the present time [1955] the church is sponsoring the Lord's Acre Plan for the purpose of building Sunday School rooms. Approximately $900.00 was received last year for this purpose.
A MEMBER OF HOPEWELL PRESBYTERY IN 1879
On October 25, 1879, the church was received under the care of Hopewell Presbytery, which was in session at the Antioch Church in Gibson County, Tennessee. It has remained through the years a member of Hopewell Presbytery, being served by some of the best preachers and pastors.
THE UNION OF 1906
In 1906 there was an attempted union of the Cumberland Presbyterian Church and the U.S.A. Presbyterian Churches. Hopewell was one of many Cumberland Presbyterian churches that opposed this union. Part of its membership went with the union but enough remained to continue with a Sunday School with Preaching once a month. Some of those who left eventually came back. Of course, this experience hurt the church but through the prayers and faithfulness of those who remained and those who have come afterwards the Lord has continued to lead and bless.
MINISTERS FROM THE CHURCH
Partial evidence of God's Blessings upon this church and of its influence upon the lives of people is the number of ministers that have gone out form it to minister unto others. These are Revs. O. E. Gardner, S. C. Gardner, O. A. Gardner, John E. Gardner and Dan Marlar.
MINISTERS THAT HAVE SERVED THE CHURCH
The ministers that have served the church are as follows:
Rev. J. M. Bryson served the church three different times, Rev. R. H. Jackson four different times and Rev. A. D. Salisbury two different times. It is interesting to note the salary of the Pastors through the years. The first year it was $75.00. The next year it was $80.00. It then went to $125.00, where it stayed for some time. It then began to climb until now it is $840.00. During most of its history the church has had preaching services only one Sunday each month. In recent years it has been having services two Sundays each month.
RULING ELDERS THAT HAVE SERVED THE CHURCH
As stated above, the original elders were F. M. Gardner, W. J. Roberts, J. G. Howard and J. W. Goodlow. Others that have served are as follows:
| | | | |
| --- | --- | --- | --- |
| J. F. Bond | Dock Tidwell | J. K. Duke | Ras Gardner |
| J. T. Estes | M. L. Gardner | A. W. Harkey | J. O. Gardner |
| R. W. Marlar | J. A. A. Gardner | J. H. Wright | W. W. Spain |
| J. N. T. Dent | D. T. Lee | O. L. Marlar | Albert Davis |
| A. M. Mowery | J. E. Cross | I. E. Marlar | Alton Davis |
| James Gillmer | H. I. Exum | W. S. Taylor | |
| W. A. Harkey | T. C. Woodard | J. W. Davie | |
| G. W. Dent | S. C. Gardner | Alvin Gardner | |
Elders serving at the present [1955] time are: K. F. Gardner-Clerk, R. E. Duke, C. L. Simmons (inactive at his own request), R. W. Harkey, Gilbert Gardner, Robert Wilson, H. C. Hazlewood and U. S. Hazlewood.
F. M. Gardner, one of the original four, served the church as elder longer than anyone else--forty-two years. The Session has always had from one to three Gardners on it.
In reading the minutes of the Session it is interesting to note that those missing a meeting of the Session were required to give a reason at the next meeting for their absence. Their reason was not always accepted as satisfactory. (The Pastor also had to give a reason for his absence when he missed a meeting.) It is also interesting to note how often the Session appointed a committee to investigate rumors concerning the unchristian conduct of some member of the church. This indicated that the Session took seriously its duty for looking after the spiritual welfare of those under its care.
CLERKS OF THE SESSION
The Session has had six clerks; J. G. Howard, J. W. Goodlow, W. A. Harkey, S. C. Hardner, O. I. Marlar and K. F. Gardner. W. A. Harkey served as clerk for twenty-six years. The present [1955] clerk, K. F. Gardner, has served as Elder for thirty-nine years and as clerk for thirty-two years. Unlike so many churches, all the minutes of the Session have been preserved.
REVIVALS
The records reveal some Great Revivals in the history of the church. In several instances the number of conversions were quite large, reaching as high as twenty-four in at least one instance. The revivals usually resulted in a number of additions to the church.
THE CHURCH IN 1955
The General Assembly Minutes of 1954 listed the Hopewell Church as having eighty-five members on the roll, sixty-five of which were listed as active and twenty as inactive. Preaching Services are held on the first and third Sundays of each month. Fifty-two are enrolled in the Sunday School. The Session has set a goal of five conversions and five additions during the year. The church has a budget of approximately $1,900.00. It is seeking to support both the Presbyterial and Denominational programs. As stated above, it has plans for the erection of Sunday School Rooms in the not too distant future. It enjoys a friendly and happy relationship with the other Churches of Sidonia. Like all churches it is proud of its history. Three of the original family names--Gardner, Harkey, Marlar--are still on the roll. It realizes at the same time that "the faith of our fathers" will not suffice for its needs in this twentieth century. It knows that it must have a "like precious faith" for itself if it would "launch out into the deep" and fulfill the mission and purpose which God has for it. With such faith and consecration it will be able to surmount its difficulties and render a greater service to the Kingdom of God.'
History of Hopewell Cumberland Presbyterian Church--Continued
By Hazel L. Gardner, Historian
History beginning 1877 through 1954 previously recorded.
Former Pastors:
Rev. Joe B. Irby - Oct. 1953 through Sept. 1955
Rev. Ben. F. McAnully - Oct. 1955 through Nov. 1957
Rev. Robert Dixon - Aug. 1959
Rev. Lonnie Stone - Oct. 1959 through Oct. 1964
Rev. Joseph Gardner - Jan. 1965 through ?
Rev. Howard Hayworth
Rev. Dwayne Pounds - Supply, May 1974
Rev. Raymon Burroughs - 1974 through Sept. 1979
Rev. L. C. Waddle - April 6, 1980 through ?
We have a record of four Deacons:
R. E. Duke - Deceased
R. W. Harkey - Deceased
Lonnie Hazlewood
Darrell Gardner
Elders elected since 1955:
Clyde Hazlewood - Feb. 1956
Sammie Chambers - Feb. 1956, Honorary
Lewis Taylor - Feb. 1956
Alton Davis - May 1961, Deceased
Gary Gardner - June 1975
Lonnie Hazlewood - June 1975
Chester Cook - June 1975, Moved
Albert Gardner - March 1979
Ministers holding Revivals beginning in 1956:
Aug. 5, 1956 - Warren Mounts, Memphis, Tenn.
July 14, 1957 - Thach Shauf, Paducah, Ky.
Aug. 24, 1958 - Gene McMann, Ark.
Aug. 2, 1959 - Virgil Todd, McKenzie, Tenn.
Aug. 2, 1960 - W. T. Ingram, McKenzie, Tenn.
Aug. 1961 - Glenn Finley, McKenzie, Tenn.
Aug. 1962 - Murray Norman, Nashville, Tenn.
Aug. 1963 - Jean Richardson, Kenton, Tenn.
Aug. 1964 - Dan Marlar, Chicago, Ill.
Aug. 1965 - Richard Denton, Martin, Tenn.
Aug. 1966 - Richard Denton, Martin, Tenn.
Aug. 1967 - Howard Hayworth, Sharon, Tenn.
Aug. 1968 - Oren Stover, Dresden, Tenn.

July 1969 - Wendell Ordway, Bradford, Tenn.
July 1970 - Kermit Travis, Martin, Tenn.
July 1971 - Kermit Travis, Martin, Tenn.
July 1972 - Larry Moss, Memphis, Tenn.
Sept. 1973 -Julian Welch, Gleason, Tenn.
Aug. 1974 - Billy Joe Corbin, McKenzie, Tenn.
Aug. 1975 - Philip Pinion, Union City, Tenn.
Aug. 1976 - Philip Pinion, Union City, Tenn.
Aug. 1977 - Wendell Ordway
Aug. 1979 - James Westbrook, Dyer, Tenn.
Aug. 1979 - Jo Westcott, Sharon, Tenn.
Aug. 1980 - Jerry Lynch - South Fulton, Tenn.
Aug. 1981 - Beverly Johnson, Union City, Tenn.
We now have thirty-six church members and fifty-one Sunday School members.
Continuing the list of those persons who have served as Clerk of Session includes H. C. Hazlewood, who served for twenty years, resigning in 1975. Lonnie Hazlewood is presently serving as Session Clerk, his term of office beginning in 1975.
Mrs. Jennie Lee Hazlewood was elected to serve as Church Treasurer in Dec. 1949 during the time that Rev. A. D. Salisbury served as Pastor.
Our church is Small in Numbers but Strong in Spirit and not afraid to undertake new projects. In March of 1950 there was a motion made and passed to purchase new song books. January 3, 1954, a new piano was purchased. Several people have given gifts to our church in memory of someone or just as a love offering. The large pulpit Bible was given by Bill Gardner in 1954. Dishes in our kitchen are donations from several people. Darrell and Shirley Gardner gave the stove and refrigerator. R. A. Bell donated his time to help lay the carpet in the Fellowship Hall. We had large donations given the Building Fund for our addition from fellow Christian friends. Jimmy Gardner, Shirley Washburn and Kathy Rogers gave the lighted picture of The Last Supper in memory of their Grandfather, Anthony Gardner. Rev. and Mrs. Burroughs gave the Baptismal Bowl and the table tennis set. Rev. Lonnie Stover gave the flower stands. Rev. Dan Marlar's church in Chicago gave the Communion Set, Communion Cloth and collection plates. The large picture in the Ladies class room was given by Rev. O. A. Gardner in memory of Atkin and Alice Gardner. The American and Christian flags were given by Rev. Dane Hawks, compliments of Woodmen of the World Insurance Co. The large coffee maker by Darrell and Shirley Gardner. A twenty cup coffee maker by Connie and James Klutts. The Cross on our Communion Table was given by the family of Zelma Marcus. The wall clock in the Sanctuary in memory of Minnie Taylor by the family. We have many donations to our kitchen and we have not listed all of them; they are unknown. We do appreciate them. Jimmie Washburn made the sign with our Pastor's name and installed it on the church sign, in 1980. We have new shrubs in front of the church and by the church sign, courtesy of Hazel and Juanita Gardner.
The church formed a Building Committee, March 4, 1956--Chairman-Robert Wilson; Members--Lucille Gardner, Edna Crowder, Jennie Lee Hazlewood, Lewis Taylor, Ralph Harkey and Gilbert Gardner. The first order of business was the addition to the church for Sunday School rooms.
Lewis Taylor was appointed to attend to the forming of a Monthly Singing, 7-1-56. Robert Wilson and Lewis Taylor were elected to oversee the installing of gas heat in the church, Sept. 16, 1956.
Vacation Bible School is held in our church usually the first week in June.
We entertained Presbytery in our church in 1958.
October 15, 1961, a motion was made and passed to paint the church, underpin the church and install new pews. The seats were purchased from the Lawrenceburg Furniture Co. The old seats were sold to individuals for $2.50 each. The banisters on the front were added on May 5, 1963. Alton Davis was charged with this responsibility.
July 19, 1964, two air conditioners were purchased and installed. Alton Davis and Lewis Taylor checked air conditioners and prices and had them installed. They were paid for by Jan. 15, 1966.
Our church Session voted to send a letter to our Representative to oppose a Liquor Bill about to be passed, Feb. 5, 1967.
The church decided to have a church sign erected and Alton Davis was charged with this responsibility, Oct. 3, 1967.
March 17, 1968, our Session voted to send $25.00 to Good Springs to help them to rebuild. The same year our church decided to have storm windows and doors installed. The committee of Rev. Joe Gardner, Gary Gardner, and Lonnie Hazlewood checked on the most reasonable prices and had them installed. Clerk of Session, H. C. Hazlewood, secured someone to bulldoze the fence row behind the church and also have the church retopped, Sept. 21, 1969. Dec. 3, 1972, motion made and carried to form a Finance Committee and Building Committee--Chairman-Lewis Taylor; Members--Lonnie Hazlewood, Darrell Gardner, Jennie Lee Hazlewood, Jimmie Gardner, and Sandra Gardner. Motion was then made and carried to add to the North side of the church, to include a Fellowship Hall, kitchen and bath. May 4, 1975, Lewis Taylor resigned and H. C. Hazlewood was elected Chairman. Charlie Ewing Lee was added to the committee.
Hopewell Church gave the Ed Garrett family $50.00 after they lost their house by fire June 20, 1976.
The Baptist Church at Sidonia burned and Hopewell gave them $200.00 and the privilege of using our church, as a token of Love and Christian Service. Sept. 16, 1976, our debt for our new addition was paid. Oct. 17, 1976, we bought and installed the storm doors in the Fellowship Hall. Our church Building Fund was started Aug. 21, 1977. Oct. 16, 1977, we began having evening service and extra youth activities. Rev. Raymon Burroughs was our Pastor.
Aluminum siding was added to our church and as we have no well for water, a meeting was held and after a motion and discussion it was decided to pay $50.00 per year to Junior Dortch for our water. Chairs were bought for the Fellowship Hall Sept. 1978. Hot water heater was installed Jan. 21, 1979.
We had a Missionary speaker from Colombia to speak to our group Feb. 1979. Feb. 10, 1980 a table was purchased for Class #1, Sandra Gardner, teacher. July 6, 1980, Albert Gardner and Gary Gardner were appointed to have the parking lost black-topped and the old stumps removed. Aug. 8, 1980, we bought a new air conditioner for the Fellowship Hall to replace one that had gone bad. In 1980, Lawrence Dohen, Jr., a seventeen year old youth who worked at Camp Clark Williamson was killed. Our Synod erected a monument in his honor at the camp site. Our church donated $25.00 for this cause, Oct. 5, 1980.
Hopewell Church received a very nice vacuum cleaner from the Baptist Church as a Love Offering for having the use of our church during the time they were rebuilding.
We have a very active CPW program in our church. We have a beautiful summer floral arrangement and new Bibles in our pew racks, compliments of the CPW. Recent Past Presidents include, Sandra Gardner, Shirley Jean Washburn and Minnie Hazlewood. The President for 1982 is Sandra Gardner.
We had our 100 years Homecoming in 1977. Rev. John E. Gardner brought the sermon for the occasion. Fellowship and a wonderful meal was enjoyed by all. The Pastor was Rev. Raymon Burroughs.
The men of the church met and applied a sealer to the parking lot, Oct. 30, 1981. This bill has already been paid.
We feel that with the help of God we are getting a few things accomplished although we are few in number.
We have an enjoyable Sunday School Program with fifty-one members and about 75% attendance. Our pastor brings us the Message of God each first and third Sunday. Our Pastor is entertained in private homes on first Sunday and then on third Sunday we have a church wide meal at church in our Fellowship Hall. We have our flags that were donated, on display in our Sanctuary. We have regular Communion Service. The Elders serve the people in their seats, our Minister invites everyone to feel free to partake.
We have Vacation Bible School the first week of June and our Revival usually the first week of August.
Always there is the Christmas Program and Santa pays us a visit with big Ho! Ho! Ho! and candy for the kids. We have the exchange of gifts and our church furnishes treats for everyone. We have great help with our Christmas programs. Jimmie Washburn and Gary Gardner helped with scenery and decorations with Art Work the past three years by Albert E. Gardner of Memphis.
Come Halloween and we look to your young people to entertain with the Spook House.
Our Youth enjoy their annual trip to Nashville and to help with expenses, they have Bake Sales and Garage Sales. The Middlers go skating with an occasional class party. They also help out with expenses with Bake Sales.
As always we have delegates from our Session to Presbytery and Synod. We have been honored on two occasions to have delegates to General Assembly; Gilbert Gardner in 1955 and Albert Gardner in 1981. Gilbert and Juanita Gardner attended General Assembly in Lubbock, Texas in June of 1955 and reported an enjoyable trip. Albert and Hazel Gardner attended General Assembly in Denton, Texas in 1981 again a very enjoyable and inspiring trip was reported. Sandra Gardner, Past President of Presbyterial CPW, attended General Assembly in Albuquerque, New Mexico, accompanied by Mrs. Juanita Gardner.
We entertained CPW Presbytery at our church in fall of 1979.
Albert Gardner was elected Sunday School Superintendent for 1979-1980, again for 1980-1981, and again for 1981-1982; Keith Hazlewood, Asst.; Gary Gardner, Song Leader; Lonnie Hazlewood, Asst.; Lori Gardner, Secretary Mrs. Jennie Lee Hazlewood, Pianist; Ernestine Hazlewood, Asst.; and Hazel Gardner, Historian. Mark Gardner and Todd Lewis were elected as Ushers.
The past two years we have enjoyed catfish suppers, compliments of Gary and Sandra Gardner. Catfish and all the trimmings being furnished by Gary and Sandra. Other members carried other covered dishes.
For the past few years we have employed Mark Gardner to mow the church yard.
WE ARE VERY PROUD OF OUR CHURCH
February 10, 1981
[Source: Hopewell Cumberland Presbyterian Church-Sidonia, Tennessee-1982 Directory.]
---
Page Last Updated on October 13, 2003
Please Send Additions/Corrections to the Archives
HOME
---