James Bell Logan
1820 - 1878
Cumberland Presbyterian Minister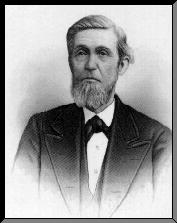 ---
REV. J. B. LOGAN
---
Rev. J. B. Logan, was born on December 18th, 1820 in Limestone county, Alabama, and is in the fifty-second year of his age.
His parents removed from Alabama to McMinn county, East Tennessee, and settled seven miles from Athens, the county seat, when he was only four years of age. At a camp meeting, in Roan county, in September preceding his twelfth birthday, he made a profession of the religion of Christ, and united with a congregation near his father's residence. When seventeen years of age, he joined presbytery as a candidate for the ministry, and in his twenty-first year was licensed to preach the gospel of Christ, by Hiwassee Presbytery, on the spot where he had professed religion.
In the spring of 1842 he removed with his father's family to the wilds of southwestern Missouri, where his pious father soon afterward died in the full assurance of a blessed immortality. The care of the family, consisting of his mother, who was in feeble health, and a small brother and sister, was left to him. They were situated in a sparsely populated region, without means save his trust and faith in all wise Providence.
At this tender age he was among the first ministers of the gospel of a crucified Redeemer to travel as an itinerant missionary in the wilds of Missouri.
In 1843 he was ordained, and set apart to the whole work of the gospel ministry by the presbytery of Ozark, Missouri.
In addition to preaching, he taught for three years in "Spring River Academy," the first Cumberland Presbyterian institution of learning in Missouri, or west of the "Father of Waters," and then served as pastor two congregations until 1851, when he took an agency for the Board of Missions, and traveled extensively. In 1852, at the urgent solicitation of many brethren, he undertook the publication of the "Missouri Cumberland Presbyterian," first in Lexington, and afterwards in St. Louis, for six years, having brought the paper up from nothing to over $4,000 in value. He also edited "The Ladies' Pearl" for a time, and in 1855 removed from St. Louis to Alton, Illinois, to supply a mission there, and organized a congregation of which he has been the pastor for sixteen years, during which time his labors have been blessed with an accession of over seven hundred additions of the church by profession.
From 1862 to 1868 he edited the "Western Cumberland Presbyterian," at Alton, Illinois, and while the church had two Boards of Missions, he was president of the Alton Board from 1865 until they were consolidated in 1869, and when the consolidated board was organized, he acted as corresponding secretary, and since the death of the lamented Rev. R. S. Reed, at the unanimous request of the board, he has consented to become its corresponding secretary.
His life has been one of varied and constant labor. Although much of his time has been employed as an editor, he has always been an earnest, active preacher. His manner in the pulpit is argumentative, persuasive, and pathetic. His sermons are well-proportioned in doctrine, experimental, and practical religion.
As an author he has furnished several popular and successful works. He has been a man of prayer and indomitable perseverance. Hence his success.
[Source: The Ladies' Pearl, Vol V No. 12, December, 1872, pages 365-367]
---
REV. J. B. LOGAN, D.D.
---
THE following was adopted by the Vandalia Presbytery of the Cumberland Presbyterian Church, which convened at Mt. Gilead, Bond county, Ill., on the 19th day of September, 1878, in regard to the death of Rev. J. B. Logan, D.D., its oldest and most efficient and respected member.
C. G. KEOWN, Clk. of Pres.
The committee appointed to draft resolutions in regard to the death of Rev. J. B. Logan, D.D., ask to submit the following preamble and resolutions.
James Bell Logan was born in Limestone county, Alabama, December 18, 1820.
In his childhood, his parents moved to East Tennessee. He joined the Presbytery in this state when but a youth. In the year 1842, he moved to Missouri. His early education was certainly well attended to, as the work of his after life fully shows.
Soon after he went to the state of Missouri, he attended a school where it is said he made some proficiency in the study of the Greek and Latin languages. After some years of pioneer labor in this state, in the southwest, planting the banner of the cross of Christ and promulgating the doctrines of the Church of his choice, he came to Illinois, and spent the last twenty-three years of his life in the acts prompted by his great and noble heart in writing and speaking, and thus, he extended a helping hand to all.
At his home, in Taylorville, after a very painful illness of two months and eight days, he fell asleep in Jesus, at the age of fifty-seven years, eight months, and twenty-six days. Therefore,
Resolved, That we will try to bow in submission to this solemn dispensation of Divine Providence, knowing that our loss is our father's and brother's eternal gain.
2. In the death of Dr. Logan, as a Presbytery and Church, we have not only lost a wise counselor, but a leader in all the courts of the Church, from the church session, the lowest, to the General Assembly, the highest court; and last, but not least, his counsels will be missed in the periodicals of our denomination.
3. His example as a theologian is worthy of imitation by all our ministers, both old and young.
4. He was a model preacher and pastor. He was a great preacher, and an effective minister of Jesus Christ. He impressed many a man as Misalign did Louis XIV, who said, "I have heard many a man in this chapel; I have been pleased with them; as often as I heard you, I have been displeased with myself." No man was more careful as a pastor than he; he seemed to give attention to each and all alike. Of course he was successful.
5. The community has lost a most valuable citizen; one that was scrupulously careful of the rights of all men, and laid his own life upon the altar a sacrifice for the good of our common humanity.
6. His faithful wife has lost him with whom she shed her tears and sheared her toils; and
"We know it seems vain when friends depart
To breathe kind words to the broken heart."
His sons and daughters have a shining track to lead them to glory.
7. The dear and respected family share our sympathies as a Presbytery.
8. That a copy of this preamble and these resolutions be sent to the afflicted family, and that a copy be furnished the St. Louis Observer, CUMBERLAND PRESBYTERIAN, and Religious Pantagraph, each, for publication.
9.. That we recommend that we have a Presbyterial funeral service at the next session of this Presbytery on Sabbath, at, 11 o'clock A.M., and that Rev. W. P. Baker be appointed to deliver the discourse, and that Rev. E. R. Roggers be his alternate.
WM. TURNER,
E. M. JOHNSON,
W. W. M. BARBER,
W. P. STRAIN,
WM. SMITH,
Committee.
[Source: The Cumberland Presbyterian, October 10, 1878, page 2]
---
OUR FALLEN--J. B. LOGAN, D.D.
---
E. B. CRISMAN, D.D.
---
THE American necrology of the year 1878 will include an unusually large number of self-sacrificing heroes in the various professions and callings. The medical profession especially mourn the loss of a large number of brave heroes who, for humanity's sake, have hurried to a death more forbidding than the cannon's mouth. No less does Christianity mourn the loss of a large number of its brave and brilliant ministers, who have not hesitated to expose their lives to almost certain death, that they might be with their stricken and dying people and point them to heaven as they departed from the earth by a loathsome disease. These names, added to the usual number by ordinary causes, swell the list of those whom humanity and the various Christian denominations have lost from the active work of the times, to a sad and mournful size. In the list few names occur, who have left the record of a more self-sacrificing and useful life, than the one which heads this article. No only the Cumberland Presbyterian Church has sustained a very great loss, but Christianity in America will miss him sadly. But what seems to us unspeakable loss is to him inexpressible gain.
James Bell Logan, D.D., died at Taylorville, Ill., on the 4th day of September, 1878, after two and a half months patient and painful illness of an excruciating disease, gastritis. He was born in Limestone county, Ala., December 18, 1820, and had obtained the age of fifty-seven years, eight months, and twenty-six days. The writer knows but little of his childhood and youth. Only the following will be given now: In his early boyhood his parents removed to East Tennessee, where the son, in due time, professed religion, doubtless under the influence of careful and pious parental training, and joined the Cumberland Presbyterian Church.Here also he became a candidate for the ministry.
Subsequently in 1842 he removed to Southwestern Missouri, where he was ordained to the ministry. Of his early education, the writer has no specific information. It was certainly not neglected, as the work of his life abundantly shows. As early as 1847, then being twenty-six years old, we find him a student at Spring River Academy, Lawrence county, Mo., then conducted by Rev. Robert McGee King. (See "Our Old Men," Vol. 1, p. 63). At this school it is said that he made considerable proficiency in the Greek and Latin languages. He was a diligent student all his life; but all he learned of science, literature, and current history was intended by him, and was used with a willing voice and attractive pen to illustrate, explain, and corroborate and enforce the doctrines and practical instructions of the Book of all books, and the science of all sciences, to which he had early consecrated the energies of his life.
Of the earlier years of his active ministry the writer knows but little. That its efficiency began at an early period is manifest from the fact that as early as 1848, we find him pastor and conducting a revival at Spring River Academy. In the book above referred to, page 63, is the following: "There were several revivals of religion during Mr. King's connection with this school. At one, in 1848, there were about thirty-two who gave evidence of conversion, mostly pupils of the school, Rev. J. B. Logan being pastor of the church."
He was for several years a pioneer in religious and moral work, especially in battling with intemperance among the early settlers in Southwestern Missouri. In this work he was associated with the recent and now lamented Rev. T. M. Johnson. From Missouri he removed to Alton, Ill., where he spent nineteen years, having organized and sustained the church with material converted by his own ministry. In 1874 he removed to Taylorville, Ill., where he spent the last four years of his life. As a pastor and preacher, he was certainly a model in the widest sense of that significant term. He was not eloquent in the common and superficial sense; but his pulpit efforts were attractive, spiritual, and forcible. Not the humblest nor the youngest member of his flock escaped his watchful concern, and his fraternal and paternal counsel, admonition, encouragement, and example. As a theologian, he arose from obscure and unprepossessing boyhood to a high position among his brethren, themselves of no mean attainments, and finally in 1875, to the degree of Doctor of Divinity. This distinction was conferred by one of the most flourishing institutions in the West, Lincoln University in Illinois, and was in his case no empty compliment. Having all his life been a student, he made the word of God the object of his chief study--not to the exclusion of other things, but other things had all been made subservient to it, and had been used as handmaidens to it. The Bible was the great and chief source from which he drew his intellectual food and spiritual comfort. His progress in theology was without the aid of the schools; was gradual, but solid. As an ecclesiastic his punctuality, promptness, industry, and efficiency were remarkable. He consequently became a prominent and eminently useful member of the Church courts, from the Presbytery up to the General Assembly, of which latter and highest court he was once assistant clerk in 1867, once clerk in 1856, and once moderator in 1871. Besides these, he filled many positions of responsibility in the Church of his choice. Was for very many years an efficient member and prudent counselor of the Board of Missions, and for several years its chief executive officer.
Having, in entering the ministry, taken the obligation of faithfulness to ecclesiastical duties, and of obedience to ecclesiastical commands, he did not allow the exacting demands of this obligation to relax, even to the end of his active career. Whenever and wherever duty called he was found present. As a journalist and writer, at an early period in his career, he began at Lexington, Mo., the Missouri Cumberland Presbyterian, which was the first periodical of our Church west of the Mississippi river. This weekly he subsequently removed to St. Louis, and published it two years in that city previous to his removal to Alton, Ill. Subsequently, at different periods, he was editor and proprietor of the Western Cumberland Presbyterian, the Ladies' Pearl, and editor of Our Faith. These duties as editor and proprietor, and also his labors as author, were performed for the most part while acting as a diligent pastor. The work of editor, his contributions to the periodicals of our own Church and of other denominations, and occasionally to some in Europe, added to the books of which he was author, made an amount of writing enough for an ordinary man, who made writing an exclusive calling. As a writer, he was remarkable for rapidity and industry; he was attractive and popular with the masses, whom he aimed to profit by his pen. His books had far more than an average sale in our Church. Among them may be enumerated, "Alice McDonald," "Carrie Holmes," "Chronicles of Sylvanton" "Plain and Scriptural Guide to the Doctrine of Baptism," and "The New Birth." His last, "A History of our Church in Illinois," is yet in the hands of the printer.
As a husband, parent, and citizen, he was, as elsewhere, a model. Dutiful to all obligations, and scrupulously careful of the rights of others and respectful when compelled to express opinions at variance with theirs. Eight sons and daughters, trained under the parental roof for usefulness to the Church and country, are now members of the Church, and teachers and pupils in Sabbath-schools. Having been associated a great deal with Dr. Logan in Church work, I would be pleased to speak at length of many things in his consecrated and useful life. I would hope thereby to benefit especially the young ministry of the Church; but space does not allow it here.
Dr. Logan and myself usually agreed in those matters of Church policy which have most agitated our denomination. I thus had a good opportunity to know his heart and his motives. And now that his career is ended, it gives me inexpressible gratification to be able to testify frankly, as I now do, that, in my opinion, both his heart and his motives were pure, and as nearly free from selfishness as it is given mortal to be.
ST. LOUIS.
[Source: The Cumberland Presbyterian, November 14, 1878, page 2]
---
Mortuary List
J. B. Logan, D.D. - Vandalia Presbytery
[Source: Minutes of the General Assembly of the Cumberland Presbyterian Church, 1879, page 82]
---
UNVEILING THE MONUMENT TO REV. J. B. LOGAN, D.D.
Shortly after 2 o'clock, yesterday afternoon, the people assembled at the Cumberland Presbyterian church, on Twelfth street, and proceeded to the City Cemetery in accordance with the previously announced programme. Notwithstanding the fact that the weather was quite disagreeable there was a large assemblage at the cemetery. Rev. W. B. Farr announced order of exercises which opened with singing "O Land of Rest, for thee I Sigh," followed with prayer by Rev. Wm. Turner, of Bethalto. Miss Mollie A. Moore then unveiled the monument, which was bathed in the bright rays of the sun, as the clouds for a few moments broke away. Rev. W. J. McDavid read a statement of the manner in which the plan for raising the monument originated, the cost of the structure and the number of subscribers; all being raised with but little effort, by voluntary contributions of those whose hearts will ever cherish the memory of him who sleeps beneath the "storied urn." One hundred and thirty persons aided in the work. The monument was constructed and erected by Mr. Wm. Flynn, of this city, at a cost of $150. After the statement was read, Rev. W. B. Farr delivered a brief sketch of the life, character and labors of the deceased with the impress made by the same on the church and in society. From this statement we learned that the subject of it was born at Huntsville, Alabama, December 18, 1820, that he came to Alton in the spring of 1855, and was mainly instrumental in building up the church in this place, several hundred persons being converted under his ministry. He was a resident of this city about twenty years, and filled various offices of trust in the church of which he was ever considered a leading minister. He was once Clerk of the General Assembly, once Assistant Clerk and once Moderator. Notwithstanding his labors as pastor he found time to edit and publish three or four religious papers during his career and also wrote several books that have been quite popular. At the close of the address, prayer was offered by Rev. W. W. M. Barber, after which the song, "Shall we know each other There?" was sung, the exercises closing with the benediction by Rev. C. G. Keown. On the monument at the east side is the following inscription:
JAMES BELL LOGAN
BORN AT HUNTSVILLE, ALABAMA,
DECEMBER 18th, 1820.
DIED AT TAYLORVILLE, ILL.,
SEPTEMBER 14th, 1878.
AGED 58.
HIS LAST WORDS WERE:
"ALL IS WELL."
On the upper part of the monument is a representation of the Bible with the following quotation: "He rests from his labors and his works do follow him."
The monument is made of clouded American marble, and consists of two limestone and one marble base, the shaft containing the inscription, the spire draped and surmounted with an urn the height of the entire structure being about nine feet. It is quite artistic in construction, admirably proportioned, well conceived and executed and a credit to the taste and skill of Mr. Wm. Flynn.
[Source: Alton Telegraph. (Alton, Illinois). March 29, 1880, page 3, column 4]
---
J. B. LOGAN, D.D.
Dr. Logan was born in Limestone county, Ala., December 18, 1820. In his boyhood his father moved to East Tennessee, near where Knoxville now is. His opportunities of any sort were very meager. The Indians roamed that country then. His father was very poor, but a sturdy character. In early life the boy, the oldest of three children, made a profession of religion and joined the church. When only a boy he united with presbytery, and was soon assigned some work. Here he was licensed, and perhaps ordained. While yet a young man his father started for Arkansas, but died in Missouri, where the rest of the family stopped. While here he married. He taught school for a time at Spring River Academy. Later he moved to Lexington, and began the publication of the Missouri Cumberland Presbyterian. Later on he moved to St. Louis, and sold his paper, but when the cholera came he moved to Alton, Ill., a short distance up the river. Here he built a church and organized a congregation, which is still flourishing. Again he embarked in the publishing business, and started the Western Cumberland Presbyterian, which he edited for years. He was also editor for a time of the Ladies' Pearl. He was a frequent contributor to the Theological Medium. His writings for the press of the Church were voluminous. After a pastorate of eighteen years at Alton, he resigned to become secretary of the Board of Missions. This position he gave up in a few years to take charge of the church at Taylorville, which he served till his death, September 14, 1878. During his ministry he had often been compelled to defend his position on baptism and the universality of the gospel. The result was the publication at different times of a tract on "Baptism," a little book on child conversion, called "Carrie Holmes," a story of the early struggles of our Church in Pennsylvania, entitled, "Alice McDonald," and its sequel, "The Chronicles of Sylvanton." The latter is out of print.
[Source: The Cumberland Presbyterian, December 3, 1903, pages 711-712]
---
JAMES BELL LOGAN
(Written by W. C. Logan.)
Rev. James Bell Logan, D.D., who labored for a dozen years in Southwestern Missouri, was born in Limestone county, Alabama, December 18, 1820. When about four years of age his father moved to East Tennessee with the expectation of securing some Indian land which had been put on the market and known as the Hiwassee Purchase. All the available land had been purchased before his arrival and he was compelled to lease school land under adverse circumstances. Here, toiling night and day, to help his father, young James lived until he was fourteen years of age. At this time his father moved some sixty or seventy miles west, into what was called the Cherokee country, where the family lived for seven years, having at first no neighbors to speak of except the Indians. In the spring of 1842 they moved to Lawrence county, Missouri, near King's Point. (King's Point is in Dade County, not far from Lawrence). There a cabin was erected, and about half the floor laid when the father died, leaving James as the one upon whom the family cares rested.
His mother was a sufferer from asthma, and there were a younger brother and a sister to care for.
At this time James was about 22 years old. He purchased some improved land, to pay for which he taught school in a Mr. Carr's house. It was here that he met Miss Mary Stephenson, with whom he united in Marriage February 16, 1843. Two girls were born to them. When Spring River Academy was built he was put in charge, and continued in that capacity for a number of years, and until a Mr. King from the east took his place. Mr. Logan's wife did not live many years.
Mr. Logan's parents were converted under the preaching of Rev. Robert Donnell, a distinguished Cumberland Presbyterian minister in Alabama, who also baptized this first-born son. When the family was living in East Tennessee, religious privileges were few. At a camp meeting held by Cumberland Presbyterians, James, then about twelve years old, professed religion, and about a year later joined the church. In his seventeenth year he united with Presbytery and was licensed in his twenty-first year by Hiwassee Presbytery. After going to Missouri he was ordained by Ozark Presbytery of the Cumberland Presbyterian Church in 1843. In 1849 the General Assembly met at Princeton, Ky., and Mr. Logan went on horseback with a family of Kimbros, who were to visit relatives near Bowling Green. After the Assembly Mr. Logan went to Bowling Green, that he might return with his companions in travel; but a sick child of theirs delayed the return journey. Meantime Mr. Logan formed the acquaintance of Miss Susan Hendrick, who became his bride in October of that year. He took his bride back to Missouri in a two-horse wagon.
In 1851 Mr. Logan traveled four months in the interest of a mission church in St. Louis, of which Rev. J. G. White was minister. He went down the Missouri river from Kansas City to Boonville, visiting the camp meetings and protracted meetings in the interest of the mission. In the spring of 1852, at the earnest solicitation of many of his ministerial brethren, he located at Lexington and started a church paper, called the Missouri Cumberland Presbyterian. His expectations concerning the paper were not realized, owing to lack of proper financial backing. Rev. C. A. Davis was his pastor here, and he had Hon. R. C. Ewing for a neighbor. After a year he moved the paper for greater convenience to St. Louis, where he consolidated it with another, the united paper being called the St. Louis Observer. Sickness in the family and other reasons caused Mr. Logan to move his family in 1855 to Alton, Ill., some twenty-five miles up the Mississippi river, whither he took his paper the year following. But because of financial conditions he sold out the paper to a Mr. Cox, who continued it for some time. There were other ventures made in journalism which were a part of Mr. Logan's experience during his stay in Alton of some nineteen years. In fact, he was connected with a religious journal in some capacity most of his time.
On going to Alton Mr. Logan assumed charge of a struggling mission, without house and with very few members. But he remained in charge for seventeen years, during which time over seven hundred professed faith in Christ in connection with the services, and four hundred united with the church on confession. While here he wrote a number of books which were quite popular at the time and for years afterward. These were years of hard struggle and great sacrifice, yet fruitful in good works. For years he was connected with the St. Louis Board of Missions as President and Secretary, and in 1872 he resigned his pastorate to give all his time as General Superintendent of the Board of Missions. In 1871 he was honored by his church as the choice for Moderator of the General Assembly, which met in Nashville, Tenn. In 1875 he received the degree of Doctor of Divinity from Lincoln University, Lincoln, Ill.--a school with which he had been intimately connected from its founding. In 1874, having resigned his connection with the Board of Missions, he accepted a call to the church at Taylorville, Ill. Here he labored successfully till called to his reward, September 14, 1878. His remains were taken for burial to Alton, Ill., the scene of so much of his life's labors and successes. His last words were, "All is well."
[Source: Stringfield, E.E. Presbyterianism in the Ozarks: A History of the Work of the Various Branches of the Presbyterian Church in Southwest Missouri 1834-1907. Presbytery of Ozark, U.S.A., 1909, pages 350-352]
---
Rev. J. B. Logan, D.D., has an honored place in the journalism of the county as editor severally of the Missouri Cumberland Presbyterian transferred from St. Louis to Alton; the Ladies' Pearl, the Western Cumberland Presbyterian and the Cumberland Presbyterian. His son-in-law, Thomas H. Perrin, was associated with him in these publications as publisher. Rev. Dr. J. W. Brown was also associated with Mr. Logan editorially. Mr. Perrin was also one of the proprietors of the Alton Democrat from 1876 to 1882, with D. C. Fitz Morris as editor.
[Source: Norton, W. T. Centennial History of Madison County, Illinois and Its People 1812 to 1912. Volume I. Chicago: Lewis Publishing Company, 1912, page 115]
---
Family Information
Mr. Logan
died: c1842 - Missouri
wife: ?
Children of Mr. Logan and ?:
1. James Bell Logan
Cumberland Presbyterian Minister
born: 18 December 1820 - Huntsville, Limestone County, Alabama
1850 Census - Lawrence County, Missouri
died: 4 September 1878 - Taylorville, Christian County, Illinois
buried: Alton City Cemetery - Alton, Madison County, Illinois
1st marriage: 16 February 1843 - Missouri
1st wife: Mary Stephenson
died: c1845-1849 - Missouri
Children of James Bell Logan and Mary Stephenson Logan:
1.1. Martha Ann Logan
born: 13 March 1844
died: 18 December 1927
buried: Alton Cemetery - Alton, Madison County, Illinois

1.2. Margaret H. Logan
born: c1845
2nd marriage of Rev. James Bell Logan: 30 October 1849 - Warren County, Kentucky
2nd wife: Susan Hendrick
born: 14 October 1826 - Warren County, Kentucky
died: 26 November 1905 - Alton, Madison County, Illinois
buried: Alton Cemetery - Alton, Madison County, Illinois
obituary
Children of James Bell Logan and Susan Hendrick:
1.3. John M. Logan
born: c1850

1.4. Finis E. Logan
born: January 1861 - Alton, Madison County, Illinois
died: 11 November 1918 - Alton, Madison County, Illinois
buried: Alton Cemetery - Alton, Madison County, Illinois
2.
3.
---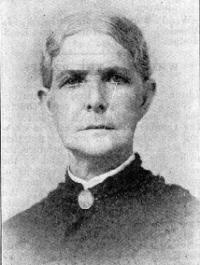 SUSAN HENDRICK LOGAN: AN APPRECIATION.
---
When the illustrious apostle to the Gentiles writes from Rome to Timothy, his son in the gospel, the unique message, "Though you have ten thousand tutors in Christ, yet have ye not many fathers," he might have added fittingly, "or mothers."
"There is none,
In all this cold hollow world, no fount
Of deep, strong, deathless love, save that within
A mother's heart."
And the apostle puts his estimate on the mother when he predicates the faith of his young friend on the faith that was in his mother Eunice and his grandmother Lois.
As Tennyson has said:
"With such a mother! faith in womankind
Beats with his blood, and trust in all things high
Comes easy to him, and though he trip and fall,
He shall not bind his soul with clay."
But the largest sphere of motherhood is in its relation to the church. It is high and noble to the mother in the home, the mother of children who are to become men and women in the church and for the world. but nobler, if anything can be nobler than this, it is to be "a mother in Israel." The church owes an unpayable debt to these nursing mothers who have brought forth sons and daughters unto the Lord and have reared great prophets and mighty missionaries for the world's evangelization and all human betterment.
But among those who have wrought best in life's high aims and have builded best are many who have not been, and may never be known to history. Of these serene, quiet yet courageous heroines of the church of God, was the godly woman whose revered name is at the head of this humble sketch. Susan Hendrick was a native of Kentucky, where she was born, near Bowling Green, October 14, 1826, and was gathered to her fathers and to renewed companionship with her sainted husband, from her home in Alton, November 26, last.
At the tender age of fifteen Susan Hendrick confessed the Christ and was admitted to membership in the Cumberland Presbyterian church and never dishonored the holy bonds which bound her to the Christ and the church.
At the age of twenty-three Miss Hendrick was married to the Rev. James Bell Logan, the Rev. Jesse Grider officiating at the marriage, and when that pioneer preacher and evangelist began the difficult enterprise of establishing a Cumberland Presbyterian church in Alton more than fifty years ago the young wife, true helpmeet that she was, entered wholly into the work with her husband. Throughout that notable pastorate of almost a score of toiling years, next to her husband none wrought better than his quiet, cheery wife. Then when the Alton pastorate was exchanged for that at Taylorville, Mrs. Logan transferred her endeavor, and with the wisdom acquired through a rich experience stood bravely by her husband until the great Head of the church said to his faithful servant, "Come up higher." Then the stricken wife returned to Alton where her remaining days of faith and hope and love were spent peacefully among her children, all of whom, ten in number, including two of her husband's by a former marriage, are in the fold, and three in the upper glory, all of them rising up to call her blessed.
The unostentatious heroism of this godly woman has left its impress on all who were fortunate enough to come within the sunny atmosphere of her unobtrusive, faithful life. When her life's little day closed there was not a cloud in the sky, not a murmur in her peaceful soul or on her quiet lips. It is well. She seldom failed to bear her noble testimony in the house of God, whether at the ordinary public worship, the midweek meeting, or the Sabbath school. She was the last of those whose names were on the roll of the Alton church at its organization fifty-one years ago, and has gone to answer the roll-call of the "General Assembly and Church of the first born that are written in heaven."
D. E. BUSHNELL.
Alton, Ill., Feb. 10, 1906.
[Source: The Cumberland Presbyterian, February 22, 1906, pages 244-245]
---
Please Contact the Archives with Additions/Corrections
Updated February 17, 2016
HOME