William Benton Farr
1834-1906
Cumberland Presbyterian Minister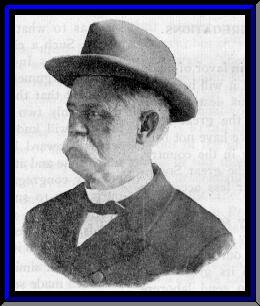 IN MEMORIAM.
REV. W. BENTON FARR, D.D.
Another man of God has gone from labor to reward. At Clovis, Cal., on February 7, he made his departure after a long and useful life. Dr. Farr was born some seventy years ago or more in Kentucky. He was the son of James K. Farr, and grandson of Rev. James Farr, one of the men for licensing whom to preach the old Cumberland Presbytery was censured. Dr. Farr was true to his Cumberland Presbyterian antecedents all his life. He was educated at old McGee College, College Mound, Mo., and was the companion and associate of the older preachers in that state. Before and during the Civil War he active in the ministry, preaching in churches and school houses on circuits. He had pastorates also at Macon, Pisgah, Independence, and St. Joseph in Missouri, besides filling important pastorates in Illinois, Tennessee, Alabama, Texas and California. He was also a member of the Board of Missions for a number of years, while living in Missouri.
While pastor at Macon, Mo., he conceived the idea of starting another church paper at St. Louis, to furnish a medium of communication for the churches adjacent to that center of distribution. Associating with him two of his active laymen, he began the publication of the St. Louis Observer in St. Louis during 1876 or 1877. As this required him to make weekly trips from Macon to St Louis at considerable expense of time and money, he finally resigned his pastorate at Macon, and not long after took charge of the church at Alton, Ill., where he preached and managed his paper at the same time. Owing to the ill health of Mrs. Farr he was obliged to resign his pastorate at Alton in 1880 or 1881, and soon after he also severed his connection with the Observer. His labor in connection with the paper was mostly if not wholly a labor of love. After that time he devoted himself wholly to the ministry till his death.
Dr. Farr was a fresh and virile preacher. He followed no beaten path, but thought for himself, and presented his thoughts in a clear and vigorous style. He was spiritually minded, rejoicing always in that which pertained to the growth of the soul and the spread of the kingdom. With firm convictions as to the truth, he was liberal in his sympathies, and had a mind open for the reception of new truth. He loved all who loved his Lord, and rejoiced in everything which showed the essential unity of God's people. He rejoiced at the approaching union of the Cumberland Presbyterian and Presbyterian churches as an indication that God was drawing his people closer together. He was able to preach almost till the last. Although in failing health for some time, he had made all arrangements to preach on the Sabbath preceding his death. His theme was to have been, "Human Immortality," and his discourse was to have been preceded by a discussion of the theme by a local physician from the physician's standpoint. But on Friday he was taken so ill that he could not preach on Sunday, and on Wednesday he left for the other shore.
Dr. Farr married Louvenia Adelaide Holloway in Cass Co., Mo., who was the mother of three children, one of whom died in early life. She herself died in Johnson Co., Mo., in 1881. The father lived to see the two children grow to maturity and married. The daughter became the wife of Dr. C. R. Oglesby, but died in 1891. The son is Professor F. K. Farr, of the Semitic Department of Cumberland University, at Lebanon, Tenn. In 1894 Dr. Farr was married to Miss Anna L. Forsythe, of Evansville, Ind., Secretary of the Woman's Board of Missions, who ministered to him in his last hours, and who, with the son, will have the sympathy and prayers of a large circle of friends.
W. C. LOGAN.
[Source: The Cumberland Presbyterian, February 22, 1906, page 244]
---
Name: W. Benton Farr
Presbytery: Tulare
Occupation: charge
Place of Residence: Clovis, Cal.
Date: Feb. 7, 1906
Age: 71
[Source: Ordained Ministers Deceased, General Assembly Minutes of the Cumberland Presbyterian Church, 1906, page 133a]
---
Farr Family Information (see King Family Information)
---
Updated 7 June 2017
Please Send Additions/Corrections to the Archvies
HOME