Rev. William Allen Boone
Cumberland Presbyterian Minister
1856 - 1924
Need a Photograph
---
REV. W. A. BOONE
---
The City of Marshall was thrown into a deep gloom last Wednesday, April 30, when it was announced that Rev. W. A. Boone had suffered a stroke of apoplexy and was in a serious condition; and when the Thursday morning paper announced his passing, it was indeed said.
The writer had been with him for over an hour Wednesday morning, and had found him at the store of his son, and in the best of spirits. About 11:15, he was sitting in his chair in the store and fell to the floor. A doctor was called, and he was carried to his home on South Washington Street, where everything possible was done, but at 9 p.m. his spirit took its flight, while the body sank to rest as quietly as a baby falling asleep.
Brother Boone was born near Newbern, Tenn., August 9, 1856. He was married to Miss Alameda Prichard on January 18, 1877. To this union were born four girls and one boy. All survive him, except one daughter, who preceded him in infancy. The remaining daughters are: Miss Zula Boone, of Denver, Col.; Mrs. Octa Jones, of Canton, Miss.; Mrs. Alta Harbet, of Trenton, Tenn., and the son, Riley Boone, of Marshall, Texas.
He professed faith in Christ at the age of 9 years, and joined the Cumberland Presbyterian Church at RoEllen, Tenn.
He became a candidate for the ministry under the care of the Hopewell Presbytery in 1879, and by action of the West Tennessee Synod was transferred to the Obion Presbytery in 1880, and was ordained by that presbytery at a country church near Union City, Tenn., in the year 1881, Rev. D. A. Brigham preaching the sermon and Rev. J. H. W. Jones presiding and delivering the charge.
He served the following churches while a minister: Mt. Bethesda, RoEllen, Pilgrim's Rest, Gleason, Huntingdon, New Salem, Dyer, Sharon, Yorkville, Newbern, Kenton, Trenton, Rutherford, Bell's Chapel and Bethesda, all of Tennessee, and Scott City, Leoto and Pence, Kansas; Marshall, Jefferson, Fairview, Hughes Springs and Daingerfield, Texas, and Grand Cane, La. He was pastor at Marshall for five years when first coming to Texas in 1907, and served at Fairview for nine years. He was pastor at Jefferson, Hughes Springs, Daingerfield and Grand Cane when he passed away, having filled his regular appointment at Hughes Springs and Daingerfield on Sunday, April 27, returning home on Monday.
He was elected by the Board of Theological Seminary in the year 1910 as assistant teacher of theology, and placed in Cumberland College at Leonard, Texas, where he served faithfully and well for something like three years, and the boys who had the good fortune to have his good teaching have proved to the Church at large that it was well to have placed him there.
Brother Boone was universally beloved by all who came in contact with him, and the multitude assembled at his funeral and the most wonderful array of beautiful floral tributes were enough to make everyone say: "Certainly this was a good man."
His funeral service was held at the Cumberland Presbyterian Church in Marshall, Friday afternoon, by the writer, assisted by Rev. B. E. Bowmer, W. B. Allen and Brother Scott, all of the surviving ministers of the Marshall Presbytery except W. M. Robison, whose feeble health would not permit him to be with us.
The church was crowded until many could not even get in the doorway. More than two large truck loads of flowers were sent to the church, and many designs were left at home. The text used was, "Well done, thou good and faithful servant, . . . enter into the joy of thy Lord."
After the service at the church, the body was taken in charge by the Marshall Lodge No. 22, F. and A. M., escorted by the Gray Commandery No. 16, and borne to its last resting place in the beautiful Algoma Cemetery, east of the city, to await the great morning when Christ shall appear.
To Sister Boone and the family we would say: "Weep not as those who have no hope." He left you the greatest legacy ever left to humanity.
We shall miss Brother Boone, as our Presbytery is small and weak, and for 17 years he has been the mainstay. God will call some one to take his place. B. J. Reagin.
[Source: The Cumberland Presbyterian, May 15, 1924, page 16]
---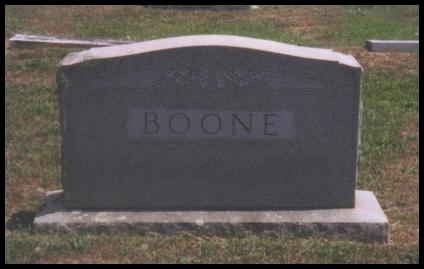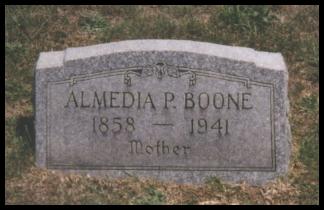 Algoma Cemetery
Marshall, Harrison County, Texas
---
Please Contact the Archives with Additions/Corrections
Updated October 10, 2005
HOME
---