Birkett Edward Bowmer
Cumberland Presbyterian Minister
1854 - 1943
REV. B. E. BOWMER.
By Rev. W. P. Kloster.
Rev. B. E. Bowmer is just about stepping over the age-line of "Senior Soldiers." He was born at Round Rock, Tex., May 13, 1854. Moved to Burnet County at the age of sixteen. This was his home until 1901, when he moved to San Angelo, West Texas.
He was converted at a campmeeting, at Live Oak Church, on Onion Creek, under the ministry of Rev. J. J. A. Roach, who was pastor of Live Oak Church for a number of years. There were some great revivals held at this old church by such men as Revs. Henry Renick, Allen Walker, R. B. Davis and others. Ah! if our preachers and people would only get back to those old camp-meeting, Holy Ghost, faith and repentance times, we would sweep this country, and the blessings of God would be upon us as in the days of yore.
He joined Little River Presbytery at Belton, Tex., in 1874, and was licensed at next sitting of Presbytery, which convened at Mt. Zion, in Burnet County. This was the only Cumberland Church in that county, which was then the Western border of the Presbytery. In this territory, Brother Bowmer was instructed to work as a missionary. This he did without promise of a dollar, making a circuit of Burnet, Plano, Lampassas, Mills, San Saba, and Brown counties. He traveled on horseback over that vast field, co-operating with Revs. Malohn Renick and W. R. Baughman.
Brother Bowmer was ordained by Little River Presbytery, in 1880. He went to school one year to Rev. John Hudson, in a country school. He then took charge of Mt. Zion Church and other points for two years. He then entered Trinity University. After a term there he returned to Mt. Zion, making this his home for twenty years. Meanwhile, he rendered good service at Shady Grove, Spring Creek, Pool Branch, and several churches in Williamson County. He was pastor of our church in Lampasas one year. He was instrumental in building several new houses of worship.
When the Union struggle came on he viewed the proposition from various angles, with intelligence and fair judgment, and found that for many reasons he could not endorse it. Especially was the doctrine of fatality as taught in "Blue-book" an insuperable barrier. Hence, as is one of his strong characteristics, he threw himself into the fight with all the power and earnestness of his soul. His name will go down in history with that of Locket, Dunn, Karnes, and a number of other splendid heroes of the "Lone Star" State.
His recent work has been at Hubbard City three years and Ferris three years. At this place, under his pastoral supervision, the congregation has built a beautiful new church, and a substantial manse. He is now Superintendent of Missions of Texas Synod, under the State Board.
His wife who was Miss Sarah Florence Brooks of Texas has for thirty-four years been to him a tower of strength. She was shared his burdens, heart-aches and disappointments, and it is only fitting she should also share his honors, joys and victories. Of her he says: "She was been truly a preacher's wife, encouraging me in hours of discouragement and trial."
He is now at the age that is ordinarily considered a preacher's limit, and many at this age are "laid on the shelf." But Brother Bowmer is busier than ever before, and bids fair for many years of active service, for his Master and his beloved Church.
"As I was with Moses, so I will be with thee; I will not fail thee nor forsake thee. Be strong and of good courage."
[Source: Our Senior Soldiers: The Biographies and Autobiographies of Eighty Cumberland Presbyterian Preachers. Compiled by The Cumberland Presbyterian Board of Publication. The Assistance of Revs. J. L. Price and W. P. Kloster is Greatfully Acknowledged. Nashville, Tenn.: The Cumberland Presbyterian Board of Publication, 1915, pages 72-74]
---
OUR GRATITUDE
The Synod of Texas of the Cumberland Presbyterian Church
expresses her thanks to our Heavenly Father for the
many years of devoted and faithful ministry of
Reverend B. E. Bowmer
He served in its office of stated clerk and treasurer
twenty-three years.
1913-1936
He resigned at 82 years of age.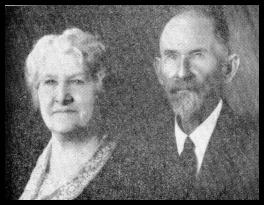 REVEREND AND MRS. B. E. BOWMER
"Mother Bowmer appears in the picture with her husband, representing the place she has occupied in the "picture" through the sixty years of his ministry. His responsibilities have been hers, and she has helped to make him a better stated clerk of Texas Synod and a more fruitful minister.
[Source: Minutes of the Synod of Texas of the Cumberland Presbyterian Church, October 15-18, 1936, page 3]
---
Rev. B. W. Bowmer was born at Round Rock, Williamson County, May 13, 1854. He was converted in 1870 at the old Live Oak camp ground, under the ministry of Rev. J. J. A. Roach, and was received under the care of Little River Presbytery as a candidate for the ministry in 1875. His first year in the active ministry was spent as a missionary over a territory embracing Burnet, Lampasas, Llano, and other counties to the west, in which he laid the foundation for churches which were afterward established. In Little River Presbytery he held pastorates in Burnet, Williamson, Lampasas, and Llano Counties. One of his longest pastorates included the Mt. Zion and Shady Grove churches in Burnet County. He was a strong advocate of the grouping system which was used very successfully in Little River Presbytery for a number of years in supplying the churches with preaching.
Later his ministry extended westward to San Saba and Tom Green Counties. In more recent years he has held a number of pastorates in the north, central, and eastern portions of the state, among which were Hubbard, Ferris, and a pastorate in East Texas embracing Hope Chapel, Pine Tree, and Elmira Chapel. He has held revival meetings all over Texas and Louisiana. Over a period of sixty years dating back to the time when the preachers had to carry six-shooters to defend themselves from hostile Indians, there is probably no other man who has labored more extensively in the interest of the Cumberland Presbyterian Church in Texas than he. Since 1913 he has been stated clerk of Texas Synod.
[Source: History of the Cumberland Presbyterian Church in Texas. Centennial Volume. By Thomas H. Campbell. Nashville, Tenn.: Cumberland Presbyterian Publishing House, 1936, pages 112-113.]
---
Rev. B. E. Bowmer, Texas
On Monday evening, December 6, 1943, at nine fifteen o'clock the earthly career of one of the oldest and best loved ministers of the State of Texas, Rev. B. E. Bowmer, came to an end.
Brother Bowmer was born at Round Rock (near Austin), Williamson County, Texas, May 13, 1854. Had he lived until May of this year he would have been ninety years old.
At the age of sixteen he was converted under the ministry of Dr. J. A. Roach. He joined Little River (now Austin) Presbytery at Belton, Texas, in 1875, and was licensed to preach at its next meeting, and was sent by the presbytery as a missionary to the frontiers of Texas where he ministered two years. In 1877 he entered Trinity University, located at Tehuacana, Texas, where he was educated for the ministry. He was ordained to the full work of the gospel ministry in the Cumberland Presbyterian Church by Little River Presbytery in session at San Saba, Texas, in the year 1877. The first twenty-five years of his ministry was spent in this section of the state. Later he held pastorates at Farris, San Angelo, Hubbard, Pine Tree, Elmira Chapel, and Hope Chapel, and other churches over the state for shorter periods of time. He was at one time connected with Cumberland College at Leonard, Texas. He was stated clerk of Texas Synod for several years and served efficiently on various boards of the synod. He had made his home in Hubbard since 1925.
On August 24, 1881, he was married to Miss Sarah Florence Brooks, of Burnett, who proved to be a faithful laborer together with him in his ministry. To this happy union were born three boys and three girls: Edd Bowmer, of San Pedro, California; Dallas Bowmer, of Dallas, Texas; S. S. Bowmer, of Hubbard, Texas; Mrs. J. W. Kemp, of Cameron, Texas; Mrs. Fred L. Story, of Wichita Falls, Texas; and Mrs. Mike Coleman, of Gallup, New Mexico, all of whom, together with his wife and several grandchildren and more distant relatives, survive his passing.
Brother Bowmer has passed on to a rich reward and our loss is heaven's gain. While his physical body is no longer with us, the influence of his life and his memory will linger for many years. He loved his God, his Church, his fellow man, his family, and his friends.
The funeral service was conducted at the Hubbard Cumberland Presbyterian Church by the writer, assisted by Revs. Joe S. Eustis, O. N. Baucom, G. L. Waddle, and N. A. Woychuk. Interment was in the Hubbard Cemetery.--F. H. LaFollette.
* * *
Resolutions
Whereas, Our Heavenly Father, in His infinite wisdom, has seen fit to call from his earthly labors our beloved former pastor, Rev. B. E. Bowmer, and has transplanted him into his heavenly abode, and
Whereas, The Church at large has lost a member of one of its administrative boards and a loyal worker in all of its activities, and this session a counselor and friend, and the individuals of our own and other churches in Hubbard the benefits of Christian fellowship with him, and
Whereas, His immediate family mourns the loss of a kind, devoted, and loving husband, father, and grandfather, and
Whereas, The City of Hubbard has lost one of its best citizens, and a man whose friends were as numerous as his acquaintances, and his influence and cooperation was felt in all of its enterprises, and
Whereas, The church and community will miss his presence, wise counsel, and leadership, therefore be it
Resolved, That the session in meeting assembled express to the members of his immediate family our deepest and sincerest sympathy in their hour of grief and point them to the Master who is able to heal the broken-hearted and to succor them in the hour of sadness. Be it further
Resolved, That a copy of these resolutions be spread upon the minutes of this session, a copy be sent to the members of his family, and a copy be published in the Church paper and the Hubbard City News.
Session of Hubbard Cumberland Presbyterian Church.
J. R. Hight
L. L. Wilkes
M. L. Onstett
[Source: The Cumberland Presbyterian, January 20, 1944, page 15]
---
Bowmer Family Information
---
Contact the Archives with additions/corrections
Updated October 25, 2010
HOME