Nicholas Eubanks Bagwell
Cumberland Presbyterian Minister
1833 - 1926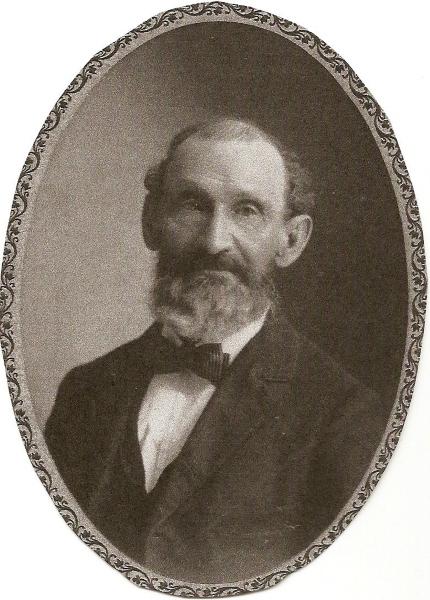 PP
PhPPPhohot
---
REV. N. E. BAGWELL.
By Rev. J. L. Price.
Rev. N. E. Bagwell, the oldest and one of the most honored ministers of Princeton Presbytery, was born in Montgomery County, Tennessee, January 8, 1833, in a one room log house, two stories high. Logs hewn with a broad-ax, cracks filled with chinkings of wood, and plastered with clay. It was located on McAdow creek, in sight of original McAdow church and camp-ground, where meetings were held annually, first and second Sunday's in August.
Brother Bagwell is one of the few connecting links left between the first generation of Cumberland Presbyterian preachers and the present. Hence his history is very interesting, from the fact that he knew personally, and heard many of the first generation preach, and can give history from first hand. He describes McAdow church and camp-ground in these words: "This church house consisted of two commodious rooms with log partitions. The roof was framed with rib-poles, covered with boards, weighted down with long poles to hold them in place. It had a chimney at each end, made of slats and mortar, with large fire-places. There were a number of camps made of slabs split from logs and notched at the ends, forming oblong squares. These were arranged with halls between, one room for men and one for women. Inside scaffolds were constructed, supported by forks and fastenings to the wall, full length of the room. These scaffords were covered with straw, and the straw covered with sheets and other coverings, and served as beds. Another shelter was erected for cooking and eating. This church-house and camp-ground were in existence before the Cumberland church was organized. My mother's father, William Morrow, who was born in 1775, was a ruling elder in this church. As far back as I can remember this house and encampment had become so dilapidated the community resolved to build anew. A situation, some four or five hundred yards South of my fathers home was selected as a more suitable location for the new building. Exchange of grounds was made, and a large hewed log house was erected, surrounded by new and better camps, and a large shed was erected at the East end with slab seats and platform for pulpit."
The builders, these grand old men and women of the first and second generations, when the time of the year came for their camp-meeting would load their wagon with provisions and bedding and repair to the camp-ground, and remain for eight or ten days--leaving home and all earthly possessions to the care of an all-wise Father. Strangers were always welcomed and entertained with special care. These were great days both from a social and spiritual standpoint. Thousands of souls were converted; and many of the brightest young men that came into the ministry of the first, second and third generations were converts of these meetings. These were giants in those days--not only physical and intellectual, but spiritual giants also."
Another chapter from Brother Bagwell's book of memory:" The people went to these meetings for the good of their own souls and the souls of their neighbors, and not to discuss politics, crops, and how to make the most money, etc. They were all absorbed in the Master's business--morning, noon and night--they were singing, praying, exhorting and preaching. Trusting God for divine wisdom, grace and power in saving souls. Early in the morning the trumpet would sound, which was a signal for all to arise, and those not engaged in preparing the morning meal would repair to the shed for song and prayer. At nine, eleven and three the people were summoned for preaching and altar service. At each of these services an invitation was extended for sinners to come to Christ, and often the altar would be crowded with weeping penitents--No signing of cards or holding up hands, but men and women came to the altar broken hearted on account of their sins."
It isn't strange that the church has lost her power to repel sin today. She has departed from the old paths, and God will not reward her until she returns.
Again, he says: "I have in my possession the old trumpet horn used on those occasions for calling the multitude together. The very sight of it refreshes my soul and calls back memories of many happy scenes, and excites a longing desire for a return of those blessed days, incidents and experiences that touched our sin-polluted world, dispelling the darkness, gloom and misery that envelops this earth in its fallen state."
The second church described by Brother Bagwell has passed away and an elegant frame building has taken its place on the same lot, but not on the same site. He says: "I pass from this to the scenes of my childhood and the happy days spent in and around the old camp-ground. Precious hours they were to me, and their memory thrills my heart now in my old days, past four score years I love to sit and think of childhood days, and happy hours spent in the old home." What a benediction, such reflections!
Religious impressions were made on the mind of this grand old hero at a very early age, through the conversation of pious and devoted friends and relatives, even at the very early age of four or five. His first idea was that religion could be bought with money, and he determined to secure that first. About the tenth year of his life he was stricken with a severe spell of sickness just at the beginning of the camp-meeting. Then for the first time he realized that if he should die, his soul would be lost, so he promised God if he would restore him to health that at the next camp-meeting he would give himself to the Lord for life and service--But why not then? Oh! this treacherous idea of waiting for a "more convenient season," or the other idea that "You are too young yet." Thousands of souls have been wrecked upon these two breakers. But true to his promise, about the third day of the next meeting he surrendered, redeemed that promise by laying his life on God's altar. He relates his experience about like this: "At noon tide an almost impenetrable darkness surrounded me, all light seemed to have been obliterated, unconscious of self and surrounding conditions, I submitted trustingly to the saving power of the Lord Jesus Christ, and at that moment darkness disappeared and a glorious peace and joy flooded my soul."
Among the illustrious servants of God that he knew and heard preach at the old camp-ground were Rev's. Guthrie and Barnett, Hiram A. Hunter, W. L. Quaite, Addie Boyd, Silas Davis, Joel Penick, W. L. Caskey, James Frazier, A. J. Baird, D.D., and "Father" McDaniel, all of Kentucky. Then there were Rev's. J. M. Gill, D.D., and his two uncles, James and David R. Marshall, David Hunter, David Morrow, Wilson Crowley, William and Thomas Hutchinson, these from Tennessee.
Brother Bagwell entered Cumberland University in his eighteenth year under President T. C. Anderson. In company with Rev. J. M. Gill, he attended Presbytery at Tusculum church, and placed himself under the care of Presbytery as a candidate for the ministry. He then returned to school, but in a short while his health broke down and he went home to the farm. He asked Presbytery to release him from further obligations which was granted.
At the age of twenty-six he married, and about this time he was ordained a ruling elder in the McAdow church which position he filled faithfully, and religiously. In the fall of 1864 he represented his church in Presbytery and again placed himself under its care as a probationer. In 1865 his wife died leaving him the care of one child. At the close of the war nearly all churches in the Southwest disorganized. It was a dark time, and meant hard work for preachers, especially those just starting out, but our brother did what he could in the ministry, and at the same time assisted an aged father in financial distress.
At different times of his life he bought land and settled new homes--the last of which was in Christian County, Kentucky. In two moves he settled in communities destitute of Sunday schools and church privileges. In each instance he organized and had many glorious revivals. His last ministerial work was with Liberty and Grace Chapell, which he served for several years after the merger, giving way to Rev. J. E. Powers, in the fall of 1913.
God bless you Brother Bagwell. We rejoice to honor you as one of our "Senior Soldiers." Your work is nearly done--Only waiting for a welcome from the Savior on the other shore. Only a few more years at most, and the connecting link between the past and present will have been severed and we will only know of these great, true and tried pioneer veterans of the Cross through written history. It is eminently fitting that these things might be preserved for the instruction and encouragement of future generations.
[Source: Our Senior Soldiers: The Biographies and Autobiographies of Eighty Cumberland Presbyterian Preachers.Compiled by The Cumberland Presbyterian Board of Publication. The Assistance of Revs. J. L. Price and W. P. Kloster is Greatfully Acknowledged. Nashville, Tenn.: The Cumberland Presbyterian Board of Publication, 1915, pages 11-17]
---
On motion the following greeting was sent to Rev. N. E. Bagwell, Oak Grove, Ky.: Greetings from Princeton Presbytery, in session at Antioch Cumberland Presbyterian Church, this the 6th day of October, 1926. We remember you; we miss you; we love you; we join you in accepting our Lord as the Good Shepherd so beautifully express in the 23rd Psalm. Assuring you of our prayers, we are your brethren in the Lord.
REV. J. W. STYLES
REV. W. T. OAKLEY.
[Source: Minutes of Princeton Presbytery of the Cumberland Presbyterian Church, October 5, 6, 7, 1926, page 9]
---
REV. N. E. BAGWELL
---
Rev. N. E. Bagwell, of Oak Grove, Ky., passed to his reward, November 30, at 10:30 p.m. at the home of his son, R. E. Bagwell.
Brother Bagwell was born in Cumberland County, Tennessee, January 8, 1833, and served churches in that state. He served the church at Casky, Ky., for several years, before becoming too feeble to preach. He, with his family, has lived in Christian county for about forty years.
The funeral service was conducted by Rev. J. W. Stiles, pastor of the Cumberland Presbyterian Church of Hopkinsville, Ky., and interment was in Riverside Cemetery. His five sons were the pallbearers.
He is survived by his wife, five sons and one daughter. One of his sons said: "My father was a Christian. He lived his religion."
His life will continue to live among his friends and those who knew him.
Miss Fannie B. Rogers.
Hopkinsville, Ky.
[Source: The Cumberland Presbyterian, December 16, 1926, page 16]
---
Special Hour: A memorial service was conducted by Rev. F. L. McDowell in memory of Rev. N. E. Bagwell, deceased. Scripture used Psalm 90 and 91.
[Source: Minutes of Princeton Presbytery of the Cumberland Presbyterian Church, April 5, 6, 7, 1927, page 5]
---
REPORT OF COMMITTEE ON MORTUARY
Names of Deceased
Princeton Presbytery.--Rev. N. E. Bagwell died at Oak Grove, Ky., in November, 1926, aged 93 years; was retired.
[Source: Minutes of the General Assembly of the Cumberland Presbyterian Church, 1927, page 136]
---
Please Contact the Archives with Additions/Corrections
Updated February 20, 2016
HOME