David R. Marshall
1816 - 1895
Cumberland Presbyterian Minister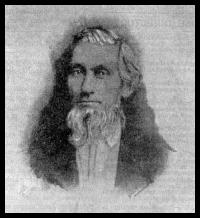 OUR DEAD HEROES.
XXXII.--REV. DAVID R. MARSHALL.
By Rev. J. M. Gill, D.D.
Rev. David R. Marshall was born near Nashville, in Davidson County, Tennessee, August 27, 1896 [sic: 1816]. He died in Graves County, Kentucky, December 10, 1895. He was the son of James and Margaret Marshall. His mother was a charter member of the White's Creek (now Mt. Hermon) congregation of the Cumberland Presbyterian Church, out of which congregation have come eleven preachers, eight of whom are descended from the Marshall family. Rev. James Marshall is now the only survivor of a large family, and he is well known, and acknowledged as one of the church's best workers, his long and useful life having been spent in efficent service for the Master.
David R. Marshall when a boy sixteen years of age professed religion at a place known as the Brick Church during a meeting held by Rev. Wm. Ralston and Rev. David Lowery, in October, 1832. It was a great revival the fruits of which are still ripening and being gathered. He joined the White's Creek congregation where he held his church membership until his death.
Very soon after his conversion he was strongly impressed that it was his duty to preach the gospel, but such was his modest and shrinking disposition, that he pondered this matter in his own mind revealing it to no one. Such had been his moral and religious training, especially by his mother, that he was already conversant with the teachings of the Bible. Through his parents, he had inherited that love and respect for the Bible and the observance of the Sabbath which was peculiar to Scotch Presbyterians of that, and even of this day.
He pleaded lack of education as a reason why he should not consent to preach, but so strongly was he impressed that it was his duty, that he finally consented to make known his impressions to the Nashville Presbytery, which he did in May, 1838, when he was taken under its care as a candidate for the ministry. He struggled heroically in getting his education, but became proficient in the branches required by the Book of Discipline, and in 1840 he was licensed and appointed to a circuit on which he had about thirty appointments. On this circuit he was very successful and hundreds, perhaps thousands, were converted. The fruits of his labors eternity alone will reveal. In the year 1846 he was ordained to the whole work of the ministry in the town of Charlotte, Dickson County, Tenn., near the birth place of the Cumberland Presbyterian Church.
He was pastor of one or more churches during his active life and even when he was unable to travel he sought place and opportunity to preach. He had in his old age a peculiar affliction, having lost the use of his lower limbs, and when he was unable to stand alone, he would sit in a chair and earnestly plead with men to accept Christ as a personal Savior.
While he was an independent thinker, he was at the same time subject to his brethren in the Lord. At a camp meeting on one occasion he was ordered to preach at mid-night, which he did with wonderful effect.
In 1872 he was elected county trustee of Davidson County, Tenn., which office he held for two years, and so faithful was he to his trust that the county recognized him as having left a clean record.
After this he preached in destitute places, not taking regular work because of his feeble condition. But he attended many protracted meetings, and as he was a great singer, he was of much service in such meetings.
In 1882 his second wife died leaving three small boys whom he succeeded in rearing in such way as to make them a blessing to him in his helpless old age.
Many were his trials and great were his afflictions, and yet few, if any, ever bore their affliction more patiently or met their difficulties more heroically or cheerfully. Christ and his cause were ever uppermost in his heart. He laid is armor by, having used it well.
Elkton, Ky.
[Source: The Cumberland Presbyterian, July 22, 1897, page 84]
---
Marshall Family Information
---
Please Contact the Archives with Additions/Corrections
Updated January 13, 2005
HOME
---