Joseph Brown
1772 - 1868
Cumberland Presbyterian Minister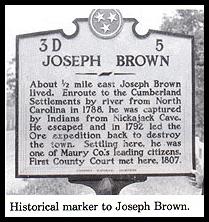 ---
We heard it reported yesterday that the veteran pioneer and Indian fighter Col. Joseph Brown of Giles County died during the morning at the advanced age of 96 years.
[Source: Nashville Republican Banner, February 6, 1868]
---
Died in this county Feb. 4, 1868, Col. Joseph Brown aged 95 years, 6 months and 2 days. Col. Brown immigrated with his father's family Col. James Brown a Revolutionary officer in the North Carolina line to Tennessee in 1788. His father and brothers were massacred by the Indians in that year. Together with his mother and several sisters and he [they were] captured and held in captivity for a long time. He died on the 58th anniversary of the Cumberland Presbyterian Church, of which he was one of the founders, and was a professed Christian for 80 years. He held the first prayer meeting that was ever held in Maury County, to which he invited in person, every white inhabitant of the county. It is impossible to portray in a brief notice the many noble traits that adorned the character of the deceased, or to give anything like a synopsis of the many daring adventures in the service of his county.
[Source: Pulaski Citizen (Pulaski, Tennessee), February 8, 1868]
---
IN MEMORIAM.
WHEREAS, In the all wise providence of the great Head of the Church, our venerable brother, Rev. JOSEPH BROWN, a member of this Presbytery, was called from his labor in the Church militant to his reward in the Church triumphant, on the 4th day of February lst, at the advanced age of 95 years, 6 months, and 2 days; and in the 88th year of his personal consecration to the service of the Lord, and the 46th of his labors in the ministry of the gospel in the Cumberland Presbyterian Church; and whereas, his Christian and ministerial life were eminently characterized for deep-toned piety, zeal, and usefulness; and, whereas, it is in accordance with sacred history to record, not only the lives, but also the deaths of the Lord's servants, that the righteous may be had in everlasting remembrance; therefore,
Resolved, 1. That in the death of Rev. Joseph Brown, this Presbytery has lost one of its original members, who, like Barnabas, "was a good man, and full of the Holy Ghost," and through whose instrumentality much people were added unto the Lord.
2. That his example, in all that pertains to Christian and ministerial character and faithfulness, should stimulate us as Christians, elders, and ministers respectively, "to follow him, as he also followed Christ."
3. That we bow in entire submission to the Divine dispensation in his removal, feeling that our loss is his eternal gain.
4. That, as a just tribute of respect to his memory, and that we may be benefited in meditating upon his virtues in the light of God's holy word, that a sermon be preached in reference thereto on Monday next, at 10 1/2 o'clock A.M., by Rev. G. W. Mitchell; and that Presbytery in a body attend the same.
5. That the Stated Clerk furnish a copy of this report for publication in the Banner of peace.
Respectfully submitted,
M. B. MOLLOY,
G. W. MITCHELL,
W. N. REED, Committee.
[Source: Banner of Peace, May 21, 1868, page 4]
---
Rev. Joseph Brown was a patriarch in the Church. Upward of ninety years old, he had been a professor of religion from his early life. No man had more universally the confidence of the Church and the community in which he lived and died. His memory is an inheritance to the Church.
[Source: Minutes of the General Assembly of the Cumberland Presbyterian Church, 1868, page 38]
---
REV. JOSEPH BROWN;
OTHERWISE, COLONEL JOSEPH BROWN.
JOSEPH BROWN was born in Surrey county, North Carolina, on the 2d day of August, 1772. His father, James Brown, was brought from Ireland to Virginia when seven years old. He shared in the war of the Revolution as a soldier, and was at the same time a pious member and an Elder in a Presbyterian congregation in Guilford county, where he settled when Joseph was an infant. Joseph when very young learned to read, and, according to the custom of the times, committed to memory the Shorter Catechism and the Lord's Prayer. The family lived several miles from the place of worship at which they customarily attended, and Joseph, being the seventh child, did not attend preaching until he was about seven years old. He says of himself; "I asked my father to let me go to church. He consented to take me if I would ride behind him, which I was proud to do. The sermon was preached by Rev. David Caldwell, pastor of the congregation. The subject was, the parable of the rich man and Lazarus. Mr. Caldwell dwelt at considerable length upon the time which had intervened between the delivery of the parable and the occasion of the sermon, something more than seventeen hundred years, and upon the fearful truth that the rich man was still in that place of torment, and yet that seventeen hundred years was comparatively nothing to eternity. This, though the first sermon that I ever heard, made such an impression upon my mind that I then and there resolved to serve God whilst I lived. From that time I began to pray in secret, and have kept up the practice through life. I have abundant reason to thank God that I formed such a resolution, and established the habit of secret prayer so early."
In 1788, Colonel James Brown, the father of our subject, attempted to move his family from North Carolina to the Cumberland country. Lands had been allotted to him in Cumberland for military services. An account of this enterprise constitutes one of the bloody chapters of which the history of the settlement of the South-west is largely made up. I quote from Ramsay's "Annals of Tennessee." It seems that the emigrants had penetrated to East Tennessee, and at this point the narrative commences:
"Taking with him to the distant wilderness," says the annalist, "his family, consisting of his wife, five sons, two of whom were grown, and three younger; four small daughters, together with several negroes, he was unwilling to expose them to the dangers of the route through Cumberland Gap, or the more direct but no less unsafe passage over the mountain; and therefore determined to descend the Tennessee River, and reach Nashville by ascending the Ohio and Cumberland to that place. The boat was built on Holston, a short distance below Long Island. He took the precaution to fortify it by placing oak planks, two inches thick, all around above its gunwales. These were perforated with port-holes at suitable distances. To these measures of defense was added a swivel placed in the stern. Besides his two grown sons, James and John, Colonel Brown had with hi five other young men--J. Bays, John Flood, John Gentry, William Gentry, and John Griffin. These were all good marksmen. The emigrants, or, rather, the adventurers, embarked on the fourth of May. On the ninth, the boat passed the Chickamauga towns about day-break, and the Tuskigagee Island town a little after sunrise. The head-man, Cuttey Otoy, and three other warriors, came on board there, and were kindly treated. They then returned to their town, from which they immediately sent runners across the mountain to Running Water Town and Nickajack, to raise all the warriors they could get, to ascend the river and meet the boat. The narrative of the capture of the boat, the massacre of most of the passengers, and the captivity of such as survived, will be given in the words of the narrator, the youngest son, the late Colonel Joseph Brown, of Murray county, Tennessee. It contains such a horrid recital of Indian cruelty and barbarism by the savage banditti that so long lay concealed in the fastnesses of Nickajack and Running Water towns--is withal so truthful and minute in its details of the captivity and sufferings of one of the prisoners, who himself, in the end, piloted the expedition in 1794, which penetrated these mountain recesses, and extirpated the miscreant land-pirates and murderers that infested them--and is, besides, now for the first time given to the public, that no apology is needed for giving it entire without condensation or abridgment."
I hardly need explain, that Colonel Joseph Brown is the subject of our present sketch. The narrative is a part of the history of the country, and of the terrible experience of one of our good and honored men, and it shall be given in his own words as they are recorded in the Annals, and in the manuscript autobiography which I have in my possession. They substantially agree.
"Only four canoes came meeting us," says the narrator, "in the current of the river, which at the time was very high. Seven or eight came up through the bottoms, in some ponds, and after the Indians in the four first got on board, the other canoes came out through the cane, and the Indians in them also came on board. The first four came two and two, side by side, holding up white flags, but had their guns and tomahawks covered in the bottoms of their canoes. But as there were forty men in the four canoes, my father ordered them not to come nigh, as there were too many of them. We then wheeled our boat, leveled our swivel, and had our match ready to sink their canoes, when they claimed protection under the treaty, and said, through a man named John Vann, whom they got to come and talk for them, that it was a peaceable time, and that they only wished to see where we were going to, and to trade with us, if we had any thing to trade on. My father ordered the young men not to fire, as he was coming to an Indian country, and did not wish to break any treaty.
"After they came to us, they appeared friendly until the other canoes came around; and they then began to gather our property and put it into their canoes. My father begged Vann not to let them behave so, and he replied, that the head-man of the town was gone from home, but that he would be at home that night, and would make them give up every thing. He also promised that one of them should go with us, and pilot us over the Muscle Shoals, as the passage was dangerous for boats.
"Before they had finished robbing the boats, however, a dirty, black-looking Indian, with a sword in his hand, caught me by the arm and was about to kill me, when my father, seeing what he was attempting, took hold of him and said, that was one of his little boys, and that he must not interrupt me. The Indian then let me go, but as soon as my father's back was turned, he struck him with the sword, and cut his head nearly half off. Another Indian then caught my father, and threw him overboard. I saw him go overboard, but did not know that he was struck with the sword; it astonished me, therefore, to see him sink down, as I knew him to be a good swimmer. As this took place in the stern, and my brothers and the other young men were with Vann in the bow, I went to them, and told them that an Indian had thrown our father overboard, and he was drowned.
"Our boat was landed at the upper end of Nickajack, but before it reached the shore, an Indian wanted me to go out of the boat into a canoe, which I refused, not dreaming that I was a prisoner. As soon as we landed, the same Indian brought an old white man and his wife to me, who said, 'My boy, I want you to go home with me.' I inquired where he lived, and he said his house was about a mile out of town. I told him that I supposed I could go home with him that night, but that we would continue our journey in the morning. On his saying that he was ready to start, and wished me to go with him, I mentioned to one of my brothers the old man's wish that I should go with him, and told him that I would return early in the morning, to which he replied, 'Very well.'
"I had not got half-way to the old man's house before I heard the report of the guns which were killing my brothers and the other young men, but I thought it was the noise of our guns, probably taken out of the boat to see how they would shoot. I had been at the old man's house but fifteen or twenty minutes, when a very large, corpulent old woman came in, the sweat falling in big drops from her face, who appeared very angry, and told the white people that they had done very wrong in taking me away, that I ought to be killed, that I would see every thing, and that I would soon be grown, and would guide an army there, and have them all cut off; in short, that I must be killed. This was said in Indian, so that I did not understand it, nor what she went on to say, that is, that all the rest were killed, and that her son would be there directly, and would kill me, she knew.
"The old Irishman, however, told me that my people were all killed, but added that I should not be hurt, although he squaw had just told him that her son would kill me immediately. He then directed me to sit on the side of the bed, and getting up, stood in the door, with his face outward, talking all the time to his wife and the old squaw in Indian, which, of course, I did not understand. In about ten or fifteen minutes, the old squaw's son arrived sure enough, but had not come up the road, so that the old man did not see him till he reached the corner of the house. He asked at once if there was a white man within. The old man answered, 'No; that there was a bit of a white boy in there.' To which the Indian replied that, 'he knew how big I was, and that I must be killed.' The old white man pleaded for my life, saying it was a pity to kill women and children; but the Indian used the same arguments that his mother had employed--that I would get away when I grew up, and pilot an army there and have them all killed, and that as a matter of self-defense I must be killed at once. This old fellow was a British deserter, who had come to America before the Revolutionary War, and had deserted several times, and had at length got into the Cherokee Nation, having been there about eighteen years. His name was Thomas Tunbridge; he had lived with his wife about sixteen years. She was a French woman, who had been taken by the Indians when a small girl, and had grown up, and had had children among them before she had an opportunity of returning to her people. Her name, she said, was Polly Mallet. She had had no children from her connection with Tunbridge, but it was an Indian son of hers who took me prisoner. He gave me to his mother, telling her that I was large enough to help her hoe corn. When, therefore, Cuttey Otoy insisted on killing me, old Tunbridge told him that I was his son's prisoner, and he was still in town, and that I must not be killed. No greater insult could have been offered to Cuttey Otoy, for he was a great man, and usually did as he pleased, while Tunbridge's son was only twenty-two years old--a mere boy, in Cuttey Otoy's estimation. Incensed at this insult, he came to Tunbridge with his knife drawn, and tomahawk raised, and asked him if he was going to be the Virginian's friend. In fact, he would have killed him immediately if he had admitted it, but Tunbridge said, 'No,' and stepping back from the door-sill into the house, spoke in English, 'Take him along.' Cuttey Otoy, who was a very large, strong Indian, followed in a rage, and came to me with his knife and tomahawk both drawn; but the old woman begged him not to kill me in the house, to which he agreed, and catching me by the hand, jerked me up and out of the house. Outside of the house were ten of his men surrounding the house and door, and one had in his hand the scalp of one of my brothers, and another those of the other men on a stick. Some had their guns cocked, and others their knives and tomahawks drawn, ready to put me to death. I requested Tunbridge to beg them to let me have one half-hour to pray, to which he replied that it was not worth while. But they concluded to strip my clothes off, so as not to bloody them, and while they were doing so, the old French woman begged them not to kill me there, nor in the road which she carried water along, for the road passed by her spring. They answered that they would take me to Running Water Town, as there were no white people there, and would have a frolic knocking me over. All this was said, however, in Indian, and I knew nothing of what they were discussing, and as soon as my clothes were off I fell upon my knees, and cried, like dying Stephen, 'Lord Jesus, into thy hands I commit my spirit,' expecting every moment to be my last. But I had not been on my knees more than a minute, when Tunbridge said, 'My boy, you must get up, and go with them; they will not kill you here.' He told me, however, nothing of what they said of having a frolic at Running Water Town.
"We had not gone more than seventy or eighty yards, when Cuttey Otoy stopped his men, and said to them that he could not, and they must not, kill me, as they were his men, and it would be as bad for him, as if he himself had done it; for that I was a prisoner of Poor Job--the French woman's son--who was a man of war. 'Now,' said he, 'I have taken a negro woman out of the boat, and sent her by water to where I live, and if we kill this fellow, Poor Job will go and kill my negro, and I do not want to lose her; nor could all the Indians in the nation keep him from putting her to death.'
"Now, when Cuttey Otoy spoke thus, the thought of my being one day a man, and leading an army there, and having them killed, and evidently given way to avarice, for the old woman as well as her son wanted the service of the negro. As I knew nothing of what they were saying, I was on my knees trying to give my soul to God, through the merits of the Saviour, and expecting every moment the tomahawk to sink into my skull. At length, the favor shown to Stephen in his dying struggle came to my mind, how he saw the heavens opened, and the blessed Saviour sitting at the right hand of God. I opened my eyes, and looking up, saw one of the Indians, as they stood all around me, smile. Then, glancing my eyes around, I saw that all their countenances were changed from vengeance and anger to mildness.
"This gave me the first gleam of hope. Cuttey Otoy then called to old Tunbridge to come after me, saying that he loved me, and would not kill me then, but that he would not yet make peace with me, but if I lived three weeks, he would be back again, and then make peace with me."
Young Brown had thus passed the crisis. It was a terrible ordeal. He still experienced dangers from the jealousy and suspicions of the Indians. He was taken under the care of one of the head men of the town, named The Breath, whom he was directed to call uncle. Poor Job, who had captured him, he was to call brother. Under the shadow of these nominal relationships it was thought his life would be in less danger. In April of the next year, after being a captive eleven months, an exchange of some prisoners was made, and he was restored to freedom.
At the time of the disaster upon the river, Mr. Brown, two sons, and two sons-in-law, were killed. Joseph, the subject of this sketch, and a younger brother, three sisters, and their mother, were taken prisoners, The mother and one of the sisters were in captivity about seventeen months; the others were released at the expiration of eleven or twelve months. It seems a merciful and almost a miraculous providence that they all survived the dangers and horrors of their fearful experience among their savage captors.
Several incidents grew out of the connection of facts which has here been presented, in which the reader will feel some interest. The captivity of Joseph Brown extended from the spring of 1788 to the spring of the following year, 1789. On the night of the 30th of September, 1792, an attack was made by about seven hundred Indian braves, as they were boastfully called, upon Buchanan's Station, five miles from where Nashville now stands. The fort contained only fifteen defenders. Still the assailants were repulsed with heavy loss. Among their killed was the step-son of Tom Tunbridge. This was Poor Job, who had captured young Brown on the boat. He had become one of the Indian braves.
In 1794, the celebrated expedition against Nickajack and the neighboring towns took place. It turned out that what the furious old squaw, the mother of Cuttey Otoy, anticipated and predicted, and what Cuttey Otoy himself seems to have dreaded, was realized. In September of that year, a considerable body of men set out with the view of trying to break up the towns which have been mentioned. They reached the northern bank of Tennessee River after dark on the 12th day of September. The only method of approach to the Indian towns was by swimming the river. A part of the troops remained on the north bank to protect the horses and provisions; a part, who were the better swimmers, made light rafts, upon which they placed their guns, ammunition, and clothes. Colonel Brown says that about two hundred and thirty of the men swam the river in safety, pushing their light rafts before them. He himself, now a grown man, was their guide, fulfilling the prediction of his boyhood, that, "If he were not killed then, he would soon be grown, and would get away, and pilot an army there, and have them all cut off." They penetrated into the heart of Nickajack before they were discovered. The poor Indians thought that the white men must have come down from the clouds, the attack was so sudden, and their fright was so great. Some of those who were captured recognized young Brown, and seemed to be horror-stricken. "At length one woman ventured to speak to him, reminding him that his life had been spared by them, and importuning him to plead now in their behalf. He quieted her apprehensions by remarking to her that they were white people, and did not kill women and children." The destruction of the Indian towns was complete, and the war soon came to an end, which had been carried on for several years against the frontier settlements with all the atrocities which have commonly attended Indian warfare in this country.
Another incident deserves to be mentioned. I derive it from an Indian tale published by the Southern Methodist Publishing House in 1860. It is intended to illustrate the efficacy of prayer, and is considered reliable authority. Mr. Mitchell also confirms it in his sketch. During the Creek war of 1812, Colonel Brown, now about forty years of age, was with General Jackson in the character of aidde-camp and interpreter. He was experienced in Indian warfare, and understood the language of the Creeks. Learning that the old warrior, Cuttey Otoy, who was so anxious to kill him once, when Tunbridge befriended him, and old Breath adopted him, twenty-five years before, was now living on an island in the Tennessee River, he sought an interview with him, when he thus addressed him:
"Cuttey Otoy, you murdered my father and my two brothers when I was a boy. You robbed my poor mother not only of her husband and children, but of all the property she had, and left us orphans, and reduced almost to beggary, cast upon the world without a dollar to keep us from starving, causing us to suffer many hardships and cruelties. For all this you deserve to die, and some of my men would kill you this very moment if they had the opportunity."
Cuttey Otoy hung his head with shame and remorse, and replied, "It is true; I do deserve to be put to death. Do as you please with me." The soldiers around cried out, "Kill him! kill him!" But Colonel Brown was a Christian then, as well as a magnanimous soldier. He replied to the old, cruel warrior, "No, no; although you richly deserve death at my hands, I will not kill you. If I did not, however, worship and serve the Great Spirit who made the sun, the moon, and the stars, and who made us both, I would kill you this moment. But vengeance is His; I will leave you to answer to Him for you crimes; I will not stain my hands with your blood. You are old now, and will soon go down to the grave, and will have to give an account of the life you have led to that Great Spirit."
I bring this eventful episode of twenty-five years' duration in the life of our subject to a close here. In 1796, after the close of the Indian war in which he suffered his captivity, he was married to Miss Sally Thomas, and settled about three miles from Nashville, on White's Creek. Soon after this he united himself with a Presbyterian congregation under the care of Rev. Thomas Craighead, and in a short time was set apart as a ruling elder. His autobiography would leave the impression upon the reader's mind that he considered himself to have been converted in very early life, before he fell into the hands of the Indians, and perhaps from about the time of his hearing the first sermon from Dr. Caldwell. He seems, at least, from about that time to have borne with him always the Christian spirit.
He gives us an account of his first experience with the jerks. Bodily jerking was one the remarkable phenomena of the old revival of 1800. Mr. Brown was traveling through the wilderness across Cumberland mountain on some public business. He was in the habit of fasting in those days a considerable portion of each day. One day, on his journey, he turned aside a short distance from the road to give his horse some corn, which he was carrying in a sack for that purpose. While the horse was eating, he kneeled down and engaged in prayer, and while thus engaged, he was seized with a paroxysm of jerking. He regarded it as a visitation from God, and intended to convince gainsayers that the religious movement which was then just commencing in the country was from God. Under that impression he submitted to it, and his remark is, that in the very act of his submission, under the impression mentioned, he began to enjoy more of the light and comfort of religion than he had ever enjoyed before. He occasionally had paroxysms of jerking--not, however, of the most violent kind--through life, and always rejoiced in it as a lesson calculated to keep before the mind an illustration of man's utter helplessness, and, as he expressively says, his "nothingness" in the hands of God.
About this time the great South-western Revival began to develop itself. Mr. Craighead seemed to be in sympathy with the work at first, but soon became an opposer. His congregation was divided. A large party went with the revival ministers, and amongst them was, of course, Mr. Brown. He became an active supporter of the work, and labored in prayer-meetings and in exhortation, with great efficiency and success..
In 1806, he settled on Lytle's Creek, in Maury county, while the country was yet a wilderness, covered with an undergrowth of cane. It is said that he held the first prayer-meeting that ever was held in the county, and that he called in the whole population of the county, consisting of four men and three women in all. This was a small beginning.
When Rev. Dr. Gideon Blackburn organized the Presbyterian Church in Columbia, in 1810, Colonel Brown was elected one of his elders.
Some time in the year 1812, he joined the Cumberland Presbyterian Church, in which he also served as a ruling elder until he entered the ministry. During all that time he was an earnest and zealous promoter of the great religious interests of his fellow-men. He was in those days what we call a man of business, and, in that respect, a man of the world, but business and worldly interests were kept in subordination to higher considerations. It was understood that his life was in the highest sense a religious life.
About the year 1823, he was set apart to the whole work of the ministry by the Elk Presbytery. He continued a member of that Presbytery until the spring of 1835, when, by appointment, he became a member of the Richland Presbytery, and assisted in its organization. He continued a member of that Presbytery until his death.
Owing to the circumstances of his early life, his education was of necessity limited; still, he was a good English scholar. His practical education was better than his theoretical. This is the case with a great many of our most successful business men--they are men of the world, but still they are Christians, and can do great good.
In the providence of God, he was blessed with success in the administration of his temporal affairs. He was thus enabled to live comfortably and plentifully at home, and to assist the Church in its necessities. In this latter respect he was zealous and liberal. He had leisure, too, to preach much, and his ministerial labors were remarkably spiritual and useful.
He traveled a great deal, and his custom was to have prayers with families wherever he stopped, if permitted. He adhered to this rule whether amongst acquaintances or strangers. It was generally the case, too, that if there was any thing like a warm religious atmosphere about the houses where he held these services, they terminated with a shout, and a time of rejoicing. In one of his manuscripts he says, "I am now ninety-two years old, and still I try to pray, and ever have tried to pray wherever I have been. Since 1805, only two families have denied me the privilege of praying with them in all my travels in Georgia, both Carolinas, Virginia, Alabama, Louisiana, Mississippi, Florida, Arkansas, Texas, Kentucky, and Tennessee." It will be thus seen that he carried his testimony through a wide range as well as a long life. Few men in our country have filled up so large a strictly religious measure. Other men have preached more, and have produced better sermons, but there has never been a man in the Cumberland Presbyterian Church whose personal religious influence has been so extensively felt. In how many thousand families has his voice been heard in fervent prayer! "In this respect," says my authority, with undoubted truthfulness, "he has left a record, we suppose, without a parallel."
For more than five years previous to his death, it was his custom to read the New Testament through every week, and in all that time he said that he had failed in but two readings. A short time before his death he remarked, "Every time I read it, I find new beauties in it. Now, when my hearing is so dull that I cannot enjoy society, it is such a comfort to me to be permitted to read the dear, blessed word of God! Glory!" This latter ejaculation he used, I expect, more frequently than any man of his day. It was his continued note of thanksgiving. Every expression which contained any thing of spirituality ended with his customary "Glory!"
"He lived," says my authority, his honored pastor at the time of his death, "an unblemished life, fulfilling the responsibilities of the various relations of life as but few have ever done. As son, brother, husband, father, master, neighbor, citizen, soldier, Christian, ruling elder, gospel minister, he was above reproach. His piety was uniform, in private, in public, at home, and abroad." What a legacy to a surviving family, and to the Church!
When in his ninety-sixth year, he attended a protracted meeting of about three weeks' continuance, at Mount Moriah Meeting-house, two a a half miles from his home. He was present at every service except one. Near the close of the meeting he rose in the pulpit, in the course of the exercises with the mourners in the altar at an afternoon service, and delivered the last public exhortation which he ever gave in the house of God. And while he was talking, and urging the trembling mourner to open the door, and let the dear Saviour come in, an old, gray-headed man, following the counsel, was joyfully converted, and rose from his knees praising God for his great deliverance. "Was not this," inquires the narrator, "truly still bringing forth fruit in old age?"
In giving an account of his sickness and death, I quote from Rev. G. W. Mitchell, pastor of the congregation with which he was connected:
"On Saturday before the last Sabbath in January, 1868," says Mr. Mitchell, "I visited him, and spent most of the afternoon in his room. His mind was unusually lucid. He told me he was glad I had come to see him, for he thought that, at the rate at which he had declined for the last few days, he could last but two or three days longer. He told me his wishes with regard to his funeral, left some messages for some of his family and neighbors; said he had made all his arrangements, and was ready and waiting for the Lord to take him to his home and reward. He spoke of his past life, of his labors for Christ, of God's amazing goodness and faithfulness to him; of the preciousness of his word; of what a privilege it had been to him to be a servant of the Lord, and thanked God that he, unworthy as he was, had been permitted to lift up his voice as a witness for Jesus wherever he had gone, mentioning the cities of Richmond, Washington, New Orleans, and others; mentioning, also, all the States through which he had traveled. He repeated many passages of Scripture appropriate tot he circumstances attending; quoted the familiar hymn, 'Hark, my soul, it is the Lord;' then remarked upon Toplady's prayer, expressed in the sweet hymn,
'Rock of Ages, cleft for me,
Let me hide myself in thee,' etc.,
repeating the hymn.
"I then read the first chapter of 2 Timothy, whilst he responded, according to the sentiment, 'Thank God!' 'Glory to God!' 'Bless the Lord!' 'Amen!' We then sung her favorite hymn, 'Rock of Ages,' etc., he joining with us in the singing through the hymn. During prayer his soul was on the mount. He seemed to stand in the very gate of heaven. After singing a few more hymns, I left him, This was the last conversation which he had with friends on earth. From this evening he sunk rapidly, and from the next morning ceased to be able to talk. On Tuesday morning, as it turned out, in the providence of God, the 4th day of February, 1868, the anniversary of the organization of the Church of his choice, he died, in his ninety-sixth year. His last articulate expression was his favorite ejaculation, 'Glory!'"
Thus lived and died Joseph Brown, one of nature's noblemen, a singular subject of the providence and grace of God; a pioneer and leading spirit of the great South-west.
The funeral took place on the following day. The text for the occasion was the triumphant profession of the apostle: "For I am now ready to be offered, and the time of my departure is at and. I have fought a good fight; I have finished my course; I have kept the faith. Henceforth there is laid up for me a crown of righteousness, which the Lord, the righteous judge, shall give me at that day; and not to me only, but to all them also that love his appearing."
I have some personal memoranda of Colonel Brown, which I add to the preceding sketch. I first saw him in 1812. My father lived near the old Ridge Meeting-house, in Sumner county, Tennessee. I was a little fellow. It happened on a particular Sabbath that some one preached at the meeting-house. My recollection is that the preacher was William McGee. The family went to meeting, but I was left at home to take care of the house. The meeting was closing with a good deal of interest, and some noise. It was but a short way from the house, and my curiosity prompted me to go over and look through the cracks to see what was going on. A man as passing around among the people near the pulpit, rejoicing, and shaking them by the hand. I learned after the meeting closed that the happy man was Colonel Brown. He was a stranger there, I suppose, to all except my father and the preacher. He came to our house for dinner. He and my father had been fellow-soldiers in the Nickajack expedition. Their meeting that Sabbath was altogether unexpected, and, it may be supposed, created some mutual interest. This will account, in some degree, for my recollection so distinct of an occurrence far back. It will be observed, perhaps, by those who read these sketches, that I frequently refer to the year 1812, and to the Ridge Meeting-house and its surroundings. My recollections of these are very numerous and very sacred. This year was one of the years of my life.
I perhaps saw Colonel Brown occasionally in subsequent years, but have no distinct recollection of a meeting until 1837. That year he attended the meeting of the General Assembly at Princeton. It was in the days of old Cumberland College. From some cause he reached Princeton a few days before the meeting of the Assembly. One of those days was the Sabbath. We customarily had preaching on Sabbath-afternoon in the College chapel, and on that occasion Colonel Brown preached for us. Boys are sometimes hypercritical, but they heard the worthy old man with fine attention, and an obvious feeling of deep respect. He became a member of Cumberland College Association at that meeting of the Assembly, and, I suppose, gave some of his money before he left the place.
Some time previous to 1862, he had executed a note for five hundred dollars to what was then our Board of Education. A stipulation was, that it should be paid in Confederate money. In the spring, or early summer, of that year, he traveled in his buggy all the way from his home, in Giles county, to Lebanon, to pay off that note. No one in Lebanon had the note in possession, and, of course, no one felt authorized to receive the money. I seemed to me cruel that he should have taken such a journey, at his age, and still be disappointed. I took the money, or what we thought was the money, and gave him a receipt against the note. It all turned out unfortunately; the money became valueless, but the transaction illustrated the character of the man. A journey of near a hundred miles was made at the age of ninety years, to pay a debt which he considered himself in good faith to owe to the Church. His meeting with me on that occasion was very tender and interesting. The interest, on his part, did not seem to arise so much from his relations to myself as from his recollections of his former relations to my father, his old friend and fellow-soldier.
Colonel Brown raised a large and respectable family. Some of them have been pillars in the Church. The majority of them, however, says my authority, together with his aged companion, had gone before, and were awaiting his arrival in heaven. No doubt his long pilgrimage of more than eight-seven years as an earnest follower of Christ brought him at last to the desired home.
I write this sketch with unusual interest, but still it must have a close. I acknowledge my almost unbounded admiration of such a life and such a character as I have endeavored truthfully to describe here. No human mind can estimate the debt of gratitude which the world owes to such men. They are redeeming spirits of a race mainly given up to selfishness, sottishness, and sin.
[Source: Brief Biographical Sketches of Some of the Early Ministers of the Cumberland Presbyterian Church. Second Series. By Richard Beard. Nashville, Tenn.: Cumberland Presbyterian Board of Publication, 1874, pages 217-239]
---
Brown Family Information
---
Please Send Additions/Corrections to the Archives

Updated June 12, 2009
HOME