Matthew Cage Patton
1816 - 1895
Cumberland Presbyterian Minister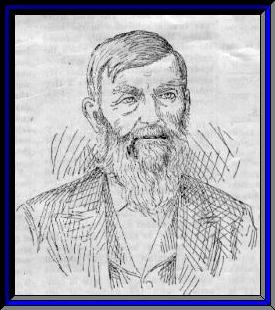 OUR DEAD HEROES.
---
V. Rev. M. C. Patton.
---
By J. B. Mitchell, D. D.
---
Matthew Cage Patton, oldest child of John C. and Wilmoth Patton, was born in Bedford County, Tenn., Nov. 26, 1816. The family moved to Ray County, Mo., in the fall of 1830, where Matthew embraced the Savior and united with the church during a campmeeting conducted by Revs. Finis Ewing, Daniel Patton and others in 1832. Soon thereafter he felt it his duty to preach the gospel, of which impression he spoke to his parents; but, as he was so young, had little education, and was so helpful on the farm his father objected, and sought to dissuade him therefrom. He meekly responded, "Father, it is woe to me if I don't. I've got to."
Being of an obedient disposition, he bore this discouragement in submission to paternal authority, but the conviction of duty to preach deepened, and so absorbed his mind and heart that his father finally consented to his placing himself under the care of the Barnett Presbytery, and entering school preparatory to the ministry, which occurred when he was 17 years old, greatly to the joy of his young heart. He at once started to a school taught by Rev. Henry Renick, in Clay County, and at its close entered a select school conducted by Rev. R. D. Morrow, D.D., in Johnson County, where, as in the former school, he made the best possible use of his opportunities. His success was marked and very gratifying to his parents as reluctant as his father had been to give up his son's services on the farm. Matthew was cheery and hopeful, trusting the Lord to enable him to do what he believed he had called him to, and the sequel showed that he made no mistake as to his call or his expectation of the Lord's help. While in these schools he worked certain hours of the day to pay his board and tuition.
He was licensed by that presbytery, and sent out to preach on a circuit when he was little more than 18 years of age. In this work he was very happy, and his opening labors were a blessing to many, young and old. He lived near to God, was a close student of the Bible, and such theological books as he could procure, was active in his work, and the Lord endued him with a large measure of the Holy Spirit, which was manifest in the thought and unction of his prayers, and the good effect of his sermons and exhortations.
In the meantime the family moved to Randolph County, where he soon joined them, and put himself under the care of the McGee Presbytery, by which he was ordained before he reached his twenty-first year. Under his trial sermon, several persons received Christ, among whom was the late Rev. James Dysart of precious memory.
Brother Patton became a man of great power in the pulpit, and few were abler in prayer. He was much loved for his gentle, Christly spirit, and as well for his work's sake. His convictions of truth and right were clear and decided, but he withheld from all heated controversy, whether in the pulpit or church courts. His counsel and labors in the latter were valuable and honoring to God. He was a doctrinal preacher, and as already intimated, the word of God from his lips was set on fire by the Holy Spirit, hence, under his ministry, multitudes were led to Christ, a very large per cent, of whom became active and steadfast Christians.
He was married early after he arrived at manhood to Miss M. Phillips, who died soon after giving birth to their only child--now Mrs. J. W. Phillips, of Kirksville, Mo. Some years following he was united in marriage to Miss L. W. H. Mitchell, and to them several children were born, all of whom, with the parents, have gone to the City of God, except one son, R. D. Patton, of Fort Scott, Kan.
To the untiring and self-sacrificing labors of Brother Patton are due the establishing of our church in the cities of Macon and Marceline, whose first church edifices were built under his management, and in no small measure by his hands, while pastor in charge. He has been styled a natural-born preacher. In the pulpit he always seemed at home, and under the leadings of the Lord, and was never known to decline to preach when called on, however adverse the circumstances.
For some years before his death he suffered much of disease, which, added to his frequent and sore family bereavements, bore down upon him heavily, but the gracious presence of the Lord sustained him, and he peacefully fell asleep in Jesus, at the residence of his son, then of Webb City, Mo., March 11, 1895, aged 78 years, 3 months and 26 days. "He was a good man, and full of the Holy Ghost and of faith; and much people was added unto the Lord."
Kirksville, Mo.
[Source: The Cumberland Presbyterian, August 6, 1896, page 167]
---
Family Information
John Cunningham Patton
[son of Matthew Patton and Catherine "Katy" Cunningham]
born: 21 November 1793 - Buncombe County, North Carolina
died: 5 August 1863 - Macon or Randolph County, Missouri
married: 16 February 1815 - Bedford County, Tennessee
wife: Wilmoth "Willie" Robert Jarret
born: 7 July 1797 - Buncombe County, North Carolina
died: 17 February 1865 - Macon or Randolph County, Missouri
Children of John Cunningham Patton and Wilmoth Robert Jarret Patton:
1. Matthew Cage Patton
Cumberland Presbyterian Minister
born: 26 November 1816 - Bedford County, Tennessee
died:11 March 1895 - Webb City, Missouri
1st wife: M. Phillips
Child of Matthew Cage Patton and M. Phillips Patton:
1.1. [Female] Patton
husband: J. W. Phillips
2nd wife of Matthew Cage Patton: L. W. H. Mitchell
Children of Matthew Cage Patton and L. W. H. Mitchell Patton:
1.2. R. D. Patton
2. Mary Elender Patton
born: c1820
3. James Andrew Patton
born: c1822
4. Malinda Catherine Patton
born: c1824
5. Margaret Patton
born: c1826
6. Lucinda Jean Patton
born: c1828
7. Daniel Alexander Patton
born: 1833
married: 9 June 1853 - Randolph County, Missouri
wife: Margaret C. C. Peeler
born: 1834
Child of Daniel Alexander Patton and Margaret C. C. Peeler Patton:
7.1. Laura Ellen Patton
born: 1854
married: 1872
husband: William Porter Walker
born: 1851

Child of Laura Ellen Patton Walker and William Porter Walker:

7.1.1. Alma E. Walker
born: Macon City, Missouri
8. Nathaniel H. Patton
born: 27 April 1818 - Alabama
died: 5 March 1892 - Macon County, Missouri
---
Please Send Additions/Corrections to the Archives
Updated March 3, 2009
HOME