Robert Austin Alexander Moorman
Cumberland Presbyterian Minister
1808 - 1900
Photographs courtesy of Anna Elizabeth Thompson
---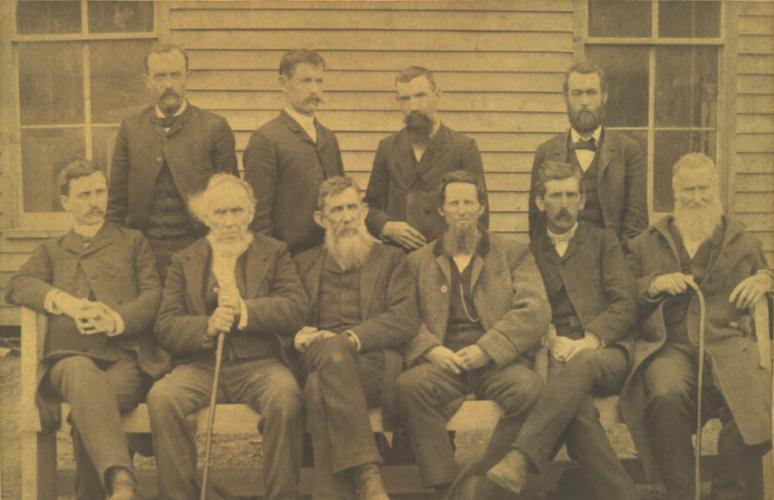 Group of Ministers from Madison Presbytery
Front row, left to right: Isaac Donnell Steele, Robert Austin Alexander Moorman, William Menefee Norment, Francis Marion Cude, Robert W. Black, William H. Crofford
Back row, left to right: Charles Larkin Cochran, John J. Williams, Andrew Newton Stockard, Laurence Eugene Foster
---
1854
Robert Mooremon [sic], Mt. Comfort
Minister - Madison Presbytery
[Source: Minutes of the General Assembly of the Cumberland Presbyterian Church, 1853, page 89]
1858
Commissioner to General Assembly, May 1858, in Huntsville, Alabama
R. A. A. Moreman [sic] - Madison Presbytery
Served on the Committee on Minutes of Indiana Synod
[Source: Minutes of the General Assembly of the Cumberland Presbyterian Church, 1858, pages 5 & 8]
1890
Commissioner to General Assembly, 1890, in
R. A. A. Moorman - Madison Presbytery
[Source: Minutes of the General Assembly of the Cumberland Presbyterian Church, 1890, page 6]
1894
R. A. A. Moorman, Hickory Valley, Tenn.
Minister - Madison Presbytery
[Source: Minutes of the General Assembly of the Cumberland Presbyterian Church, 1894, page 162]
---
Rev. R. A. Moorman, M. D., a well known retired physician and a popular preacher in the Cumberland Presbyterian Church of Hardeman County, is a native of Campbell County, Va., born April 8, 1808, son of M. C. and Easter (Alexander) Moorman, both natives of Campbell County, Va. They were married in that county, and afterward immigrated to Alabama, where they spent the remainder of their lives. R. A. is the third of six children born to this union, and the only one now living. He received an academical education in his native State, and at the age of nineteen came to Hardeman County, Tenn. In 1831 he entered the medical school at Lexington, Ky., where he received his diploma, and after his graduation he returned to this county, and commenced the practice of his profession, where he was a physician of fine reputation until the beginning of the war. In 1836 Dr. Moorman obtained license to preach in the Cumberland Presbyterian Church, and for fifty years has been a
faithful minister in this church. While he has been a physician and minister he has also been engaged in farming, and now owns 640 acres of good land in this county. Rev. Moorman has been twice married; for his first wife he married Miss Martha A. Morgan, May 21, 1838, and to this happy union were born eight children — four sons and four daughters. This excellent woman was born in Hardeman County in about 1821, and died March 24, 1857. October 24, 1858, he married Mrs. N. T. (Young) Watson, who was a native of Madison County, and died January 16, 1884. One daughter was born to this union. Both wives were members of the Cumberland Presbyterian Church.
[Source: Goodspeed. Hardeman County Tennessee - Biographies, 1887]
---
Hickory Valley, Tenn.
Rev. R. A. Moorman, of this place, died July 5, at 7 p.m. His body was laid to rest the next afternoon, at Mt. Comfort, where he professed religion at the age of 20. His funeral was conducted by Rev. W. M. Norment, of Whiteville, and the writer. Brother Moorman was a wonderful man, full of faith and the Holy Spirit, devoted to his church and to Christ. He preached the gospel with unabating zeal until he was ninety years old. He died at the age of 92. The fire continued to burn in his heart until the end came. This good man still lives in the homes and churches in West Tennessee. He turned many to righteousness. He left his impress for good. Many already rise up and call him "blessed."
J. D. Caldwell, Pastor.
[Source: The Cumberland Presbyterian, July 12, 1900, page 38]
---
Ordained Ministers Deceased
Name: Moreman [sic: Moorman], R. A. A.
Occupation: retired
Presbytery: Madison
Place of Residence: Hickory Val., Tenn.
Date: July 5, 1900
Age: 93 [sic: 92]
[Source: Minutes of the General Assembly of the Cumberland Presbyterian Church, 1901, page 206a]
---
ROBERT AUSTIN MOORMAN
Robert Austin Alexander Moorman, born 8 April 1808 in Campbell County, Virginia was the son of Micajah Clark Moorman and Esther Alexander. He received his early education in Virginia and came to Hardeman County at the age of nineteen. He entered medical school in 1831 at Lexington, Kentucky where he received his diploma. After graduation, he returned to Hardeman County and began the practice of medicine. In 1836, Dr. Moorman was licensed as a minister in the Cumberland Presbyterian Church. He was a minister of the Mt. Comfort Church where the Moormans worshiped. The following appeared in the History of the Cumberland Presbyterian Church.
"The Rev. R. A. A. Moorman of the Cumberland Presbyterian Church stammers badly; yet strange to say, he had no impediment in his utterance while praying. In the beginning of his sermons this infirmity is often very embarrassing, but when he advances and becomes absorbed in his discourse, all traces of it vanish. Once at a large camp meeting, Mr. Moorman was to preach at 11 o'clock Sunday morning. He tried hard to begin his sermon but his stammering was worse than usual. He sang a stanza; then tried again to preach but he could not finish a single sentence. Falling upon his knees, he poured forth a touching prayer for divine help. He asked the Lord that he might be rid of all concern about himself and have grace that day to preach the simple gospel. He confessed before God and the people that his heart had been set on preaching a great sermon. He prayed God to forgive him to preach a little sermon that should lead souls to Christ. Long before he rose from his knees, the whole congregation was melted to tears while many earnest Christian hearts were joining in the preacher's earnest prayer. When he rose at last and began his discourse, there was no more stammering. The sermon was soul stirring, full of power of Gospel. Scores owed their salvation to that prayer and sermon."
Dr. Moorman was a physician of fine reputation until the beginning of the War. He practiced medicine in Hickory Valley often assisted by his oldest daughter, Mary Louise Moorman. He was a landowner and farmer.
He married Martha Ann Morgan (15 January 1821 - 24 March 1857) of Fayetteville, Tennessee, on May 31, 1838. Martha Ann was the daughter of Hiram Suttle Morgan (9 July 1797 - 9 July 1841) and Rebecca Woods Estill (15 March 1803 - 11 January 1885).
Robert Austin Alexander Moorman and Martha Ann were the parents of eight children.
Mary Louise (26 November 1839-19 October 1923) married James Polk Ferguson.
Hiram Clark (31 January 1841-2 December 1930) married first, Frances Jeanette Armstrong; married second, Mrs. Janie Mayo Harris; married third, Ora Greene.
John W. died June 8, 1847 age 3 yrs. 4 mos. 11 days.
Robert A. (died Aug. 4, 1846 age 3 mos. 14 days)
Ann Eliza (b. Oct. 27, 1847-D. Mar. 2, 1907)
Robert W. died 3 July 1850 aged 13 mos. 21 days.
Martha Rebecca (24 September 1851-14 September 1903 married David W. McAnulty.
Esther Catherine (1853-1927) is buried at Central State Hospital Cemetery. All of the other children are buried at Mt. Comfort Cemetery except Hiram Clark who is buried at Somerville.
Dr. Moorman married second, Nancy Tabitha Young Watson, 24 October 1858. They had Ida (26 February 1860-19 June 1946) married Thomas Leonidas Ferguson.
When the Cumberland Presbyterian Church was built in Hickory Valley, and the membership moved from Mt. Comfort, the church was named "Moorman Memorial" in honor of Rev. Moorman.
He lived to officiate at the christening of his oldest great-grandchild, Annie Lea McAnulty.
Dr. Moorman died 5 July 1900 at the home of daughter, Mary Louise Ferguson, and is buried in Mt. Comfort Cemetery.--By Betty Daniel and Anna E. Baker Thompson
[Source: Hardeman County Historical Sketches. Paducah, Kentucky: Dave Turner and Asso., 1979, page 233]
---
Please Contact the Archives with Additions/Corrections
Updated 26 September 2021
HOME