Hugh Bone Hill
1801 - 1866
Cumberland Presbyterian Minister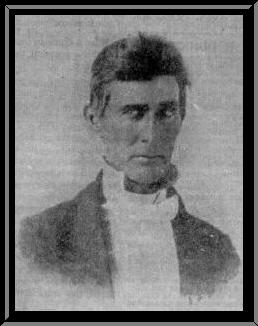 REV. HUGH BONE HILL
HUGH B. HILL was born in 4th day of December, 1801. His parents, James Hill and Jane Bone, were born in North Carolina, and reached maturity about the close of the Revolutionary War. In early life they were both admitted to membership in a Presbyterian congregation under the care at the time of Rev. James Hall, D.D. Dr. Hall officiated at their marriage. He was for a number of years one of the leading ministers in North Carolina. He had distinguished himself not only as a faithful chaplain, but as a brave and vigorous soldier in the troubles of the Revolution.
James Hill and his wife were of Scotch-Irish descent, and had inherited their religious and Presbyterian proclivities from a long line of pious ancestors. John McWilliams, a remote ancestor, was a widower with two daughters. He devoted himself with great assiduity to their religious education. He seems to have taken Abraham for his model, although the two cases were by no means parallel in every respect. Abraham, while yet childless, received and believed the promise that he was to be the father of a numerous race. John McWilliams, while watching over his two motherless daughters, was steadfast in the faith that he was to be the father of a "numerous seed." His faith went farther. "He was often heard to say that it was his abiding conviction that he was to have a numerous progeny, and that not one of them would fail to enter the kingdom with him."
Whether the faith of this good man has failed in any particular instance, of course it would be difficult to determine, but it is certain, if tradition is reliable, that his descendants were numerous and generally pious. Hugh B. Hill was one of those descendants. He was the fourth son of his parents.
In the fall of 1802, Mr. James Hill moved with his family to Tennessee, and settled in Wilson county, on the head-waters of Caney Fork. The subject of this sketch was, of course, then an infant. Of James Hill, my authority says that he "was a man possessed of a strong natural mind, cheerful and uniform in his disposition. His piety was deep, and his devotion to the fulfillment of religious obligation a daily business. Every thing else was made to yield to the claims of religious duty."
Of Jane Hill, the wife, he says, she "was a woman of extraordinary mind, a constant reader of the Bible, and other books of a religious and literary character. This course of life raised her far above mediocrity among her sex. Her piety was bold and independent. She prayed invariably in her family twice a day in the absence of her husband. Her authority in the family was positive. The moral training of her children was never neglected; her influence never ceased to be felt." Such were the parents of Mr. Hill. They brought up their children "in the nurture and admonition of the Lord." These all embraced religion in early life.
The father of our subject was a farmer, and his sons were brought up as the sons of farmers generally were, upon the farm. There were but limited means of education. Boys went to school during the winter, to such schools as the country furnished, but their labor was needed at home during the summer.
When young Hill was in his eighteenth year, his father moved to Kentucky, and settled in Hopkins county. The settlement was made in the woods, and for two years the labor of all the sons was needed in opening a farm and in the construction of necessary buildings. Several other families of the connection settled with them, and they established a sort of colony upon Rose Creek. They applied to the Logan Presbytery for preaching, and were soon visited by Alexander Chapman, William Harris, and otheres. A congregation was organized, regular preaching was introduced, and the young people began to attend the camp-meetings around. Religious impressions were made upon their minds, and some professed religion. Mr. Hill was among the serious. The following is the account of his conversion, slightly condensed:
"In the course of the summer, a camp-meeting was held at 'Good Providence,' in Union county. Thither about thirty of the young peole of Rose Creek neighborhood went, nearly forty miles, all of whom were unconverted, but serious on the subject of religion. Among them was Hugh B. Hill. No one of the company was more deeply concerned than he. Indeed, it was his express object in going to the meeting to endeavor to find peace with God. The result showed that his efforts were not in vain. On Saturday night of the meeting, Rev. Aaron Shelby preached, and at the close of the sermon made the customary call for the anxious to the place of prayer for encouragement and instruction. Hugh B. Hill was among the first who rushed forward in answer to the call. For about two hours he lay prostrate on the ground in prayer and in intense agony. At last he was enabled to cast himself unreservedly upon the mercy of God through Christ, the crucified Redeemer, whom he found to be able and ready to save to the uttermost. He rose to his feet; his face reflected the peace and joy of his heart."
The next morning he presented himself to the session, was received into Christian communion; and in the course of the day shared in the symbols of redeeming love. It is a little remarkable that the whole company of thirty or forty from Rose Creek professed religion at that meeting.
Mr. Hill became at once an active and efficient laborer at camp-meetings, and in all revival seasons. He was particularly successful in the instruction and guidance of serious inquirers. Indeed, he excelled in this through life. If a man was seriously inquiring, and would talk to him, and thoughtfully set forth his difficulties, he scarcely ever failed of finding relief, and of being enabled to settle the great question of his salvation in an intelligent and satisfactory manner. Our friend never screamed into the ears of his subjects, telling them what to do, without telling them how to do. He talked to them as a friend to friends, and, as it were, taking them by the hand he led them gently to the foot of the cross.
In process of time his mind, almost as a matter of course, began to go farther in its thoughts than to these mere common exercises. In considering the question of the ministry, he had the customary difficulties of young men who have any thing like a proper appreciation of that work. His education was limited; there were no schools; and, if schools had been abundant, there was a want of means at home sufficient to keep him up at a good school. Besides, a young man raised and taught as he had been, would have some idea of the importance and responsibility of the work itself. He seems to have had a strange early impression on this subject. Says my informant: "Hugh B. Hill has been often heard to say that when a boy he strongly felt the impression that he would some day be a preacher. Indeed, it was a facorite amusement with him, when quite a little boy, to construct a pulpit of sticks and clapboards, and 'hold forth' from it to such auditors as a boy could collect. This impression seems to have been renewed in real force soon after he professed religion."
The result was, that ont he 15th day of October, 1823, at Liberty Meeting-house, in Muhlenburg county, Kentucky, he put himself under the care of the Anderson Presbytery, as a candidate for the ministry. He was now twenty-two years of age, and his education was scarcely rudimental. To meet the exigency, and, for the convenience of his own children and others, Dr. Johnson, pastor of the congregation, established a school in the neighborhood. The teacher admitted young Hill and another young man into his school and his family. His kitchen was the school-room, and the bed-room of the two young men. The condition of things was rather primitive, but the times themselves were primitive.
After spending some time at this school, Mr. Hill was received into the family of Rev. Henry F. Delaney who lived near Morganfield, and entered the school of a Mr. William H. Thomas, said to have been "an able scholar and Christian gentleman." In this family and school he was associated with Joseph A. Copp, afterward Rev. Dr. Copp, who died a few years ago in Chelsea, a suburb of Boston. It seems that Mr. Delaney, gave them something like informal lectures occasionally upon theology.
He afterward spent some time at a high-school kept at Greenville by Rev. Isaac Bard, a Presbyterian minister. Theology is said to have been his favorite study, and to this he devoted much the larger portion of his time. And in the investigation of its truths he was aided not a little by an old uncle whose name he bore, and who at all times took a deep interest in instructing him. We have the following passing notice of this uncle:
"It will not, it is hoped, be considered as going too far out of the way to pay a passing tribute to the memory of this 'uncle,' who, for the times in which he lived, and the limited education he had been able to acquire, enjoyed a high reputation as a theologian and an expounder of the Scriptures. In addition to his reputation in these respects, by his unaffected humility, and consistently pious life, he exerted in favor of religion a wide influence. He had never aspired to the ministry, and was not, therefore, a preacher in the technical sense of the term, but in the absence of the more regular exercises of the house of God, he would give public exposition of some appropriate passage of Scripture for the edification of his neighbors and friends, in what he modestly denominated his 'little talks.'"
I hope I may take the liberty of saying here, that the foregoing quotation is evidently a filial tribute, which might be made much stronger, of a son to the memory of one of the best of fathers. That "old uncle" of Mr. Hill was he who, fifty years ago, was known all over this country as "Uncle Hugh Bone," the father of Rev. M. H. Bone, of Winchester, Tennessee. Old Uncle Hugh Bone--his memory is fragrant--understood the science of the theology and of scriptural interpretation more thoroughly, and was a better preacher, although not technically a preacher at all, than a large proportion of the expounders and preachers whom he heard from year to year. This is a short episode. It is hoped the reader will pardon.
At the fall sessions of the Anderson Presbytery in 1825, Mr. Hill was licensed as a probationer for the holy ministry. The meeting of the Presbytery was held at Princeton, Indiana. For the following six months he was assigned to the Princeton Circuit, in the southern part of that State. Says my authority:
"In the course of these six months of missionary work in Southern Indiana, Hugh B. Hill succeeded in accomplishing much good for the cause of his Master and his Church; numbers were led to a knowledge of the truth; Churches were edified and strengthened; and Hill himself much improved in his knowledge of Systematic Theology and sermonizing."
His next six months were spent upon the Henderson Circuit. This was in Kentucky, embracing the counties of Henderson, Hopkins, Muhlenburg, and Union. The report is that he fulfilled his mission on the Henderson Circuit with fidelity, but that his compensation was meager. Occasionally there was a special present of a pair of socks, or jeans pantaloons, or leather enough for a pair of shoes. The sum in cash was about sufficient to enable him to keep his horse shod, and possibly to pay the postage on an occasional letter from his mother. He followed the example, however, of his contemporaries, and of some who preceded him a few years; he bore all and kept to the work.
His labors for the next six months were divided between the Henderson and Christian Circuits; the following six months he supplied the Christian Circuit. His success in this latter half-year is said not to have equaled his hopes. Of course the disappointment was a matter of "deep regret and great self-abasement. He took all the reproach to himself."
In the fall of 1827, he was sent to the Southwestern District of Kentucky. The country was new and rough, and the traveling-preacher found but few of the comforts of life. The present writer preceded him in that country, and has a very distinct recollection of some of its characteristics; but there were scattered over it some good people, who received the word gladly. But the preacher had to swim creeks, to encounter deep mud, to endure the customary snow-storms, to preach, and often to lodge, in open houses, and in the spring and summer seasons to bear the torments of musquitoes innumerable. Still faithful men labored there, and collected congregations which have grown into strength and respectability. Mr. Hill labored on that circuit a year. Says my authority:
"It may readily be conceived what remuneration he received for the twelve months of toil, and privation, and hardship. A good conscience, frequent communion with God, the favor of the people, together with the well-founded satisfaction of having accomplished something for the kingdom of Christ, were his reward."
I do not put the case of the want of remuneration in quite so strong a light as does my authority. I know what the situation of the country was at that time, and am not surprised at the meagerness of the pecuniary results. Still, "the poor have the gospel preached unto them;" and it is well for the world that there have always been such men as the subject of our sketch who were willing to preach to the poor, even if the pecuniary returns were small.
At Piney Fork Meeting-house, in what was then Livingston county, Kentucky, Mr. Hill was set apart to the work of the ministry, on the 9th of April, 1829. He still continued in the itinerant work, some times under distinct directions, and at others under general directions, being allowed the exercise of an extended discretion.
In 1829, Dr. Cossitt undertook an extensive tour through the country, in behalf of Cumberland College, and at his solicitation Mr. Hill became the companion of his travels. They preached generally wherever they went, and Dr. Cossitt on his return is said to have made a most favorable report of the labors and promise of his fellow-traveler.
In the fall of 1830, Mr. Hill and Rev. M. H. Bone united in a protracted-meeting at Elkton, Kentucky. The meeting continued, with occasional intermissions, during six months, whilst the revival was uninterrupted through the whole time. More than a hundred professions of religion took place. A large number of the cases were of the most respectable citizens of the town and neighborhood. About eighty persons united with the Cumberland Presbyterian Church. Of these, about half were grown men, who immediately became helpers in the great work. It is remarkable, too, that out of so large a number there were but one ot two who fell back. This was one of the most interesting revivals of religion that ever appeared in that portion of Kentucky.
In the summer of 1832, Mr. Hill received a call to preach to a community in Cairo and its vicinity, in Sumner County, Tennessee. He accepted this call, and thereby found himself, by rather a strange providence, in a new field, and, as it turned out, the field in which he certainly accomplished the great work of his life. The southern portion of Sumner county, the portion in which Mr. Hill settled, is one of the richest and most interesting portions of Tennessee. When I speak of its richness, I allude to its soil, and in speaking of its interest, I intend to describe its population. The country was settled, and is still settled, with prosperous farmers. In one portion of the county Shiloh had, at an early time, exerted a powerful influence. It had been a favored spot in the old revival. In another and more obscure portion, the Dry Fork Congregation had been for a number of years doing a good work. In various parts of the county there were prosperous Methodist and Baptist congregations, but the particular section of the county to which Mr. Hill was called, whilst the population were civil, and moral, and orderly, had hardly ever been reached by a strong and stirring religious influence. God in his providence seems undoubtedly to have used the agency of a few good men in directing the steps of Mr. Hill to this field. He commenced his labors there, boarding with a worthy member of his little congregation.
In process of time, October 22, 1835, he married Miss Mary Reed, daughter of Captain William Reed, one of the principal citizens of the community in which he had located. Previous to his marriage, however, he had, in company with Rev. M. H. Bone, made an excursion into the State of Ohio. The young preachers visited Lebanon, in that State, and spent some time in preaching there. They were invited to the pulpits of the city generally, and by their earnest and evangelical ministrations seem to have made a fine impression. Mr. Bone remained some time, but Mr. Hill soon returned to his own proper field in Tennessee.
In describing the labors of Mr. Hill in Cairo and its vicinity during his principal years there, I cannot do better than to extract almost literally a few pages from the manuscript by which I am permitted to be mainly guided in this brief sketch. The letters which I shall copy are from men who were intimately mingled with the transactions which they describe, and their authority is unquestionable. No man can read them but with the most intense interest. I commence with chapter sixteenth, headed with,
"SOME OF HIS WORKS.
"The ministerial labors of Mr. Hill were not confined alone to Cairo. Though the regular pastor of the Chruch here, he found time during the week to ride and preach must all over the surrounding country. There was not a school-house in all that region which was not made a place of assemblage to receive the messages of truth which he must needs deliver to the people. Frequently he would take excursions abroad, and would be absent for several weeks, preaching funeral-sermons and ministering to the more destitute portions of the country, and all at his own expense. His services were much sought after, both by ministers of his own and other denominations. Whenever it was all all in his power, he delighted to comply with these invitations. Lebanon, Tennessee, just across the Cumberland River, was one of his favorite places of resort. Rev. George Donnell was then the pastor of the Church there, and would frequently invite Mr. Hill to assist him upon sacramental occasions. On one of these, a revival of religion sprang up, which proved to be a most gracious time of ingathering of souls to Christ. It lasted some considerable time, during which many of the most prominent and leading citizens of the town professed a saving faith in the Lord Jesus, and were added to Mr. Donnell's congregation. Hill labored most indefatigably in this revival, and by his assiduous and patient efforts to win them to Christ, endeared himself to the good people of Lebanon ever afterward during his life.
"About this time Middle Tennessee had become literally the land of camp-meetings; scarcely a neighborhood was without its organization, either Methodist or Cumberland Presbyterian, sometimes both; and each people had its regular time and place of holding camp-meetings. The summer and fall of 1837 was particularly noted for the many meetings of this character held all over the country. But the little Church at Cairo had never yet had a camp-meeting. The matter was talked about; a public meeting on the subject was called; and it was resolved by the members and friends in attendance to have one. But it was now late in the season; camps and a shelter had to be built; those who would contract to build the one had no time to work on the others. What was to be done about it? At length some one, more enterprising than the rest, got up and said, 'All those who intend to build tents form into line out here.' A goodly number promptly stepped out, and, what is remarkable, nine of this party were non-professors of religion, and so were all their families. 'Now,' said the speaker, 'do you go and build your tents, and the rest of us will be responsible for the shelter.' The time of the meeting was agreed upon; the place a beautiful oak grove some two miles east of Cairo. All went to work with a will, and by the time appointed every thing had been arranged; comfortable tents built; spacious shelter erected; and preachers enough in attendance to carry on the meeting. Rev. T. C. Anderson preached the opening-sermon; much good attention was rendered, and some serious feeling manifested. Exercises went on day and night; great crowds attended; every day the interest increased; many came forward to the altar; the work of God's Spirit became deep and general; conversions began to multiply; the news spread through the country; vast multitudes came flocking to the scene, until the shelter could no longer accommodate them. Exercises then spread out all over the woods, and every log became a mourner's-bench and every stump a pulpit. Like some mighty conflagration, the first of God's Spirit seemed to kindle up in the hearts of the vast multitude, and burned on, uncontrollable, to the utter consumption of every thing sensual, devilish, and wicked. Except those strange bodily exercises which characterized the revivals of 1800, this one, from all accounts, must have greatly resembled them"
Col. J. J. Hibbitts, Ruling Elder of the little organization at Cairo, and tent-holder at this meeting, gives the following account:
"The first visit of Hugh B. Hill to Sumner county, I think, was in the fall of 1832. He was so well received that Brothers John Parsons, Thomas H. Essex, Jacob Greenhatch, and others, prevailed on him to organize a Church at Cairo, and remain with them and preach in that section of country, which he did, with wonderful effect. The Church at its organization consisted of about fifteen members. He continued to add to the little bank until 1837. He prevailed upon his little flock to build camps at Oak Grove, in the vicinity of Cairo. The meeting commenced the Saturday before the first Sabbath in October, and continued two weeks. The ministers in attendance were T. C. Anderson, George Donnell, J. M. McMurry, Francis Johnston, Robert Bell, H. B. Hill, and M. H. Bone. My recollection is, that there were about two hundred and fifty hopeful conversions as the results of that meeting; in fact, the revival continued that fall and winter. He preached nearly every Sabbath in the bounds of its influence, which extended from Gallatin to Hartsville, a distance of sixteen miles, and over a portion of Wilson county. I suppose there must have been fifty conversions at these meetings. There were more old men and women, in proportion to the number of converts, than I ever knew at any revival; some old persons sixty, seventy, and seventy-five years of age, sought and obtained religion, who have since died in faith. Some who were non-professors of religion built camps, and they and their wives professed and joined the Church. Some five or six days after the meeting commenced, the interest seemed to subside. One of the elders told Brother Hill he must preach that day. He hesitated, but the elder insisted. He finally consented. He went into the stand. His prayer was fervent, importunate. He announced his text--the eighteenth verse of the fourth chapter of 1st Peter: 'And if the righteous scarcely be saved, where shall the ungodly and the sinner appear!' and such a sermon I never before, nor since, heard fall from the lips of man. There was a solemn awe on the congregation, and a stillness like death. I recollect when the invitation was given for the anxious, old Captain William Reed, his father-in-law, and General Hall, came tottering to the altar of prayer, the first time they had ever started for Zion. They both professed religion shortly after. After that sermon of Hill's, the work went on with ease; in fact, every member and every convert was preaching.
"At this meeting we added about one hundred and fifty members to the little flock. The Methodist, Baptist, and Presbyterian Churches, too, were greatly built up."
REMINISCENCE BY T. C. ANDERSON, D.D.
"I first made Hugh B. Hill's acquaintance in the course of the sessions of Synod in Gallatin, in the fall of 1830. He and Rev. Alfred Bryan went home with me, and we soon became closely united companions. As I had promised Dr. Cossitt to visit Princeton, with reference to accepting a situation in the College there, I concluded to accompany Hill and Bryan on their return from Synod. We spent a night with Bryan, at his mother's, and the next day Hill and I went to Elkton. I 'fell in love' with both the young brethren, but Hill was my favorite. I have never known a more genial traveling companion.
"During the two years I remained at Princeton, I saw but little of Hill, except that he attended a Synod and General Assembly there, and he was still my favorite.
"In May, 1832, I settled in Nashville, and about the same time Hill took charge of a small Church in Cairo, Sumner county; but, as we were in different Presbyteries, we seldom met except at Synod.
"In 1834 or 1835, we met at a camp-meeting on 'Goose Creek,' in the vicinity of Hartsville. He did most of the preaching, as I then had but little experience in the ministry. On Monday morning I was ordered to preach at 9 o'clock. Before I closed the excitement became so great that I could not proceed. Hill told me to 'call mourners.' The call was made, and the altar was filled. Hill then made an exhortation, and proclaimed that all the seats under the shelter would be devoted to the mourners, and those who declined to join the mourning band were invited to retire from the shelter, while those who were willing to mourn were invited to kneel. More than half of the congregation knelt. I had never witnessed so many mourners on their knees pleading for mercy. There was no more preaching that day; the congregation never dispersed, nor were exercises suspended till late in the evening. Hill labored incessantly, not less than six hours, and about fifty persons professed that day and night. When Brother Hill took charge of the society in Cairo and vicinity, they had no house in town or country. He preached in the Academy at Cairo, and in a Baptist church in the country. He soon began to gather members at each place, and in 1837 they concluded to have a camp-meeting. A site was selected two or three miles east of Cairo, and a shelter and camps were erected. As I was then residing at Lebanon, I attended the meeting, and preached the first sermon. Mourners were invited; a number came, and several professed during that first service; and at every service after that there were mourners and professions. I was compelled to leave Sunday evening, and did not return until the next Friday evening. There had been an unusually large number of professions during the week; but the altar was still crowded with mourners, and professions occurring every hour during the day and night, some in the altar, others in the woods and tents.
"On the second Sabbath Rev. M. H. Bone preached for the benefit of those who had been waiting the Lord's good time. He endeavored to convince them that the Lord was willing at all times, and that whenever they became willing to have salvation upon the Lord's terms, he would convert them. At the close of the sermon the invitation was given to the anxious to come into the altar. I was engaged clearing the aisles, that the anxious might have free access to the altar. Having just cleared them, I saw seven large old ladies come tottering down one aisle toward the altar. Not thoroughly comprehending their purpose, I stepped aside to await the development. All walked into the altar and kneeled at the same bench. In about one half-hour, one of them cried out, 'Well, bless the Lord! I have been waiting his good time these thirty years. When the preacher told me it had come I did not believe it, but I thought I would come and see, and, bless the Lord! it has come, and he has converted my soul. O, bless the Lord!' The last one of those seven old ladies professed religion before the meeting closed.
"After continuing eleven or twelve days the meeting adjourned. Some two hundred and fifty or three hundred persons professed faith in Christ, including all ages and grades of society.
"Brother Hill collected a respectable congregation at Cairo, and a large one in the country, and, had they sustained him as they might and should have done, he doubtless would have remained with them till death.
"Shortly after the Cairo meeting I removed to Winchester, and consequently seldom saw Brother Hill till I returned to Lebanon, in 1843, and, as my affliction prevented me from preaching, I have not been his fellow-laborer since that meeting; but I have seen him labor with great success in several revivals in this (Lebanon) place. But memory is treacherous, and I cannot call up incidents. Thus much I know, when a revival was needed we generally sent for Brother Hill. T. C. ANDERSON."
One expression in the close of this letter brings up a painful subject. Mr. Hill, after a few years, changed his field of labor from Cairo, where he had been so eminently useful, and was evidently so greatly beloved. What was the reason? The old answer is the true one: "They did not support him." They admired the preacher; they loved the man; but, with what sorrow do we say it! they left him, in a great measure, to take care of himself, his wife, and his little ones. And yet these people were mainly prosperous farmers. They lived in the midst of abundance; they were able to educate their children, and start them favorably in the world. Why did they not retain a good and useful preacher, and thus, with the blessing of God, contribute to collecting and keeping together a good and useful congregation of earnest Christian people? Instead of this, the candlestick has been removed, and Cairo, and the neighborhood of the great camp-meeting of 1837, are to-day a spiritual desolation. Such evils, however, are not to be corrected by the use of hard words. They are, nevertheless, deplorable. When will men learn to be wise to do good? When will congregations learn to appreciate the truth of the divine ordination, that "they who preach the gospel shall live of the gospel"?
From Cairo Mr. Hill removed, and settled in the neighborhood of Cane Ridge Congregation, engaging to divide his time between Cane Ridge and "Ewing Chapel," in Rutherford county. Shortly after settling in this community he lost two of his children in quick succession. Of course it was a great trial.
In 1853, he commenced preaching once a month at the "Brick Meeting-house," between Nashville and Nolensville. His labors there were greatly blessed, and resulted in the organization of a large and flourishing congregation. Still he found the same remissness on the part of the people in the matter of support.
His next settlement was on Stewart's Creek, in the neighborhood of Old Jefferson, in Rutherford county. Here he bought a choice little farm, at a high price, but with a promising prospect of being able to pay for it in the course of time. The war came on, however, and blasted all his prospects in that connection. In the meantime he entered upon the pastorate of Jerusalem Congregation.
He was not a blustering, nor even a talking politician, but his political proclivities were very decided, and generally known. This circumstance, it is supposed, subjected him to greater hardships during the war. They were, at least, very great. He was unable to pay for his little farm. His creditor, however, was kind enough to cancel the obligation, and he was thus relieved from a burdensome debt. He renewed his ministerial work with his accustomed earnestness and vigor, but it was soon finished. About the middle of February, 1866, while engaged in some domestic labors, he was exposed to unusual cold, and seemed to be unusually affected by it. In a few days the affection developed itself into erysipelas; and on February 26, 1866, his active and earnest life came to an end. He died as such a man would be expected to die, with quietness, calmness, and resignation. His remains were deposited in a cemetery near what had been his home. A suitable monument was prepared through the liberality of his friends, and in the course of the sessions of the Middle Tennessee Synod, in 1867, it was set up by the Synod in its official capacity, in connection with representatives from several Lodges of the Masonic Fraternity belonging to the surrounding country. Thesolemnities of the occasion were imposing and impressive, and the monument stands as a memorial of the acknowledged worth of a laborious, unselfish, and devoted Christian minister. His most enduring monument, however, will be found in those whom he has turned to righteousness. They shall shine as stars in his crown of rejoicing forever.
I have a few words to add for the consideration of many who will perhaps read this sketch. During thirty-seven years Mr. Hill was an active, laborious, and devoted minister. His labors were for the most of that time bestowed upon what the world calls prosperous and thrifty communities--some of them were even wealthy. He was not himself a thoughtless and wasteful man in his expenditures. There was no frivolous and reckless extravagances in the economy of his household; and yet Mr. Hill, after all these years of labor, left his family without a home, or the means of procuring one. Surely a great wrong existed somewhere. I do not wish to press this subject, and have already said that wrongs, evils such as this must have been, are not to be corrected by hard words. But still, we are making history, and I am writing history, and the truth ought to be told. Let congregations consider these things. God exercised a special care of the priests and the prophets under the old dispensation. He feels just as deep an interest in an earnest and faithful ministry now. For idlers I have no word to say; but for the laborer I have to repeat what the very highest authority has said, that he is worthy of his hire, and if that is withheld we know where the wrong lies, and where the penalty must fall.
[Source: Beard, Richard. Brief Biographical Sketches of Some of the Early Ministers of the Cumberland Presbyterian Church. Second Series. Nashville, Tenn.: Cumberland Presbyterian Board of Publication, 1874, pages 298-320]
---
Our Dead Heroes.
---
XXXI.--HUGH BONE HILL.
---
By Rev. J. L. Alexander.
---
The subject of this sketch ranked among the most efficient of the second generation of Cumberland Presbyterian preachers. He was inducted into the ministry by the Anderson Presbytery, State of Kentucky, having been received as a candidate for tahe ministry October 15, 1823; licensed in 1825, and ordained in 1829. During the six years of his probation he availed himself assiduously of the best educational facilities the country then afforded. He also under order of presbytery traveled and preached much as an evangelist in Kentucky, Indiana and Ohio. His work as evangelist was highly blessed in building up, and extending the borders of Zion. Hugh B. Hill was of Scotch-Irish descent. His was a noble ancestry. His parents when married were not religious but were Presbyterian in their religious proclivities. Soon after marriage they were converted and became members of the Presbyterian Church. Their home was a consecrated home. In it the family altar was erected, the Bible read every day, and the catechism taught every Sabbath. The foundation for the piety, usefulness, and the strong character of the son was thus laid, and well laid, in the home of his parents. Hugh B. Hill was a good preacher, a sound theologian, and a safe presbyter. He also was a good pastor. His best work as pastor was done in Tennessee. In 1832 he was called to take charge of a work in Cairo, Sumner County, Tennessee. Here he continued to labor for 17 or 18 years, conducting some of the most powerful protracated and camp-meeting revivals with which the church has ever been blessed. In the meantime he married Miss Mary Reed, daughter of Captain William Reed, a very wealthy farmer of the community. In the beginning of his work here Captain Reed and all his large family were irreligious. They attended the regular services conducted in an humble schoolhouse near their home by the pastor of the Cairo Church. Mary became deeply concerned about her soul's eternal interest. She was forbidden by her father for a time to attend the services. Afterwards through the persuasion of her mother she was allowed to attend. Under the first sermon she heard after being permitted to go she was happily and powerfully converted. Soon after, a camp-meeting was held in that community. A number of good preachers were present to aid the pastor. Their preaching was earnest and powerful. No especial move, however, was made among the great throng of people in attendance till Tuesday. In the morning some one stated to the pastor (H. B. Hill) that it was the request of Captain Reed (his father-in-law) and three other aged men that he should preach that day. He hesitated, but after taking the request to the Lord he consented. The sermon was the effort of his life. The Holy Spirit came down in his matchless power. The four sinners making request for the sermon to be preached and a host of others were gloriously converted. A mighty work was begun that day resulting in 300 or more conversions, and the organization of a church in that community. In 1849 Hugh B. Hill removed to Rutherford County and took charge of Ewing Church, Cane Ridge, and also of Jerusalem. In 1853 he held a good meeting at Tusculum, Davidson County, and re-organized the church. He continued in this work till the good Master bid him lay his armor down and come up on high to receive the reward of a good and faithful soldier. Hugh B. Hill was a great favorite of the older ministers of the church. He was often invited by them to aid in revival meetings. He not only had great tact in the pulpit, but also in the altar, in leading enquiring ones to Christ. His manner of preaching was usually persuasive; but sometimes severe. He was a great friend to young preachers; and he did a good work in advising and encouraging young men just starting out in the ministry. He was a preacher of the gospel for 41 years. He died February 25, 1866, in the sixty-fifth year of his age. A splendid monument was erected November, 1867, over his grave by the Middle Tennessee Synod as an expression of their appreciation of his worth as a man and a minister of the gospel.
[Source: The Cumberland Presbyterian, July 8, 1897, pages 6-7]
---
Family Information
---
Updated March 26, 2013
Please Send Additions/Corrections to the Archives
HOME