Wilson Marion Bennett
Cumberland Presbyterian Minister
1864 - 1928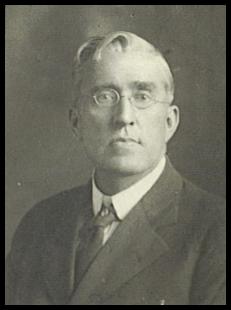 c1915-1920
Photograph courtesy of Elizabeth Bennett Johns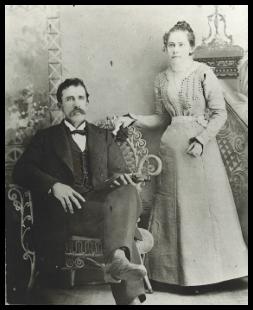 Wilson Marion Bennett and his bride, Hattie Bell Guinn made in 1900
Photograph courtesy of Elizabeth Bennett Johns
---
Rev. Wilson M. Bennett.
Wilson M. Bennett, the only son of Samuel and Nancy Bennett, was born near Hartsville, Tenn., June 2, 1864, and died at Lubbock, Texas, where he had gone from his home near Loraine, Texas, to attend the meeting of Amarillo Presbytery.
He was stricken the night of his arrival, March 2, with pneumonia, and passed away Wednesday, March 7, 1928, at 6 p.m., at the Lubbock Sanitarium.
At the age of 11 years, in the old Cumberland Presbyterian Church at Pleasant Shade, Tenn., he was happily converted. From the age of 14 years he felt God calling him into his service, but it was not until at the age of 23 years that he fully surrendered his life and yielded to the divine call to the ministry. He was then living in East Texas, coming there in 1883 from Tennessee.
In his twenty-fourth year he became a candidate for the ministry. Soon thereafter he entered Trinity University, Tehuacana, Texas. He attended there about three years.
Going from there to McKinney, Texas, he entered McKinney Institute and graduated from that school, taking the four-year course.
It was during a meeting of presbytery at this place, in about the year 1894, that he was ordained to the full work of the ministry. In 1898 he took up work in West Texas, with the exception of two years spent in pastoral and mission work in Tennessee, one year in Missouri, and one year in California. He has spent his life in the work in this part of Texas.
At the time of his death he was preaching for the Roby, Texas, congregation.
He came from a line of Cumberland Presbyterian preachers, his grandfather, H. G. Bennett, being a minister in the Church for forty years. He was related, through his paternal grandmother, to Rev. M. B. DeWitt, Rev. Clinton DeWitt, Rev. T. A. Cowan, and to General Sam Houston, of Texas.
He was ever an humble man, a true and loving husband, a kind and affectionate father, and a devoted brother.
He leaves to mourn his departure his wife, Mrs. Bessie Bennett, and six children, by a former marriage, one son, Beecher Bennett, and five daughters, Mrs. J. E. Price, Mrs. D. O. Rollins, Mrs. W. M. Davidson, Mary Bennett, Frances Bennett, and an only sister, Mrs. Ferguson, Eastland, Texas. He was ready to go, saying, "All is well," and the last word when passing was "Peace."
He was a constant student of the Bible, and he spent much of his time writing. Many readers of The Cumberland Presbyterian will remember his articles. He was an earnest gospel preacher and a loyal Cumberland Presbyterian.
His funeral was conducted by Rev. A. A. Collins in the presence of a large congregation at Camp Springs, Texas.
One who loved him.
[Source: The Cumberland Presbyterian, April 26, 1928, page 15-16]
---
Report of Committee on Mortuary
Amarillo Presbytery.--W. M. Bennett, died in Lubbock, Texas, March 7, 1928, at the age of 66 years.
[Source: Minutes of the General Assembly of the Cumberland Presbyterian Church, 1928, page 123]
---
Please Contact the Archives with Additions/Corrections
Updated July 22, 2005
HOME
---