Halls Creek
Cumberland Presbyterian Church
near Waverly, Humphreys County, Tennessee
Organized before 1847
Nashville Presbytery
Tennessee Synod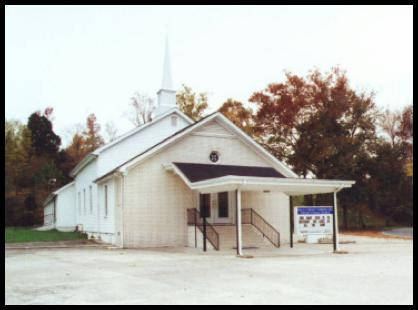 Halls Creek Cumberland Presbyterian Church
2803 Halls Creek Road
Waverly, Tennessee 37185
---
Halls Creek Cumberland Presbyterian Church has been a member of the following presbyteries
? - 1847
Nashville Presbytery
1848 - 1899
Charlotte Presbytery
1899 - 1962
Clarksville Presbytery
1962 - present
Nashville Presbytery
---
Charlotte Presbytery - March 17, 1848
Charlotte, Dickson County, Tennessee
Elder Representative from Halls Creek - S. Pitt
[Source: "Extracts of the Minutes of the Charlotte Presbytery," The Banner of Peace and Cumberland Presbyterian Advocate, May 10, 1848,
page 2]
---
Halls Creek Cumberland Presbyterian Church - 1947
---
HALLS CREEK CHURCH IN PERIOD OF GROWTH
Halls Creek church, near Waverly, Tenn., is planning two new Sunday school rooms to be added to the building in the near future. The building has been completely remodeled inside and out within the past few years.
The congregation began meeting full time last September and a missionary auxiliary was started in November with 11 charter members. Rev. Howard Holman, the pastor for the past year and a half, is a student at Bethel College in McKenzie.
Attendance has nearly doubled during the past year and a half and, during last summer's revival, there were eight additions (five of them young people) and about 15 rededications.
Young people take an active interest in the church. They bought a new aisle carpet year before last and an air conditioner for the sanctuary last summer.
All the pews and furniture in the sanctuary were purchased new when the building was remodeled and new Worship and Service Hymnals are now being used.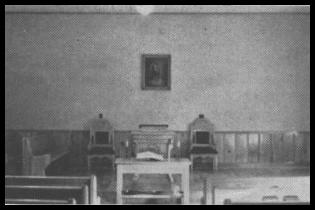 INTERIOR AND EXTERIOR of the Halls Creek church, near Waverly, Tenn., are shown here. Present plans call for an addition of two Sunday school rooms in the near future.
[Source: The Cumberland Presbyterian, May 1, 1962, page 14]
---
The Halls Creek Cumberland Presbyterian Church, located on Halls Creek in the First District of Humphreys County, Tennessee, was organized before 1849.
In February, 1849, William L. Forrest made a deed to his brother John T. Forrest to a tract of land where James Forrest lived, and stated in the deed that one acre had been taken out for the Church. This deed was recorded April 5, 1856 in Book G pages 92 and 93 in the Humphreys County Register's office.
The building was a log structure and stood across the road from the present building under a beech tree and was used as a Church and school. The benches for the building were made from hewn logs with plank backs.
The balance of the acre of land not covered by the building was across the creek and was used as a hitching place for horses.
The building was used as a Church until 1897 and as a school until 1906.
In 1910 the Church Session authorized F. J. Knight to sell the old Church building. He sold the building for $5.00 and turned the money in at a Session meeting in October 1911.
Among the early preachers who served the Church were: Bill Cooley, Robert Knight, and Rufus Knight.
Some early members of the Church and dates when they joined were: Mary Jane Cotham, 1854; D. R. Durham, 1855; Elisa M. Durham, 1855; D. M. Parker, 1877; Martha Webb, 1877; S. E. Durham, 1879; Belle Knight, 1881; F. J. Knight, 1881; W. C. Madden, 1876; D. C. Thompson, 1883; R. E. Madden, 1883; A. E. Durham, 1889; J. T. Durham, 1889; W. L. Durham, 1889; Sarah H. Warden, 1889; M. J. Durham, 1892; Judie Carter, 1897.
There were members before those listed but their names are not available. The Church register was recopied in a new book in 1900. Only the living member's names were recorded and the old book was lost or destroyed.
The present building was built in 1897 on land across the road from the old school and church. The land was deeded to the church by Henry Weeks and his wife Margaret Summers Weeks and is recorded in Book 15, page 113 and entered in Note Book No. 1, page 289.
The first trustees of the new church were: W. C. Madden, J. T. Durham, and J. D. Parker.
The present building was a one room structure with a flue in the middle, but it has been remodeled and added to three times.
Pastors who have served the Church since 1900 are:
1900 -- B. B. Larkins (Halls Creek Group consisted of the Churches of Union Chapel, Greenbrier, White Oak, Cumberland Valley, Mariah, St. John, Concord, Cane Creek, Halls Creek. The group was to pay the pastor $275 per year.)
1904-07--A. H. Sykes
1908-09--H. H. Binkley
1910-11--W. A. Blades
1912--G. W. Phillips
1913--J. L. Dillard
1914-17--G. E. Danley
1917--W. V. Whitworth
1917-20--H. H. Binkley
1920-23--R. L. Taylor
1924--W. L. Blades
1925--E. W. Neighbors
1927-35--M. C. Powers
1935--A. H. Sykes
1936-39--G. E. Danley
1940-48--M. C. Powers
1948--S. O. McAdoo
1949-50--Russell Bracey
1951-52--Hudson London
1952--William Hall
1953-55--Howard Herndon
1956-57--C. P. Mayhew
1958--Bobby Covington
1958-60--Jesse Fox
1961-63--Howard Holman
1963-64--Harris Schultz
1964--David Moreland
1965 to 1987--Ray Mayo
1987 to 1988--J. L. Nobel
1988 to 1989--Skip Youngcourt
1989 to 1990--Mike Ridgley
1990 to 1991--John Nye
1991--Steve Reaves
1992--Richard Harris
1992 to present--William "Bill" Burkhardt
[Written by Mable L. Knight for Humphreys County Heritage Book, 1979; later pastors added by Bob Knight]
---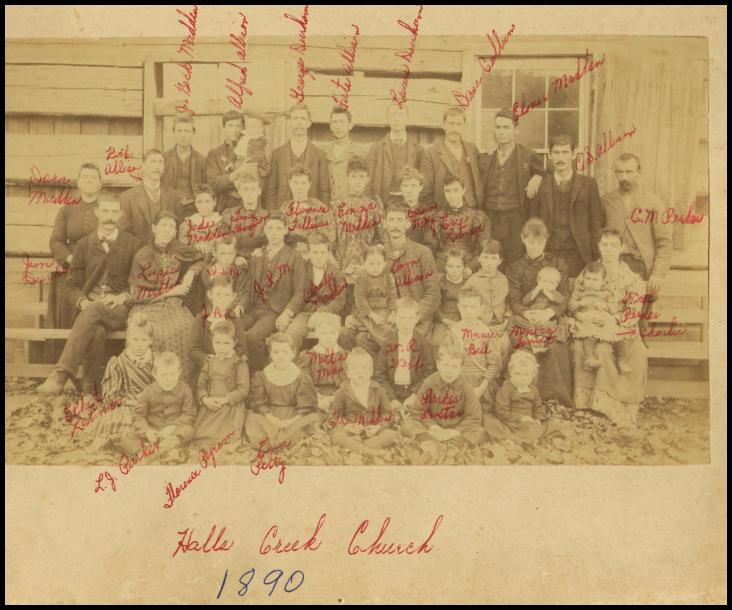 Photograph about 1911 from Dennis Madden with his notes:
Bottom left is Lonza Madden next is my dad Hansel Madden
4th row right is Minerva Jane Cullum Forrest
Next to her is my grandmother Molly Forrest Madden
Next to the top row 3rd from the right is my grandfather John R. Madden white shirt and tie.
---
Updated October 23, 2013
Please Send Additions/Corrections to the Archives
HOME