Alexander Anderson Young
Cumberland Presbyterian Minister
1805 - 1880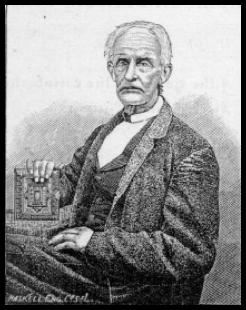 REV. A. A. YOUNG
The following preamble and resolution were adopted by the Church Session of Verona congregation of the Cumberland Presbyterian Church, at Verona, Mo., March the 17th, 1880:
WHEREAS, God has seen fit, in his all-wise providence, to remove from us, by death, our aged and beloved brother, Rev. A. A. Young, who, after a short illness, departed this life March the 13th, 1880; and,
WHEREAS, He being the first and oldest minister in Southwest Missouri, and one who has spent all his life in preaching Christ and laboring for the salvation of souls, and building up the Church, and giving strength and encouragement to his brethren and sisters in Christ by his Christ-like counsel, which he was always ready to give. Hundreds in heaven and as many more on earth, no doubt, can testify that they were saved from eternal ruin through his instrumentality, therefore being universally known and loved by all in this country; and,
WHEREAS, Owing to the inclemency of the weather on the day of his interment and the distance to the cemetery, but few of our congregation, as well as others, were permitted to attend his funeral and hear the discourse of Rev. J. B. Fly on the occasion; and, feeling it our duty, as well as our desire, to make some public demonstration of our love to the departed brother, and to express our feelings of sympathy to the bereft widow, who has shared largely in the toils and labors of her husband and also to the children; therefore,
Resolved, That the members of Verona congregation, and all others who feel so disposed, be requested to assemble at the church in Verona, on the second Sabbath in April next, for the purpose of paying a tribute of respect to the memory of our worthy and beloved brother, Rev. A. A. Young; and that our pastor, Rev. L. A. Dunlap, be requested to open the services with a sermon, or address, suitable to the occasion.
2. That a copy of this preamble and resolution be furnished each of the county papers, the St. Louis Observer, and the CUMBERLAND PRESBYTERIAN, for publication.
L. A. DUNLAP. Moderator.
[Source: The Cumberland Presbyterian, April 15, 1880, page 8.]
---
Fly, J. B. and L. A. Dunlap. Life and Labors of the Late Alexander Anderson Young, of Missouri, Minister of the Gospel in the Cumberland Presbyterian Church. St. Louis, Mo.: Perrin & Smith, 1881. [3 copies in archives]
---
Young Family Information
---
Please Send Additions/Corrections to the Archives
Updated January 3, 2006
HOME
---