John Calhoun Provine
Cumberland Presbyterian Minister
1822 - 1904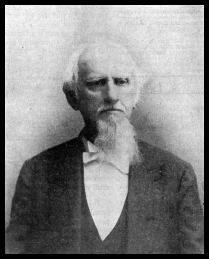 DR. PROVINE AT REST.
--Just as the paper goes to press there comes news that the venerable Dr. J. C. Provine passed away at his home, Columbia, Tenn., at 8:30 p.m. Monday, April 25, at the age of eighty-three. Few men were better known throughout the church. Dr. Provine occupied many important pulpits and was for a long time president of the Board of Publication, the position now held by his son, Rev. W. A. Provine. He was closely associated with those other great leaders who preceded him to the better land--Blake, Kirkpatrick, Baird, DeWitt and others--and, with them, wrought mightily for the upbuilding of the church, especially in Tennessee. A full account of his life will be prepared for the next issue of "The Cumberland Presbyterian." Throughout the Publishing House there is a feeling of deep sorrow and of sympathy with those who are bereaved. At this writing (Tuesday morning) a special meeting of the local members of the Board of Publication has been called to take suitable action.
[Source: The Cumberland Presbyterian, April 28, 1904, page 530]
---
John Calhoun Provine.
---
BY JOHN M. GAUT.
---
As the seared leaves of the oak sometimes cling to their places on its branches through the storms of the winter and give place only to the newly forming leaves of the spring, so nature's wise economy has spared to our church in Tennessee a few such men as Provine, Mitchell and Marshall beyond their activities, waiting for a new and tried generation to fill their places. Meanwhile they have illustrated to us the patient trustfulness of the Christian's declining years. Their placid features have seemed to say:
"Only waiting till the shadows
Are a little longer grown,
Only waiting till the glimmer
Of the day's last beam is flown;
Then from out the gath'ring darkness
Holy, deathless stars shall rise
By whose light my soul shall gladly
Tread its pathway to the skies."
Dr. Provine's earthly career being ended, we may profitably recall some of the leading features of his life. It compassed eighty-two eventful years--1922 to 1904. His father, John Provine, was a Scotch-Irishman and a Cumberland Presbyterian preacher. His mother, a sister of Rev. Thomas Calhoun, was an inbred Cumberland Presbyterian. Dr. Provine became both a Christian and Cumberland Presbyterian in the tenth year of his age. He received his earliest education at home. Afterwards he attended the local schools in his native county, Wilson, and successively Clinton College, the old academy at Lebanon and Cumberland University, where he graduated in 1850. Meantime, however, he had been learning in the school of practical life. Like Calvin and Luther, he began to study law, but was compelled by ill health to abandon it.
In 1842 he became a candidate for the ministry under the care of Chapman Presbytery. Six months later he was licensed and for three years preached on a circuit in Chapman and Hopewell presbyteries. He was ordained by the latter presbytery in 1845. His life as a circuit rider was one of self-denial, hardship and heroism. His first regular charge was Coffeeville, Miss. He also preached to Oakland and Sardinia in that state. He represented Oxford Presbytery in the General Assembly in 1847--Lebanon, Ohio--going by stage as far as Memphis, Tenn. He served as pastor or stated supply at Clarksville, Tenn., two years with the First Church in Nashville, from 1858 to 1863 as missionary pastor at Murfreesboro, and in 1870 as stated supply at McMinnville. For four years he had charge of the church at Franklin and at times the churches at Shelbyville, Stoner's Creek and Hendersonville.
He started the Ladies' Pearl; in 1855 was made secretary and treasurer of the Board of Education; in 1865 purchased the Banner of Peace, which he edited and published for several years. From 1867 to 1869 he was the manager of the Publishing Work of the Church, then in its infancy. In 1870 he was elected moderator of the Assembly. In the same year he became president of the Board of Education. From 1887 to 1900 he was a member of the Board of Publication and for the nine last years its president. Space permits but a bare mention of these numerous, varied and responsible positions in which he served the church. In all of them he was faithful. In most of them the resources at his command were meager and the difficulties to be encountered great. When all things are considered, few men have achieved as great success.
I can speak more advisedly of his relation to the Publishing Work. When he took charge of it in 1869, it had just been returned to Nashville from its temporary sojourn in Pittsburg. It had no periodicals, few books, no money and no prestige. The church had been impoverished by war. The General Assembly's orders that congregations should take collections for the work were practically ignored. Yet Dr. Provine had printed and sold during the two years of his management over $16,000 worth of much-needed books. As a member and president of the board he was always conservative but not obstructive, wise in counsel, pacific and hopeful. When younger hearts then his quailed before financial difficulties, he found reason to speak words of encouragement.
He was, by Christian culture as well as by nature, a peace-maker. In 1874 when the Board of Publication had exhausted diplomacy in the effort to possess itself of a weekly paper without competing with individual publishers, his pacific intervention made possible the purchase of the "The Cumberland Presbyterian" from Dr. Chestnut [sic: Chesnut] . When the sectional contentions of the national legislative halls found their way to the General Assembly in 1866, his pacific pen drew the resolutions which remarked the line between the things which are Caesar's and the things which are God's. They were sanctioned by a vote of 112 to 40. Thenceforth the dead past began to bury its dead and the spirit of unity and toleration to find its resurrection. May this spirit never lack divinely inspired apostles! At a special meeting of the local members of the Board of Publication the following resolutions were adopted:
"Whereas, The Board of Publication has heard with sorrow of the death of the Rev. J. C. Provine, D.D., a former president of this board and father of our present president,
"Resolved, That we would and do hereby give expression to the warm personal regard which we have always entertained for the deceased, to our appreciation of his high Christian character and of his unfailing devotion to the interests of his church, especially as the agent of its publishing work and later as president of the board.
"Resolved, That we hereby extend our sincere sympathy to the bereaved members of Dr. Provine's family, particularly to his son, Rev. W. A. Provine, our president, and that Mr. Hamilton Parks, our secretary, be and is hereby appointed to convey in person these resolutions to the family, and to accompany the remains of our deceased brother from Columbia to their last resting place."
Funeral services were conducted by Rev. J. E. Clarke and Rev. John A. McKamy, and the remains laid at rest in Mt. Olivet cemetery, Nashville.
[Source: The Cumberland Presbyterian, may 5, 1904, page 574]
---
Bibliography
Provine, Rev. J. C. The Blind Man's Cottage. Gem Library Series. Nashville, Tenn.: Cumberland Presbyterian Board of Publication, 1873. [2 copies in archives]
Provine, Rev. J. C. The Blind Man's Cottage. Gem Library Series. Nashville, Tenn.: Cumberland Presbyterian Board of Publication, 1876. [1 copy in archives]
---
Provine Family Information
---
Please Contact the Archives with Additions/Corrections
Updated April 24, 2008
HOME