Henry Morris Pepper
Cumberland Presbyterian Minister
1910 - 2002
Moderator of the 117th General Assembly of the Cumberland Presbyterian Church
1947 - Knoxville, Tennessee
Morris Pepper, long-time Cumberland pastor, dies
By Don Reeves
Less than four hours before his 92nd birthday, the life of Dr. Morris Pepper became a legacy. His death came Thursday evening after an extended hospitalization.
"Pepper," as he was lovingly and respectfully known, served the parishioners of the Cumberland Presbyterian Church and the citizens of Scottsboro and Jackson County as pastor, preacher, counselor, Christian educator and community leader for over 21 years. He is survived by his wife, Ruth McAnulty Pepper of Scottsboro; son, John Clark of Scottsboro, daughter, Beverly Pepper Brown of Memphis, Tenn.; two grandchildren, Shelly and Chris, both of Memphis; and a great-grandson, Thaxton, also of Memphis.
Born in Peoria, Texas on June 28, 1910, he attended Hillsboro Junior College and graduated from Bethel College and the Cumberland Presbyterian Seminary in McKenzie, Tenn. He spent his professional life in a variety of congregational and denominational leadership roles.
In addition to Scottsboro, he served pastorates in Tennessee and Kentucky. For over 20 years, he gave leadership to the Cumberland Presbyterian Church in positions ranging from Director of Youth Work to Executive Secretary of the denominational Board of Christian Education. In 1947, he was elected to the denomination's highest office, Moderator of the General Assembly.
During a telephone conversation of Friday morning, the current Moderator, Rev. Bert Owen of Paducah, Ky. said, "Dr. Morris Pepper was the image of vision and compassion. His long years of service will forever contribute to the welfare of the Cumberland Presbyterian Church and the Kingdom of God."
An athlete in college (football) and an avid swimmer and tennis player, Dr. Pepper was mentor and role model to both youth and adults with a rare ability to relate personally while inspiring spiritually and intellectually. Known throughout the country as a progressive and pace-setting church educator, he led the denomination through some of its most critical and creative times.
As a citizen of Scottsboro and Jackson County, he will be remembered for his total inclusive availability to anyone in need of his grace-filled image of care and commitment.
A memorial service/witness to the resurrection will be held at 2 p.m. on Monday, July 1, 2002 in the sanctuary of Scottsboro Cumberland Presbyterian Church at 315 South Kyle Street. Visitation with the family will follow the service in the fellowship hall of the church's Morris Pepper Christian Education Building.
The family requests that any memorials be sent to the Morris and Ruth Pepper Endowment Fund of Christian Education at The Cumberland Presbyterian Center, Board of Education, 1978 Union Ave., Memphis, Tenn. 38104, or to a charity of the donor's choice.
[Source: "The Daily Sentinel" [Scottsboro, Alabama], June 30, 2002, page 1 & 3A]
---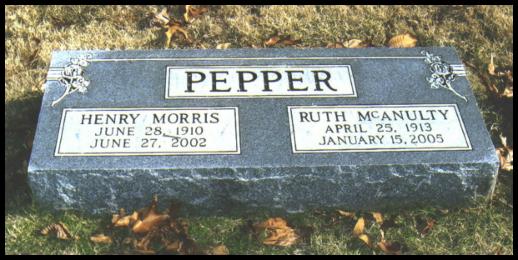 Mount Comfort Cemetery

Hickory Valley, Hardeman County, Tennessee
---
Please Contact the Archives with Additions/Corrections
Updated January 9, 2007
HOME