Walter Odell Parr
Cumberland Presbyterian Minister
1900 - 1967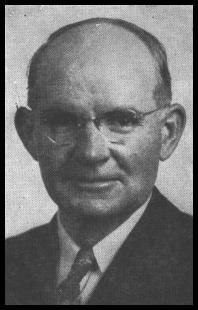 MINISTER'S DEATH
Rev. W. O. Parr, Hubbard, Texas, died August 4. Funeral service was conducted by D. L. L. Thomas in Hubbard August 6, and burial was in Arlington, Texas.
[Source: The Cumberland Presbyterian, August 15, 1967, page 4]
---
W. O. Parr Had Varied Ministry
When death claimed the Rev. Dr. W. O. Parr of Hubbard, Texas, early in August, a colorful and varied ministry was brought to a close. During his almost half century of ministry he engaged in a wide variety of activities including pastoring many rural churches of the South and Southwest, engaging in farm bureau work, Christian Rural Overseas programs and other world relief organizations. His ministry brought him in contact with both the humble peoples in many places and some of the world's great.
His ministry in a church always involved him in community welfare activities. It was this way early in his ministry and it was so in the last days of his life. In recent months he had served the Cumberland Presbyterian Church in the small East Texas town of Hubbard and during his short ministry there he had entered into a program to get a sewer system built. His last audible words to his son on the morning before he died were: "Son, promise me you will see to it that the sewer system is built in Hubbard."
Native of Texas
Born in 1900 in Texas, Dr. Parr preached his first sermon in a country Cumberland Presbyterian church near Bowie when he was eighteen. The next year he entered Bethel College at McKenzie, Tenn., where he was later graduated. He met and married the former Miss Beulah Clark who survives him. Other survivors are two sons: Captain W. O. Parr, Jr. who has been in Vietnam and who arrived just in time for the funeral; Walter S. Parr of Marfa, Texas; one daughter, Mrs. Loyd Fritz of California. Four brothers and one sister also survive.
The funeral was held in Hubbard by Dr. L. L. Thomas, assisted by Rev. L. E. McCoy and burial was at Arlington, Texas. He served pastorates in Texas, Arkansas, Tennessee and Kentucky and for nine and a half years was organization director for the Kentucky Farm Bureau. He served as director of Christian Rural Overseas Program, World Friendship, the Korean Foundation. He directed in sending seven ships of food, fibre, agricultural tools, and purebred livestock to war ravaged people of Germany, Korea and Jordan. He also flew three plane loads of livestock to Puerto Rico, Honduras and Guatemala. His travels took him to 48 foreign counties on six continents and brought him into friendship with Conrad Adenauer of West Germany, King Hussein of Jordan, Syngman Rhee of South Korea and leaders of other troubled countries. Through the years he maintained his ministerial membership in the Cumberland Presbyterian Church and was recognized as rural minister of the year in 1959. He also was given the honorary Doctor of Laws degree by Chungang University in Seoul, Korea.
[Source: The Cumberland Presbyterian, August 29, 1967, pages 3 and 12]
---
Parr Family Information
---
Please Contact the Archives with Additions/Corrections
Updated October 24, 2006
HOME