Charles Rubein Matlock
1888 - 1978
Cumberland Presbyterian Minister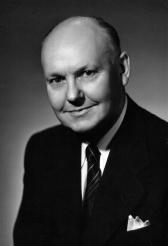 ---
Dr. C. R. Matlock To "Eternal Home"
Rev. Dr. Charles R. Matlock, an ordained minister in the Cumberland Presbyterian Church for 70 years, who had held pastorates throughout the denomination, was 1946 moderator of the General Assembly, and who had held numerous positions of leadership, died at Jackson, Tennessee, October 5. He was 90.
Just two months before his death he had written a letter to Rev. Dr. Virgil H. Todd at Memphis Theological Seminary and Rev. Dr. C. Ray Dobbins, editor of THE CUMBERLAND PRESBYTERIAN requesting that they plan to conduct his funeral with the pastor in charge. This was done with the funeral held as planned with Rev. Jack Barker in charge, in the First CP Church, Jackson, TN, October 7. A large congregation reflected the esteem with which the veteran minister was held in the church.
Dr. Matlock is survived by his wife of 26 years, Mrs. Lucille Matlock, one son, Rev. Charles R. Matlock, Jr. an Episcopal minister, and five grandchildren.
Dr. Matlock's pastorates in the last 60 years included First CP Church, Cleveland, TN, 1917-24; Central Church, Memphis, 1925-31; First Church, Knoxville, 1931-34; First Church, Columbus, MS, 1934-36; First Church, South Pittsburg, TN, 1936-43; Edgefield Church, Nashville, 1944-58; First Church, Bowling Green, KY, 1959-63.
In 1963 he retired and moved to Jackson, TN which was his native area. He was born at nearby Beech Bluff in 1888.
Dr. Matlock through the years served on numerous denominational boards and agencies and was moderator of the General Assembly in 1946. In 1930 he edited The Cumberland Presbyterian Pulpit.
He was buried at the Highland Cemetery in Jackson.
[Source: The Cumberland Presbyterian, November 1, 1978, page 3]
---
Services For Dr. Charles R. Matlock, Retired Minister, Will Be Saturday
Services for Dr. Charles R. Matlock, 90, retired Cumberland Presbyterian minister, will be at 3 p.m. Saturday at First Cumberland Presbyterian Church with Dr. Virgil Todd, Dr. Ray Dobbins and the Rev. Jack Barker officiating. Burial will be in Highland Memorial Gardens with Lawrence, Sorensen and Lanier Funeral Home in charge.
Dr. Matlock died Thursday at his home.
Born in Beech Bluff, the son of the late Rev. Charles N. and Lydia Carolyn Buck Matlock, he attended Bethel College at McKenzie, Union University and New York Biblical College and in 1923 received his doctor of divinity from Webster College. He was ordained a Cumberland Presbyterian minister in 1908 and served churches in West Tennessee, Missouri, Indiana and Kentucky.
His last pastorate was at Claybrook Cumberland Presbyterian Church in Madison [County] from 1963 until his retirement in 1974.
He served as chairman of the committee of the ministry and secretary of the Board of Publication, and was a member of the board of the Children's Home. The member of First Cumberland Presbyterian Church was a member of the Rotary Club, the Blue Lodge Masonic order and Knights Templar in Nashville.
Dr. Matlock compiled and edited The Cumberland Presbyterian Pulpit in 1930, wrote and published the Youth Quarterly and authored several church pamphlets.
Survivors include his wife, Mrs. Lucile Wallace Matlock; a son, Charles R. Matlock Jr. of Tulsa, Okla.; two brothers, M. H. [sic. H. F.] Matlock of Beech Bluff and J. J. Matlock of Jackson; and four grandchildren.
Pallbearers will be Elco Fowler, Buford Matlock, Ralph Matlock, James Matlock, James Sudduth, John Parnell, J. D. McCharen and Frank Turner.
The family will receive friends until 1 p.m. Saturday at the funeral home at which time the body will be carried to the church to remain until time of services.
[Source not given]
---
Please Send Additions/Corrections to the Archives
Updated June 28, 2004
HOME
---