Young Harrington Hamilton
1828 - 1880
Cumberland Presbyterian Minister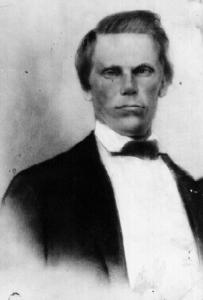 ---
Young Harrington Hamilton
The Reverend Young Harrington Hamilton was the third son of Andrew and Delilah Smith Hamilton, who came to Texas from Tennessee and settled in Nacogdoches County (now Rusk) reaching Texas January 1, 1835. He was born August 15, 1828 in Lincoln County, Tennessee.
His father and mother moved from Union District, South Carolina to Lincoln County, Tennessee in 1825 and joined the Presbyterian Church there the same year. This Hamilton family was active in the Presbyterian Church in South Carolina in 1776 (see Howe's History of the Presbyterian Church of South Carolina). When they moved to Texas in 1835 they brought their letters of dismissal and recommendation from the Presbyterian Church in Tennessee, and in 1845 became members of the Henderson Cumberland Presbyterian Church. Andrew Hamilton was elected and ordained ruling elder of the Henderson Congregation in 1845 and continued to discharge the duties of this office until his death, which occurred February 18, 1859.
I quote from the obituary of Andrew Hamilton, written by the Reverend R. O. Watkins:
"In 1835, 36, 37 and 38 when war with all its calamities existed in Texas, in that day that tried the souls of men, when the lone star banner was but just unfurled and the simultaneous shout was heard throughout Texas, "Do or Die," opposition to the tyrant of Mexico, there was a few of the heroic band that ardently loved the cause of Christ and with burning ardor and undying allegiance pressed around the banner of the cross, among the few Brother Andrew Hamilton stood a diffident, retiring yet decided Christian, which position he occupied, aiding in and witnessing the triumph of the gospel, until the might grip of the man of sin was utterly broken and this broad land of Texas won to Christ and his church firmly planted. Honored be the memory of the "Old Texas" who battled for his country, and suffered and toiled for his God."
Young Harrington Hamilton was descended from the great historic Hamilton family of Scotland, and was the third generation of his line of American born Hamiltons.
William Hamilton, the great, great, grandfather of Young Harrington Hamilton, and his four sons, John, David, Daniel and Samuel, served in the Pennsylvania Militia during the America Revolution. David, his great grandfather, was scalped by the Tories, taken prisoner at the surrender of Charleston, confined on board the prison ship Forbay and later sent to Philadelphia. He was not released until peace was declared.
Andrew Hamilton, his father, volunteered as a private soldier at the age of 19 and served under General Andrew Jackson during the war of 1812. General James Smith (in whose honor Smith County, Texas is named) was a brother-in-law of Andrew Hamilton, and came to Texas in 1833. In 1834 Andrew Hamilton, accompanied by the father of General James Smith, the Hiters, Davis, Windel, Milliners, and others left Tennessee for Texas to join General Smith. With their household goods, slaves and live stocks, they came by boat to Natchitoches, Louisiana. There they landed, loaded their household goods and all who could not walk into wagons drawn by oxen, horses and mule teams, and started on their journey over the only road or trail blazed out to San Augustine.
The journey had been long and they had suffered many hardships, so they pitched camp and rested in San Augustine for a few days before they pressed on to Nacogdoches where General smith was awaiting them. They lived in the village of Nacogdoches one year and then Andrew Hamilton and General Smith moved to, and settled permanently on, adjoining farms where the town of Henderson, County Seat of Rusk County now stands.
Andrew Hamilton and General Smith were both very close friends of General Sam Houston, General Rusk, and Governor Henderson. Governor Henry Smith was a first cousin of General James Smith and of Delilah Smith Hamilton, so when the trouble began in earnest with Mexico they felt that they must make every sacrifice possible, and they did.
Early in 1836 they decided that General Smith should return to Tennessee and Alabama and raise a company of volunteers to help fight for the freedom of Texas, and while he was this mission Andrew Hamilton was to protect and look after both his own, and General Smith's family and business interests.
General Smith raised a company of 75 volunteers, brought them to Texas, enlisted in the service, and his company was mustered out of Service September 1836 after Texas had won her independence. Andrew Hamilton and General Smith bore jointly the entire expense of this company of 75 volunteers, both before and after Texas won her independence.
The homes of both General Smith and Andrew Hamilton were always open to the destitute and homeless; all were fed and sheltered and none were turned away.
Early in 1835 there occurred near the village of Nacogdoches and Indian massacre that has been handed down in our family for four generations. There was a settlement of some 12 or 15 white families living several miles out from the village, and about three o'clock one morning Andrew Hamilton was awakened by a pounding on his door. When he opened the door there stood a young white woman covered with blood and holding both hands to her side. He took her inside the house and she told him her name was Ann Sutton, and that the Indians had come early in the night and killed all of the people and set fire to all of the buildings. The cabins were built of green logs and most of them wouldn't burn. Ann Sutton was shot in the side with an arrow and left for dead. She said after the Indians had gone she found a hank of thread her mother had spun that day, held it in the wound in her side and had walked in to the village to get help. Andrew Hamilton, General Smith and others went out and buried the slain and scalped men, women and children, and Ann Sutton lived in Andrew Hamilton's home till she married.
At the age of 16 Young Harrington Hamilton became a soldier in the Mexican War and served till it closed. He was converted at the age of 18 under the preaching of the Reverend Finis Foster, joined the Presbytery in 1854, was ordained by the Texas Presbytery in 1855.
During the first eight years of his ministerial life he had charge of the following congregations, all of which were in Rusk or adjoining counties: London, Lynn Flat, Mount Tabor, Princeton, Pine Grove, and Mt. Hope, all in the bounds of Texas Presbytery.
In 1862 he responded to the call of his country and enlisted as a private in Johnson's regiment, preferring that position in the company presided over by his brother, Captain Jack Hamilton, to the Chaplaincy tendered him by the regiment. The same year of his enlistment he was stricken with an illness which so impaired his health that he was discharged from the army and returned to his wife and baby at Henderson, Texas.
In 1863 he moved to Grand View, Johnson County. In the late summer of 1864 he moved to Bosque County, and he and his wife were the first teachers of Rock Hill Academy, one of the earliest cultural centers of the County. In 1866 he moved to Hill County and bought a farm at Woodbury, a few miles west of Hillsboro, where he lived until his death which occurred August 20, 1880. He was killed by an accidental fall from a wagon. At the time of his death he had charge of the following congregations: Grand View, Friendship, Aquilla, Peoria, Hillsboro, Milford, Oak Grove, Whitney, Brushy Knob, and Clifton.
At the time of his death he was in the midst of a Revival which he was conducting at Woodbury, Texas, being assisted by his intimate friend and co-worker, the Reverend Allison Templeton, who conducted his funeral services. His tragic death had a great influence in the meeting, and his funeral was solemnized the day following his death as a part of the revival meeting in which he was engaged.
He was made a master mason in Rusk Lodge June 7, 1851 and was a member of the Peoria Lodge at the time of his death. A few weeks after his death the masons of the County met at his grave and performed the masonic burial ceremony. A cavity was opened into the grave and the apron and emblems of the order deposited therein.
He attended private schools in Rusk County when a child, graduated from Dangerfield College, and attended Cumberland University in Lebanon, Tennessee. His first marriage was to Miss Martha Coates of Henderson, Texas in 1850, who died in 1851, leaving one son who lived to be three years old. His second marriage was to Miss Mary E. Smith of Waterford, Mississippi in 1861. To this union was born seven children. She died in 1883. They are both buried in the Old Woodbury Cemetery.
As a stalwart pioneer, Christian citizen and active mason, his record stands out clearly everywhere he lived. There have been few men who lived in Texas in an early day who have had a greater influence upon the people for laying the foundation of the law abiding citizenship which later occupied Texas communities than the Reverend Young H. Hamilton. His life work was preaching the gospel, but closely associated with it was his activity as a mason. He graced many public occasions of both his church and his lodge. In Hill County, where his life's work was ended, he is still remembered as an outstanding figure in civic, political and religious affairs of Texas.
[Source: This data is compiled by his daughter, Dollie Hamilton Forester from a copy of the "Texas Observer" of 1880, a Presbyterian publication published in Corsicana, Texas; statistics from the Grand Secretary Masonic Lodge, Waco, Texas; obituary of Andrew Hamilton, written by the Rev. R. O. Watkins at Henderson, Texas in 1859; Howe's History of the Presbyterian Church in South Carolina.]
---
Ministerial Directory - 1878
Y. H. Hamilton, Peoria, Texas
Kirkpatrick Presbytery
[Source: General Assembly Minutes of the Cumberland Presbyterian Church, 1878, page 92]
---
Mortuary - 1881
Y. H. Hamilton
Kirkpatrick Presbytery
[Source: General Assembly Minutes of the Cumberland Presbyterian Church, 1881, page 70]
---
Please Send Additions/Corrections to the Archives
Updated August 2, 2005
HOME
---