Alexander Thomas Forester
Cumberland Presbyterian Minister
1919 - 1987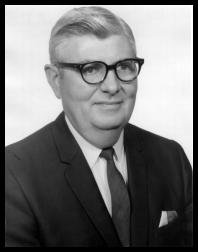 Former Missionary Dies
Rev. Thomas Forester, pioneering missionary to Japan and active church leader for over 40 years, died August 27.
Alexander Thomas Forester was born May 17, 1919 at Cord, Independence County, Arkansas, the first child of George Alexander and Wreatha (Best) Forester. He professed faith in Christ at the age of eight and became a member of the Hopewell Cumberland Presbyterian Church of Cord. He graduated from Searcy High School and at age 21, upon God's call to the gospel ministry, entered Bethel College, McKenzie, TN.
He was married to Fannie Bell at Olton, TX on August 26, 1942. In March 1943, he was ordained by Little Rock Burrow Presbytery and received his Master of Divinity Degree from Vanderbilt School of Religion in April, 1947.
Thomas held pastorates in Martin and Goodlettsville, TN and Olney, TX before being commissioned with Fannie as the first Cumberland Presbyterian missionaries to Japan in 1953. While in Japan he was president of the Protestant Missionary Fellowship. In community activities he was a Master Mason and served as chaplain of the Grand Lodge of Japan.
Upon their return to the states Thomas was pastor in Fresno, CA and San Antonio, TX and spent the last 13 years of his ministry in Campbellsville, KY until his retirement in 1984.
Thomas was elected Moderator of the General Assembly of the Cumberland Presbyterian Church in 1965 at San Francisco, CA and also as Moderator of Kentucky Synod in 1976.
Thomas did many mighty works, as Christ promised His disciples would do, in his pastoral ministry and certainly in the restoration of the Japan Mission work of the C.P. Church.
Thomas and Fannie moved to Lubbock to live in June. Great expressions of appreciation are given to the Campbellsville and Lubbock churches for their manual labor of love given to this move. They also had sincere thanksgiving and praise for the Houston C.P. Church and Pastor Hugh Parsons for the Christian love and care given during their time there for his treatment at M.D. Anderson Cancer Center.
Thomas is survived by Fannie and their children: Dr. Gary Forester of Fresno, CA, Rev. Mr. Timothy Forester, pastor of the First Congregational-UCC Church in Pueblo, CO and Waneva Kay Stewart of Elmira, NY. His brothers and sister include: Gerald of Atlanta, GA; George A. and Lena Belle of Lake Jackson, TX. He was blessed with 6 grandchildren.
[Source: The Cumberland Presbyterian, November 15, 1987, page 5]
---
Forester Family Information
---
Please Contact the Archives with Additions/Corrections
Page Last Updated on April 16, 2003
HOME
---