Ernest Clarence Cross
Cumberland Presbyterian Minister
1912 - 1981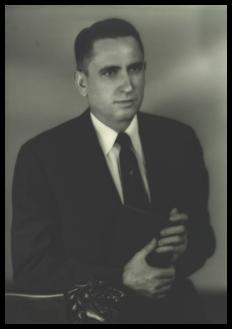 Rev. Dr. E. C. Cross Is Claimed by Death
The pastor-emeritus of the First CP Church, Dyersburg, TN, Rev. Dr. Ernest C. Cross, died March 30, at age 69. An illness necessitated his retirement from the Dyersburg pastorate in 1972, after serving the church for 22 years.
Surviving him are Maxine, his wife of 47 years, two sons, a daughter, grandchildren, one great-grandchild, and two brothers.
He had been in the CP ministry for 43 years, having been ordained by Obion Presbytery in 1938. This is the presbytery he was a member of at the time of his death.
"He stood tall because he bowed low to God," said a longtime Baptist pastor associate, Rev. Dr. Robert Orr, who gave the message at the funeral.
"He gave himself fully to his church and to all of us." the minister said.
Dr. Cross had served the CP denomination in numerous capacities--as moderator of the General Assembly in 1955; on the Board of Finance and Board of Trustees of Bethel College and of Memphis Theological Seminary. He was a graduate of Bethel and the Seminary.
Earlier pastorates were at Bolivar and Whiteville, TN, and Pine Tree Church, Longview, TX.
The funeral was held in the First CP Church in Dyersburg with Pastor Rev. E. Thach Shauf officiating. A capacity congregation was present in the magnificent colonial sanctuary which Dr. Cross had led the congregation in erecting. There were twenty-five ministers present.
Source: The Cumberland Presbyterian, May 1, 1981, page 3]
---
Cross Family Information
---
Please Contact the Archives with Additions/Corrections
Page Last Updated on August 7, 2003
HOME
---