John Thomas Buck
Cumberland Presbyterian Minister
1892 - 1959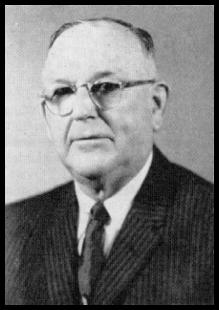 ---
AT PRESS TIME
Rev. J. T. Buck, 66, pastor of the Cedar Hill church, Greeneville, Tenn., suffered a heart attack and died instantly on February 3. He had just given a talk to the assembly of the local high school when the attack came. The funeral service was set at the Cedar Hill church Feb. 4 with another service at the First church Jackson, Tenn. on Feb. 5. Report to follow next week.
[Source: The Cumberland Presbyterian, February 10, 1959, page 3]
---
MINISTER, DENOMINATION LEADER HAS FATAL ATTACK
Rev. J. T. Buck who died suddenly on February 3 following a heart attack was a prominent minister and leader in the Cumberland Presbyterian Church. He had served as pastor, board executive, board member, and home missionary.
The attack came while he was sitting on the stage of the Greeneville High School ready to give a talk to six hundred students. He was pastor of the Cedar Hill church where he had served for two years. He was planning to retire soon and move to his home at Jackson, Tenn. He was born in the nearby Maple Springs community 66 years ago.
Funeral services were held at the Cedar Hill church by Dr. Turner N. Clinard of Greeneville, assisted by Rev. B. F. Guinn, and at the First Cumberland Presbyterian church in Jackson, Tenn., with Rev. O. T. Arnett in charge, assisted by Rev. H. Glenn Finley.
A large congregation of friends, including thirty five ministers and church leaders attended the Jackson service.
His survivors include his wife, the former Martha Verner Giles, two sons, and three daughters; Rev. Clinton Buck and Mrs. E.C. Baird of McKenzie, Tenn., Mrs. Olivia Fesmire, Mrs.Velora Watson, and J. T. Buck, Jr., of Jackson. Three brothers, L.H., Charles, and G. C. Buck, and one sister, Mrs. Fannie Caveness. There were thirteen grandchildren.
He had held pastorates at Birmingham, Columbus, Miss., New London, Iowa, Ramer, Tenn., Brunswick, Tenn., and Auburn, Ky. He had served as home missionary of West Tennessee Synod and for two years was executive secretary of the denomination's Board of Missions and Evangelism. At the 1958 General Assembly in Birmingham he was honored as Rural Minister of the Year.
For a number of years he was a member of the denomination's old Board of Publication.
Had Attended Conference
He attended the annual minister's conference held at McKenzie, Tenn., January 19-22, two weeks before the fatal attack.
In the funeral talk at Jackson Rev. Arnett gave high praise of the life of Brother Buck. He noted his outstanding qualities as Christian, as a minister, as a husband and father, and as a friend.
Dr. Clinard said of him: "He will be greatly missed in our presbytery. He is deeply mourned at Cedar Hill where he had the love, not only of the people of the church, but of the whole community. He had a truly remarkable pastorate there--some think the most successful work of his entire ministry."
[Source: The Cumberland Presbyterian, February 17, 1959, page 3-4]
---
Buck Family Information
---
Please Contact the Archives with Additions/Corrections
Page Last Updated on October 30, 2002
HOME
---