David Bryan
Cumberland Presbyterian Minister
c1800 - 1879
---
REV. DAVID BRYAN.
---
REV. W. P. COBB.
---
REV. DAVID BRYAN died at his residence, near Gadsden, Ala., May 23, 1879. His last illness was long and painful, yet he bore all his sufferings with great patience, and died in peace, calmly trusting in the merits of the Saviour, whom he so long and faithfully preached. Father Bryan was nearly eighty years old; was actively engaged in the work of the ministry about forty-eight years. He was one of the pioneer preachers in this country, having moved here in 1834, soon after his ordination. His life's work has been in the Talladega Presbytery, and eternity alone can reveal the good he has accomplished. Doubtless many souls have been saved through his instrumentality. His piety and consistent Christian life was proverbial among both saint and sinner. His unswerving devotion to duty was well known to all. May his mantle fall on his younger brethren in the ministry. Truly the fathers are fast dropping from the ranks of the army below to join the blood-washed throng above.
In the death of father Bryan our Church has lost one of her purest and most devoted ministers; his community one of her best citizens, and his family a most devoted husband and kind father. I hope some one longer acquainted with father Bryan than myself will give a short sketch of his life and labors in the CUMBERLAND PRESBYTERIAN soon.
GADSDEN, ALA.
Look to Jesus! aged traveler
On life's long and changeful road;
See'st thou not? 'tis almost ended,
Soon thou'lt be at home with God:
Lean upon him as you go,
Age and weakness stronger grow.
[Source: The Cumberland Presbyterian, July 10, 1879, page 1]
---
1868
David Bryan, Gadsden, Ala.
Minister - Talledega Presbytery
[Source: Minutes of the General Assembly of the Cumberland Presbyterian Church, 1868, page 108]
1869
David Bryan, Gadsden, Ala.
Minister - Talledega Presbytery
[Source: Minutes of the General Assembly of the Cumberland Presbyterian Church, 1869, page 88]
1870
David Bryan, Gadsden, Alabama
Minister - Talledega Presbytery
[Source: Minutes of the General Assembly of the Cumberland Presbyterian Church, 1870, page 83]
1871
David Bryan, Gadsden, Alabama
Minister - Talledega Presbytery
[Source: Minutes of the General Assembly of the Cumberland Presbyterian Church, 1871, page 84]
1872
David Bryan, Gadsden, Alabama
Minister - Talledega Presbytery
[Source: Minutes of the General Assembly of the Cumberland Presbyterian Church, 1872, page 120]
1873
Not in Ministerial Directory
1874
David Bryan, Gadsden, Alabama
Minister - Talledega Presbytery
[Source: Minutes of the General Assembly of the Cumberland Presbyterian Church, 1874, page 96]
1875
Bryan, David, Gadsden, Ala.
Minister - Talledega Presbytery
[Source: Minutes of the General Assembly of the Cumberland Presbyterian Church, 1875, page 86]
1876
No report for 1876
1877
Bryan, David, Gadsden, Ala.
Minister - Talledega Presbytery
[Source: Minutes of the General Assembly of the Cumberland Presbyterian Church, 1877, page 91]
1878
Bryan, David, Gadsden, Ala.
Minister - Talledega Presbytery
[Source: Minutes of the General Assembly of the Cumberland Presbyterian Church, 1878, page 100]
---
Bibliography
Bryan, David. The Songster's Companion: A Selection of Hymns and Spiritual Songs, Lately Compiled from Various Authors, For the Use and Benefit of All People. Jacksonville, Alabama: Printed by J. F. Grant, 1837. [No copy in archives]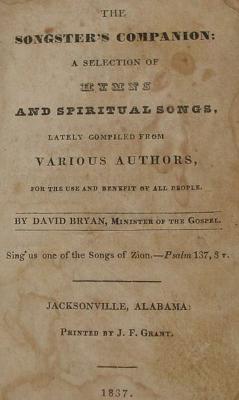 ---
Please Contact the Archives with Additions/Corrections
Updated November 6, 2007
HOME