Joseph McCreary Bone
1812 - 1888
Cumberland Presbyterian Minister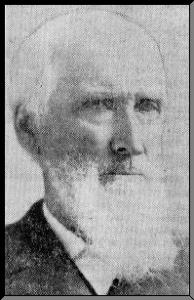 Bone.--The Committee on Memorial Services in reference to the death of the Rev. J. M. Bone, submitted the following report, which was unanimously adopted by the presbytery:
The Rev. J. M. Bone was born in Wilson county, Tenn., April 13, 1812, and came with his parents to Moultrie county, Ill., in 1828, and united with the Bethany congregation of the Cumberland Presbyterian Church in 1831, and entered the ministry at the age of nineteen years, and in his early life learned the hard lessons of a pioneer preacher's life on a circuit. And in his work he traveled through the counties of Macon, Moultrie, Shelby, Fayette, Bond, Montgomery, Marion, Madison, and Christian, and was instrumental in leading many souls to the Savior, and was always faithful in his duties as a servant of God, and always attended the meetings of the Church courts when it was possible for him to do so. And he was faithful in all his duties as a Christian minister, husband, father, and brother, and at the ripe age of seventy-six years, he as a servant of God laid aside his armor in Zion's earthly warfare, and very peacefully entered the rest of the faithful in the heavenly land. Therefore, be it
Resolved, 1. That in the death of Brother Bone we as a presbytery have lost a wise counselor, a loving father in Israel, an able and faithful presbyter, a self-sacrificing and humble minister of the gospel, and the Church a most faithful son, and we a veteran soldier from our ranks.
2. That we, as a presbytery, extend our warmest sympathies to his only son, Thomas, and family, and his step sons, A. C. Boyd, of Lincoln, Ill., and M. A. Boyd, of Pomona, Kan., and his daughter-in-law, Mrs. C. G. Keowan, of Lincoln, Ill., and especially to his sister, Mrs. Freeland, the only surviving member of his father's family.
3. That we bow in meek submission to the will of our heavenly Father, and reconsecrate ourselves to him, and pray that Brother Bone's mantle may fall on some young man of ours.
4. That a page in the presbyterial records be set apart to his memory, and that a copy of these resolutions be forwarded to the CUMBERLAND PRESBYTERIAN and St. Louis Observer for publication, and also to his son Thomas, step-sons, step-daughter, and sister, Mrs. Freeland.
W. L. BANKSON,
J. N. HOGG,
J. H. HUGHEY,
JACOB FICCES,
Committee.
[Source: The Cumberland Presbyterian, November 22, 1888]
---
Rev. Joseph M. Bone died today at 11:45 AM at the home of his son, J. A. Bone, No. 445 West Paririe street. age 76 years. The deseased was a well known pioneer minister of the Cumberland Presbyterian Church, has frequently been moderator of the synods, and has held offical positions in the general work. On May 28 he recived a paralytic stroke. He had since been confined to his bed and passed away at the hour stated.
Joseph M. Bone was born in Wilson County, Tennessee April 13, 1812 and moved to Moultrie County, Illinois with his parents in 1828. He was a Cumberland Presbyterian Minister, and has been actively engaged in preaching in Illinois since he was nineteen years old, having been stationed for a number of years at Talorville, Illinois, where he formed the C.P. Society. He was married twice, his last wife dying in 1875. His only child is Thomas A. Bone who is the son-in-law of H.W. Hill and has an interest in the Decatur Coal Company. Mrs. C.G. Kewon and A.C. Boyd of Lincoln, Illinois and A.M. Boyd of Ottawa, Kansas are step-children of the deceased.
The funeral will take place at Bethany noon, Rev. W.L. Bankson officiating.
[Source: Decatur, Il Daily Republican August 10, 1883, page 3]
---
Rev. J. M. Bone
1812-1888
The Rev. J. M. Bone came to Illinois as a young man with his father, Andrew Bone and family, from Tennessee. They had come under the influence of the "Great Revival" of 1800. The Rev. J. M. Bone began preaching in 1836, and he joined the Vandalai presbytery. He came to the Bear Creek church when services were held in the frame building near the present cemetery. He won the best wishes of his people for they loved his pleasing manners and his inspiring ideas in explaining the Scriptures. Year after year, he was retained as pastor. He lived his religion, at home, at church, and among his friends, and all who knew him felt that his religion was real. Many were added to the church during the fourteen years he remained with this church.
[Source: Kaune, Olive F. One Hundred Twenty Years of Donnellson Presbyterian Church History 1819-1939]
---
Mortuary List
J. M. Bone
Decatur Presbytery
[Source: Minutes of the General Assembly of the Cumberland Presbyterian Church, 1889, page 167]
---
Bone Family Information
---
Please Send Additions/Corrections to the Archives
Updated December 13, 2010
HOME