Ada Mentora Caston Slaton Bonds
Cumberland Presbyterian Minister
1892 - 1969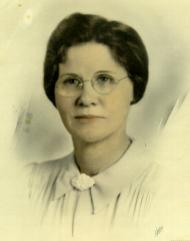 ---
PIONEER WOMAN MINISTER DIES IN LOUISIANA
Mrs. Ada Slaton Bonds, 78, a pioneer among women ministers in the church, died December 20 in Shreveport. La. A lifetime member of Louisiana Presbytery, she became the object of ecclesiastical controversy while a ministerial candidate from 1914-1920. Finally ordained in 1920, she spent most of 49 years as an evangelistic preacher and pastor of various churches.
Her service included moderator of Louisiana Presbytery eight times, commissioner to General Assembly four times, organizer of three churches, and organizer of the first missionary society in the presbytery in 1924. She was twice married and is survived by two daughters and two sons, including Sidney E. Slaton, pastor of Union Hill church, Gordonsville, Tenn.
He writes, "I believed her life was a symbol of Christian womanhood and motherhood. Her unassuming and sacrificial spirit makes me ashamed of my own inadequacies. Those who knew her well could easily say that her life was a sermon against sin. Her heart of compassion constrained her to reach out with a helping hand to anyone in need. Her total ministry was a sermon expounding loyalty to the church, faithfulness to Christ, the home, and the community in which she lived."
Funeral and burial were at Old Bethany church, Coushatta, where she served 48 years.
[Source: The Cumberland Presbyterian, January 20, 1970, page 4]
---
Please Contact the Archives with Additions/Corrections
Updated October 11, 2012
HOME