Silas E. Black
1834 - 1889
Cumberland Presbyterian Minister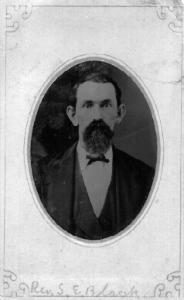 THE REV. SILAS E. BLACK.
BY A. J. HAYNES.
The Rev. Silas E. Black, son of the Rev. James Black, was born in Hempstead county, Ark., in the year 1834. In 1850 he, with his father, moved to Titus county, Texas. In his eighteenth year he embraced Christ as his personal Savior, and in the same year placed himself under the care of the Marshall Presbytery. At that time he was a student at Daingerfield College, where he continued until he had nearly or quite finished the course prescribed. He was duly licensed and ordained at an early age. His attainments and usefulness soon gave him a State notoriety. His first regular pastorate was in the city of Austin, where he remained three years, and, on account of declining health, he resigned, much to the regret of himself and congregation.
He then traveled in the interest of Cumberland University through the State of Texas, preaching with great ability, and succeeded well in his agency during the three years of its continuance. He was then called to the pastorate at Jefferson and Tehuacana, but declined. He accepted the pastorate at Dallas, but his health prevented him remaining only about six months, again to the great regret of the people. For seven years after this he was unable to preach a single sermon. During this period he traveled much over the State and settled in Jones county, where he built up a Sunday-school in his neighborhood. He was never able to preach much in his latter years. But his heart was always in the work. Brother Black fully sustained the honor of his noble ancestry. He was a strong biblical preacher. He had an analytical mind. Was warmly devoted to his church. Was always at presbytery, if not providentially hindered. Near the close of his life, in July, 1889, he had his friends to carry him to Anson, the place of the meeting of his presbytery so that he might meet his brethren. Two weeks later, on July 17th, 1889, he was called up higher. The funeral was preached by the Rev. A. J. Haynes, in the presence of a large audience, at Anson, Jones county, Texas, on 1 Cor. xv. 20. He was buried with Masonic honors.
Sacred be his memory, and peace to his dust till the morning of the resurrection.
His mental vigor was manifest to the close of life. About ten minutes before he expired he indited a business letter to an old friend at Austin, and the letter being finished, he remarked, "Now, say to Brother Smith, the doctors say that I am dying. Farewell till I meet you in heaven." His two devoted widowed sisters, Mrs. Gray and Mrs. Pettus, and his beloved nephew, Mr. Gray, were with him to the last, and administered to his comfort during his long illness. May the mantle of the uncle fall upon the nephew, and God bless all the bereaved.
[Source: The Cumberland Presbyterian, January 16, 1890, page 2]
---
Report of Committee on Deceased Ministers
Name: S. E. Black
Presbytery: Buffalo Gap
Time of Death: July 17, 1889
[Source: Minutes of the General Assembly of the Cumberland Presbyterian Church, 1890, page 37]
---
Buried: Mount Hope Cemetery - Hawley, Jones County, Texas
tombstone says 1835-1889

---
Please Send Additions/Corrections to the Archives
Page Last Updated on February 5, 2004
HOME
---