Jesse Eugene Bell
Cumberland Presbyterian Minister
1884 - 1964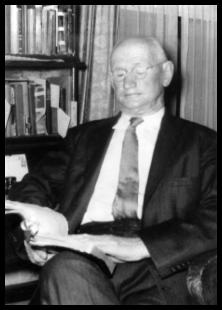 BELL
TECUMSEH--Services for Rev. Jesse Eugene Bell, 80, Tecumseh, will be at 2 p.m. Monday in Cumberland Presbyterian Church, Tecumseh.
Rev. Paul F. Brown, Rev. M. L. Stegall, and Rev. Alton Darrough will officiate. Burial will be in Tecumseh Cemetery.
Rev. Bell died at 2:45 p.m. Thursday in a Norman hospital following a four months' illness.
He was a retired Cumberland Presbytery Church minister in Tecumseh and helped build new churches at Rock Creek, Cowden, Locust Grove and Tecumseh. He helped build a manse at Rocky, Okla.
He was born April 25, 1885 in Miffin, Tenn., and moved to Oklahoma in January, 1902, from Clarksville, Tex. He lived at Stratford, Sulphur, Marlow and Muskogee before moving to Tecumseh in 1934.
Survivors are his wife, Mrs.Nellie B. Bell; five daughters, Mrs. Ollie Sewell, Cordell; Mrs. Flora Mulcahy, Anchorage, Alaska; Mrs. Della Vanderbeck, Ontario, Calif.; Mrs. Mary Ella Beveridge, Muskogee; and Mrs. Dorothy Jean McClesky, Altus; three sons, Frank Allen Bell, Tecumseh; James Eldon Bell, Oklahoma City, and Billy Joe Bell, Phoenix, Ariz.; 19 grandchildren; 28 great-grandchildren; and a sister, Mrs. Ollie Gibson, Bogota, Tex.
Cooper Funeral Chapel is in charge of arrangements.
[Source: "Shawnee (Okla.) News," May 28, 1964, page 2]
---
REV. J. E. BELL, 80, DIES;
PIONEER OKLA. PREACHER
Rev. Jessie Eugene Bell, 80, died at Tecumseh, Okla., May 28. He had been ill for several months.
The funeral was held by Rev. Paul F. Brown, Tulsa, Rev. M. L. Stegall, Clinton, and Rev. Alton Dorrough, Tecumseh.
He is survived by his wife, Mrs. Nellie B. Bell, five daughters, three sons, nineteen grandchildren, and twenty-eight great-grandchildren.
Brother Bell is one among the last of the truly pioneer preachers in the Cumberland Presbyterian Church. Born in Tennessee in 1884, his family moved to Red River County, Texas, while he was a little boy, and later moved to Oklahoma. He came under the care of Chickasaw Presbytery in 1907 while this was Indian territory and the synod was known as Indianola Synod. He was ordained in 1911 with Rev. F. A. Brown, father of the minister who conducted his funeral, delivering his ordination sermon.
Brother Bell had no seminary training, no college training, no high school training, and only a grade school education, but served the church in unusual ways as a pastor and an evangelist. Most of his pastorates were in Oklahoma, but he held revivals in many churches throughout the denomination. He often held revivals and these often culminated in the organization of churches. Such was true with the Indianapolis, (Indiana) church and the First church in Louisville, Kentucky.
In his ministry, he was always known as a very outspoken person but at the same time sought friendship with all of his church brethren. In his comments and reflections in his biographical information filed in the office of the Stated Clerk, he made an interesting statement. Quoting Booker T. Washington, he said, "I have resolved that I will never allow any man to make me to become his enemy."
[Source: The Cumberland Presbyterian, June 23, 1964, page 14]
---

Tecumseh Cemetery
- Tecumseh, Pottawatomie County, Oklahoma
---
Bell Family Information
---
Please Contact the Archives with Additions/Corrections
Updated April 4, 2007
HOME