James Gates Anderson
Cumberland Presbyterian Minister
1851 - 1916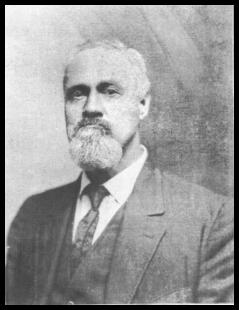 REV. JAMES GATES ANDERSON.
---
The following paper and resolutions on the life of Rev. James Gates Anderson were adopted by Memphis Presbytery in session with the Shady Grove congregation October 5, 1916:
Fathers and Brethren: Since our last meeting our ranks have been broken. On July 21, 1916, Rev. James Gates Anderson closed his earthly ministry and went to the "General Assembly and church of the first born," after an illness of several months. Brother Anderson was born in McNairy County, Tennessee, November 9, 1851. He married Miss Emma Basinger of the same county, to which union were born one daughter and two sons. His wife and two sons survive him, the daughter having preceded him about four years. He bore his lingering illness with Christian fortitude and died, as he lived, trusting God. Brother Anderson as under the care of Madison Presbytery as a probationer for the ministry and was ordained to the full work of the ministry in March 1895 at Saulsbury, Tenn. He was Stated Clerk of Madison Presbytery for about fourteen years. He often represented his Presbytery in the General Assembly always zealous in the defense of the doctrines and politics of the Cumberland Presbyterian Church. He served as a member of the Board of Trustees of Bethel College by appointment of West Tennessee Synod. His ministry was principally spent in the bounds of Madison Presbytery. For two years he served as Synodical Missionary to Mississippi Synod, doing much good, encouraging and strengthening the many weak churches in that Synod. He preached his last sermon on the second Sunday in March this year. With his family, he moved to Memphis, Tenn., where he died, in April, 1916, and united with the Memphis Presbytery at its last meeting, in April. Brother Anderson was the author of several books, namely: "Up Hill and Down Hill," "Valuable Ideas on Practical Subjects," "The Doctrines of the Cumberland Presbyterian Church are Supported by The Scriptures and Christian Experience," and "Not This But That."
Therefore, be it Resolved: First, that in the death of Brother Anderson the church as lost one of its most faithful and self-denying ministers.
Second, that his family has lost a loving and affectionate husband and father.
Third, that we recommend his wife, Mrs. Emma Anderson, to the Board of Ministerial Relief as a worthy and needy beneficiary.
Fourth, that a copy of these resolutions be sent his family, each of the church papers and the Board of Ministerial Relief.
Rev. C. A. Davis,
Rev. B. W. Covington,
Rev. J. N. Everett,
Rev. J. A. Self.
[Source: The Cumberland Presbyterian, November 2, 1916, pages 13-14]
---
Bibliography
Anderson, J. G. But This is That or The Evidence of Things Unseen. Introduction by Rev. J. B. Oakley. Jackson, Tennessee: McCowat-Mercer, no date but after 1910. [3 copies in archives]
Anderson, J. G. The Doctrines of the Cumberland Presbyterian Church are Supported by The Scriptures and Christian Experience. [No copy in archives]
Anderson, J. G. Down Hill and Up Hill. Introduction by Rev. J. D. Lewis. Nashville, Tennessee: Cumberland Presbyterian Publishing House, 1910. [4 copies in archives]
Anderson, J. G. Valuable Ideals or Practical Talks on Practical Subjects. Introduction by Rev. D. A. Ellis. Jackson, Tennessee: The Ellis-Martin Co., Publishers, 1906. [2 copies in archives]
---
Please Contact the Archives with Additions/Corrections
Updated September 27, 2007
HOME