David Moorman McAnulty
1871 - 1932
Cumberland Presbyterian Elder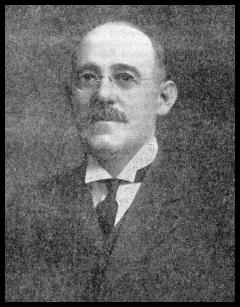 The above is a photograph of D. M. McAnulty who died March 19. Brother McAnulty went to the meeting of Madison Presbytery on Tuesday, but went home sick in the afternoon and died the following Saturday morning. He was well known in the Cumberland Presbyterian Church, having for a long time been prominent in church affairs, and having served his Church as Moderator of the General Assembly. He was at the time of his death president of the Hardeman County Savings Bank, a member of the Hardeman County Board of Education and of the Board of Alderman; also superintendent of the Sunday school of his church, stated clerk of Madison Presbytery, a member of the Commission on Endowment for the denomination and treasurer of the endowment fund. The Church has sustained a great loss in the death of Brother McAnulty.
[Source: The Cumberland Presbyterian, April 7, 1932, page 1]
---
D. M. McANULTY
---
The town of Bolivar, the Cumberland Presbyterian Church and all the denomination was shocked on Saturday, March 26, when the announcement was made that Brother D. M. McAnulty was no more.
David Moorman McAnulty was born at Hickory Valley May 9, 1871, and was reared under the preaching of his illustrious maternal grandfather, Rev. Dr. Moorman. He was converted and united with the Cumberland Presbyterian Church at the Moorman Memorial Cumberland Presbyterian Church at Hickory Valley, Tenn., on October 26, 1884 and at an early period in his life he was made a ruling elder of that congregation.
He served that congregation for several years as superintendent of the Sunday school.
He later removed to Jackson, Tenn., where he entered business and at once transferred his church membership to that church and was elected and installed as ruling elder and also was made superintendent of the Sunday school and served during his entire stay there.
About 25 years ago he came to Bolivar where he became an official of the Hardeman County Saving Bank.
There being no Cumberland Presbyterian Church here at that time, he worked for a time in the other churches of the town, but remained true to his faith and soon was able to organize a church, and built the splendid brick church which stands upon the original lot of the old church on Main Street.
He became one of its ruling elders and superintendent of the Sunday school, in which position he remained until God said, "It is enough, come up higher."
Brother McAnulty was honored by his beloved Church in every way possible, having been elected as moderator of the Madison Presbytery repeatedly and as moderator of the Synod of West Tennessee on several occasions and in 1924 at Austin, Tex., he was elevated to the high office in the gift of the Church by being elected to the office of moderator of the General Assembly, in which position he served with distinction to himself and honor to his Church.
He was made a member of the Cumberland Presbyterian Educational Endowment Commission at its creation by the Assembly and served as its president for several years until elected to succeed Ruling Elder F. A. Seagle as secretary-treasurer of that body to handle and invest the funds amounting to hundreds of thousands of dollars and his services as such were the nearest to his heart of any position he ever held as he appreciated the fact that upon the completion of the Endowment and the safe investment of the same meant the education of the future men and women of the Church. He served as a member of the Board of Education of the General Assembly for many years and for more of the time was the secretary-treasurer of that body and was instrumental in erecting the splendid buildings now upon the campus at Bethel College.
He gave to Bethel College the best years of his life, for no cause was dearer to his heart than education.
He was the stated clerk and treasurer of Madison Presbytery for many years and the last public act of his life was to act as clerk at the opening of the presbytery at Whiteville, Tenn., March 22, where he literally fell at his post of duty and was brought home by his friends.
He was elevated to the presidency of the Hardeman County Savings Bank some years since and served that institution faithfully for 25 years of his residence in Bolivar.
He filled at different times every office of trust in his town--as mayor, councilman and member of the town's Board of Education. Truly we may say that the town of Bolivar has lost one of her very best men. The Cumberland Presbyterian Church at Bolivar has lost her father and best friend. The denomination has lost one of her stalwart defenders and one of her best laymen in all the bounds of the Church.
Brother McAnulty was a man of strong convictions and always stood as firm as the Rock of Gibraltar on all his convictions, thereby at times making enemies, but almost always these enemies were destroyed by being made his friends.
He knew no compromise with evil in the social, moral or religious life of either his town or Church and no cause of righteousness ever missed the strength of the heart and arm of Brother McAnulty.
He was married to Willie Moorman Beck of Holly Springs, Miss., November 11, 1891, and from this union came a family of strong sons and daughters to carry on the work of their illustrious father. With their mother these are: W. David of Bolivar, Robert M. of Union City, Tenn., Lieut. Joseph A. of the Flying Corps located at Langley Field at Hampton, Va., and Dr. B. Forest of Bolivar and Mrs. Austin A. Baker, Bolivar, Mrs. Robert Wood Moore of Bolivar, Mrs. Joseph K. Banks of Lynchburg, Va.
Besides these, eleven grandchildren survive him, viz, Robert Wood Moore, Jr., David Moorman Moore, Frances Moore, Thomas Morgan Moore, Ann Elizabeth Baker, Ruth Rebecca Baker, Austin A. Baker, Jr., all of Bolivar; Margaret Moorman Banks of Lynchburg, Va., Robert M. McAnulty, Betsy Spradlin McAnulty of Union City and one adopted grandson, Richard McAnulty of Bolivar.
Besides the immediate family of sons and daughters one brother, J. A. McAnulty of Hickory Valley and four sisters, Mrs. E. P. Futrell of Union City, Mrs. A. C. Kerley of Morganton, N.C., Mrs. E. W. Johnson of Springfield, Mo., and Mrs. H. T. Jones of Terre Haute, Ind., with a host of other relatives in many sections of this and other states join in the sorrow of the passing of this man.
Brother McAnulty was carried to the Baptist Hospital at Memphis on Thursday evening and all that human skill could do was done, but at 9 a.m. Saturday his spirit slipped away and his body was brought back to his home, where it lay in state till 3 p.m. Sunday when it was carried under the weeping skies of Easter Sunday to the church he loved so much and with the entire front of the building banked with beautiful floral designs from his many friends and the full church filled to uttermost capacity, his pastor read the many promises of God's Word concerning the resurrection and prayed God's richest blessings upon all sorrowing hearts, then Rev. J. W. Dishman, a life-long co-worker and friend, brought a simple Gospel message of consolation to the grieved hearts and the body was borne by tender hands to the Polk Cemetery here in town and laid to rest under a bank of flowers to await God's call to receive his reward for the deeds of this world.
People from almost every section of the state were present, and some from other states came to bow at his bier and do him homage. The eastern section was represented by that faithful co-worker, F. A. Seagle, of Chattanooga. Space will no allow that I should give the names of all who came but I must say that every active minister of the Madison Presbytery was present besides several from McKenzie.
Hundreds of telegrams and letters from the many friends are pouring upon the family and these give me the permission to say that the entire denomination joins with me in tendering our deepest sympathy and wish for the family God's tenderest care and consolation in this, their greatest trial.
B. J. Reagin, His Pastor.
[Source: The Cumberland Presbyterian, April 7, 1932, pages 14-15]
---
Updated May 20, 2015
Please Send Additions/Corrections to the Archives
HOME