Benton Durwood Mathias
Louise Willard Mathias
Cumberland Presbyterian Missionaries (September 1952-November 1953)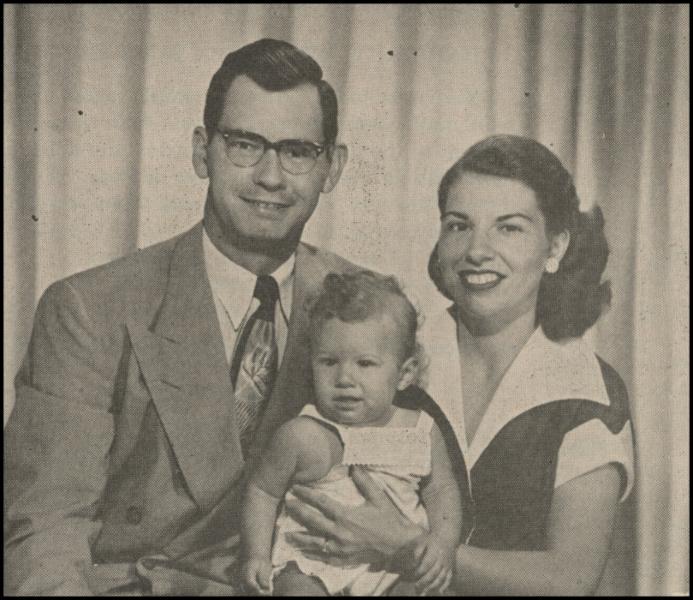 Mr. and Mrs. B. Durwood Mathias and their son.
Photograph appeared in The Missionary Messenger, June 1953, page 6.
---
MR. AND MRS. B. D. MATHIAS TO COLOMBIA
Mr. and Mrs. Durwood Mathias and son, Benton Durwood, by the time of this printing, if all plans materialize, will have arrived in Colombia to begin their work with our mission.
This word should have reached you in the last issue of the MESSENGER; however, certain unpredictable factors occasioned a delay.
Durwood and Louise were commissioned to service in South America at the Consecration Service of the last Convention meeting. Both completed their training in June of this year, after attending Bethel College at McKenzie and Scarritt at Nashville. Durwood was also a student at Texas University prior to coming to Bethel.
Mrs. Mathias is the former Louise Willard from Richard City, Tennessee. Durwood is a native Texan and is the son of Mrs. W. R. Harber of Fort Worth, Texas.
Louise consecrated herself to the missionary work several years ago and was attending Bethel College prior to her marriage. After their marriage in 1950, Durwood made application to become a missionary candidate and was accepted by the Board. His college training includes engineering, journalism, business administration, Bible, and Christian education. Both Louise and Durwood are well fitted for the tasks which await them on the field.
Some "clinical" experience was gained by Durwood and Louise when the Board arranged for them to work during the summer of 1951 in the San Francisco Chinese church.
Many of you will want to express to this couple your interest and appreciation in some personal and material way. Therefore, we extend to individuals and organizations the opportunity to make this expression through a financial contribution.
The Board has advanced the regular outfitting allowance, and you are invited to participate in caring for the Mathias's personal needs by giving to this allowance. All funds should be sent to the Board of Foreign Missions and specifically directed. A list of the contributions and by whom they are made will be supplied to Durwood and Louise.
[Source: The Missionary Messenger, September 1952, pages 2 and 24]
---
Mr. and Mrs. Durwood Mathias were dedicated as missionaries to the South American Field in a special commissioning service. The change was given by Rev. W. T, Ingram, Jr., the commission was given by Rev, Raymon Burroughs and the prayer of consecration was offered by Rev. Arleigh Matlock. [June 15, 1953]
[Source: Minutes of the Seventh-First Annual Missionary Convention of the Cumberland Presbyterian Church June 11-16, 1952 in The Missionary Messenger, April 1953, page 21]
Mr. and Mrs. Mathias are settled in Cali an busily getting acquainted with the language, so they can soon participate more actively in the multitudinous services to be performed in that great field.
[Source: The Annual Report, Convention Year, 1952 (January 1, 1952-December 31, 1952) in The Missionary Messenger, April 1953, page 15]
Mr. and Mrs. Durwood Mathias returned home from the Colombian field.
[Source: The Annual Report Convention Year, 1953 (January 1, 1953-December 31, 1953) in The Missionary Messenger, April 1954, page 15]
---
Please Send Additions/Corrections to the Archives
Updated June 4, 2015
HOME