Grace Community
Cumberland Presbyterian Church
Grace Presbytery
Southeast Synod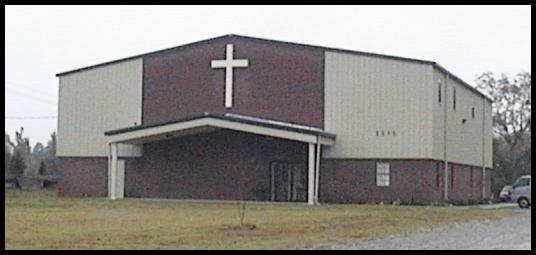 Grace Community Church

3515 Highway 14
Millbrook Alabama 36054
---
Our History
Submitted by Jay D. Radford
July 2007
The genesis of Grace Community Church goes back to early 1999 when Grace Presbytery of the Cumberland Presbyterian church purchased land in Millbrook Alabama and hired church planter Chuck Hood to plant a church that would serve the Millbrook, Prattville and Montgomery area.
Grace Community church began in early December as a fellowship and met at a rented storefront on Highway 14 not far from the land owned by the church. A second storefront was added not long after to accommodate the growing number of members and to support child care for children during worship. Before beginning construction on the facility where the congregation presently meets, a third store front was needed.
Construction for the first phase building began in July 2002 and was completed in December 2003. The congregation has been increasing in size slowly but steadily—from Pastor Hood and his family that had gathered in the shopping center to the current attendance of around 150 members.
People are typically attracted to the "come as you are" philosophy of the church, which applies to outward appearance as well as a person's spiritual condition. They also enjoy the contemporary feel of the worship services. Perhaps the greatest draw to the church is the friendliness and genuineness of the people.
There are a growing number of ministries that help members and newcomers express their God given gifts as they serve others as well as helping them feel better connected to the church body. Some of these ministries include: Ministry to children, youth and student ministry, Men's and Women's ministries, volunteers in finance administration, and publications. GCC also takes pride in planning many exciting social and fellowship events.
---
Updated July 10, 2007
Please Send Additions/Corrections to the Archives
HOME