Flat Lick
Cumberland Presbyterian Church
Herndon, Christian County, Kentucky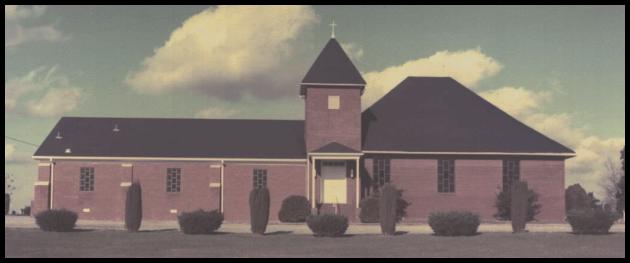 9355 Lafayette Road
Herndon, Kentucky 42236
---
This congregation was probably in Anderson Presbytery prior to the formation of Davis Presbytery in 1859. Unfortunately we do not have the minutes of these two presbyteries to confirm the organizational date of this congregation.
No Session Records have been deposited in the archives for this congregation.
---
Beginning in 1890, statistical information on congregations was included in the General Assembly Minutes.
1890
Name of the Congregation: Flat Lick
Clerk of the Session and Post-Office: Sandy Joiner, Salineburg, Ky.
Pastor: none listed
Total Membership: 94
Davis Presbytery - Kentucky Synod
[Source: Minutes of the General Assembly of the Cumberland Presbyterian Church, 1890, page 182]
1891
Name of the Congregation: Flat Lick
Clerk of the Session and Post-Office: Sandy Joiner, Salineburg, Ky.
Pastor: none listed
Total Membership: not listed
Davis Presbytery - Kentucky Synod
[Source: Minutes of the General Assembly of the Cumberland Presbyterian Church, 1891, page 198]
1892
Name of the Congregation: Flat Lick
Clerk of the Session and Post-Office: S. Joiner, Weaver's Store, Tenn.
Pastor: none listed
Total Membership: not listed
Davis Presbytery - Kentucky Synod
[Source: Minutes of the General Assembly of the Cumberland Presbyterian Church, 1892, page 206]
1893
Name of the Congregation: Flat Lick
Clerk of the Session and Post-Office: Sandy Joiner, Weaver's Store, Tenn.
Pastor: none listed
Total Membership: 78
Davis Presbytery - Kentucky Synod
[Source: Minutes of the General Assembly of the Cumberland Presbyterian Church, 1893, page 208]
1894
Name of the Congregation: Flat Lick
Clerk of the Session and Post-Office: Sandy Joiner, Weaver's Store, Ky.
Pastor: J. A. Dorris
Total Membership: 98
Davis Presbytery - Kentucky Synod
[Source: Minutes of the General Assembly of the Cumberland Presbyterian Church, 1894, page 220]
1895
Name of the Congregation: Flat Lick
Clerk of the Session and Post-Office: Sandy Joiner, Weaver's Store, Tenn.
Pastor: J. A. Dorris
Total Membership: 118
Davis Presbytery - Kentucky Synod
[Source: Minutes of the General Assembly of the Cumberland Presbyterian Church, 1895, page 230]
1896
Name of Congregation: Flat Lick
Clerk of the Session and Post-Office: Sandy Joiner, Weaver's Store, Tenn.
Pastor: W. R. M. Crump
No. Communicants: 108
Davis Presbytery - Kentucky Synod
[Source: Minutes of the General Assembly of the Cumberland Presbyterian Church, 1896, page 210]
1897
Name of Church: Flat Lick
Clerk of the Session and Post-Office: Joiner, Sandy, Weavers Store, Tenn.
Minister: Crump, W. R. M.
No. Communicants: 127
Davis Presbytery - Kentucky Synod
[Source: Minutes of the General Assembly of the Cumberland Presbyterian Church, 1897, page 176]
1898
Elder representative - L. D. Hancock
Princeton Presbytery meeting at Bethlehem congregation, Caldwell County, Kentucky, April 5, 1898
Presbyterial Directory: Congregations, Counties, Clerks' Address: Flat Lick, Christian, Sandy Joiner, Weaver's Store, Tenn.
[Source: Minutes of Princeton Presbytery, April 5, 1898, pages 3 & 29]
1898
Name of Church: Flat Lick
Clerk of the Session and Post-Office: Sandy Joiner, Weavers Store, Tenn.
Minister: I. G. Joiner
No. Communicants: 104
Princeton Presbytery - Kentucky Synod
[Source: Minutes of the General Assembly of the Cumberland Presbyterian Church, 1898, page 200]
1898
Congregation not Represented: Flat Lick
[Source: Minutes of Princeton Presbytery, October 4-6, 1898, page 4]
1899
Name of Church: Flat Lick
Clerk of the Session and Post-Office: Sandy Joiner, Weaver's Store, Tenn.
Minister: I. G. Joiner
No. Communicants: 102
Princeton Presbytery - Kentucky Synod
[Source: Minutes of the General Assembly of the Cumberland Presbyterian Church, 1899, page 95a]
1900
Congregation not Represented: Flat Lick
Presbyterial Directory, Congregations and Clerk's Address: Flat Lick (Rev. I. G.. Joiner), H. M. Sowell, Weaver's Store, Tenn.
[Source: Minutes of Princeton Presbytery, April 3-5, 1900, pages 4 & 28]
1900
Name of Church: Flat Lick
Clerk of the Session and Post-Office: H. M. Sowell, Weavers Store, Tenn.
Minister: I. G. Joiner
No. Communicants: 104
Princeton Presbytery - Kentucky Synod
[Source: Minutes of the General Assembly of the Cumberland Presbyterian Church, 1900, page 115a]
1900
Congregation not Represented: Flat Lick
[Source: Minutes of Princeton Presbytery, October 9-11, 1900, page 3]
1901
Elder Representative - L. D. Hancock
[Source: Minutes of Princeton Presbytery, April 9-11, 1901, page 3]
1901
Name of Church: Flat Lick
Clerk of the Session and Post-Office: J. B. Joiner, Salineburg, Ky.
Minister in Charge: I. G. Joiner
Total No. of Members: 135
Princeton Presbytery - Kentucky Synod
[Source: Minutes of the General Assembly of the Cumberland Presbyterian Church, 1901, page 141a]
1901
Congregation not Represented: Flat Lick
[Source: Minutes of Princeton Presbytery, October 8-10, 1901, page 4]
1902
Congregation not Represented: Flat Lick
[Source: Minutes of Princeton Presbytery, April 8-10, 1902, page 4]
1902
Name of Church: Flat Lick
Clerk of the Session and Post Office: J. B. Joiner, Salineburg, Ky.
Minister in Charge: I. G. Joiner
Total No. of Members: 132
Princeton Presbytery - Kentucky Synod
[Source: Minutes of the General Assembly of the Cumberland Presbyterian Church, 1902, page 131a]
1902
Congregation not Represented: Flat Lick
[Source: Minutes of Princeton Presbytery, October 7-9, 1902, page 3]
1903
Congregation not Represented: Flat Lick
[Source: Minutes of Princeton Presbytery, April 7-9, 1903, page, 4]
1903
Name of Church: Flat Lick
Clerk of the Session and Post Office: J. B. Joiner, Salineburg, Ky.
Minister Now in Charge: none listed
Total No. of Members: 132
Princeton Presbytery - Kentucky Synod
[Source: Minutes of the General Assembly of the Cumberland Presbyterian Church, 1903, page 116a]
1903
Elder Representative - J. B. Joiner
[Source: Minutes of Princeton Presbytery, October 6-8, 1903, page 4]
1904
Congregation not Represented: Flat Lick
[Source: Minutes of Princeton Presbytery, April 5-7, 1904, page 3]
1904
Name of Church: Flat Lick
Clerk of the Session and Post Office: J. B. Joiner, Salineburg, Ky.
Minister Now in Charge: E. C. Leeper
Total Number of Members: 140
Princeton Presbytery - Kentucky Synod
[Source: Minutes of the General Assembly of the Cumberland Presbyterian Church, 1904, page 99a]
1904
Congregation not Represented: Flat Lick
[Source: Minutes of Princeton Presbytery, October 4-6, 1904, page 3]
1905
Congregation not Represented: Flat Lick
[Source: Minutes of Princeton Presbytery, April 4-6, 1905, page 4]
1905
Name of Church: Flat Lick
Clerk of the Session and Post Office: J. B. Joiner, Salineburg, Ky.
Minister Now in Charge: none listed
Total Number of Members: 148
Princeton Presbytery - Kentucky Synod
[Source: Minutes of the General Assembly of the Cumberland Presbyterian Church, 1905, page 81a]
1905
Elder Representative - L. D. Hancock
[Source: Minutes of Princeton Presbytery, October 3-5, 1905, page 3]
1906
Elder Representative - J. I. Ellis
[Source: Minutes of Princeton Presbytery, April 3-5, 1906, page 3]
1906
Name of Church: Flat Lick
Clerk of the Session and Post Office: none listed
Minister Now in Charge: none listed
Total Number of Members: 125
Princeton Presbytery - Kentucky Synod
[Source: Minutes of the General Assembly of the Cumberland Presbyterian Church, 1906, page 72a]
1906
Elder Representative - J. T. Mathews
[Source: Minutes of Princeton Presbytery, October 9-11, 1906, page 3]
1907
Congregation not Represented: Flat Lick
[Source: Minutes of Princeton Presbytery, April 9-11, 1907, page
1907
Name of Church: Flat Lick
Clerk of the Session and Postoffice: J. I. Ellis, Weavers Store, Tenn.
Minister Now in Charge: J. R. King
Total Number of Members: 161
Princeton Presbytery - Kentucky Synod
[Source: Minutes of the General Assembly of the Cumberland Presbyterian Church, 1907, page 34a]
1907
Elder Representative - F. T. Sumner
[Source: Minutes of Princeton Presbytery, October 8-10, 1907, page 3]
1908
Elder Representative - W. R. Dunn
[Source: Minutes of Princeton Presbytery, April 7-9, 1908, page 3]
1908
Name of Church: Flat Lick
Clerk of the Session and Postoffice: I. J. Ellis, Weavers Store, Tenn.
Minister now in Charge: J. R. King
Total Number of Members: not listed
Princeton Presbytery - Kentucky Synod
[Source: Minutes of the General Assembly of the Cumberland Presbyterian Church, 1908, page 41a]
1908
Elder Representative - J. I. Ellis
Princeton Presbytery met with the Flat Lick congregation, Trigg County, Kentucky, October 6-8, 1908.
[Source: Minutes of Princeton Presbytery, October 6-8, 1908, page 3]
1909
Elder Representative - C. N. Dunn
[Source: Minutes of Princeton Presbytery, April 6-8, 1909, page 3]
1909
Name of Church: Flat Lick
Clerk of the Session and Postoffice: J. J. Ellis, Weaver's Store, Tenn.
Minister now in Charge: none listed
Total Number of Members: not listed
Princeton Presbytery - Kentucky Synod
[Source: Minutes of the General Assembly of the Cumberland Presbyterian Church, 1909, page 55a]
1909
Elder Representative - E. H. Ellis
[Source: Minutes of Princeton Presbytery, October 5-7, 1909, page 4]
1910
Elder Representative - A. C. Joiner
[Source: Minutes of Princeton Presbytery, April 5-7, 1910, page 3]
1910
Name of Church: Flat Lick
Clerk of the Session and Postoffice: J. I. Ellis, Weasier's [Sic] Store, Tenn.
Minister now in Charge: C. T. Boucher
Total Number of Members: 120
Princeton Presbytery - Kentucky Synod
[Source: Minutes of the General Assembly of the Cumberland Presbyterian Church, 1910, page 181]
1911
Name of Church: Flat Lick
Clerk of the Session and Postoffice: J. I. Ellis, Weavers Store, Tenn.
Minister now in Charge: C. T. Boucher
Supt. of S. S.: W. R. Dunn
Total Members: 100
Princeton Presbytery - Kentucky Synod
[Source: Minutes of the General Assembly of the Cumberland Presbyterian Church, 1911, page 181]
1912
Name of Church: Flat Lick
Clerk of the Session and Post Office: J. I. Ellis, Weaver's Store, Tenn.
Minister in Charge: J. R. King
Total Number of Members: 166
Princeton Presbytery - Kentucky Synod
[Source: Minutes of the General Assembly of the Cumberland Presbyterian Church, 1912, page 190]
1913
Name of Church: Flat Lick
Clerk of the Session and Post Office: J. I. Ellis, Weaver's Store, Tenn.
Minister in Charge: J. R. King
Total of Members: 130
S. S. Superinentdent: I. H. Pryor
S. S. Secretary and Address: W. N. Burns, Lafayette, Ky.
Princeton Presbytery - Kentucky Synod
[Source: Minutes of the General Assembly of the Cumberland Presbyterian Church, 1913, page 239 & 265]
To Be Continued
---
Flat Lick Cumberland Presbyterian Church Cemetery
---
Updated February 6, 2012
Please Send Additions/Corrections to the Archives
HOME