Eugene
Cumberland Presbyterian Church
Eugene, Lane County, Oregon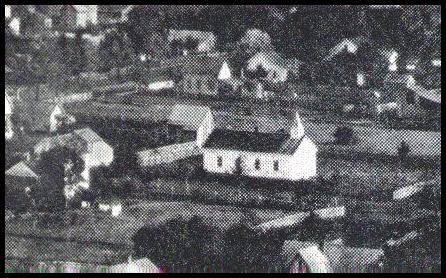 Cumberland Presbyterian Church--erected 1857. Taken from a panoramic photo of 1876.
---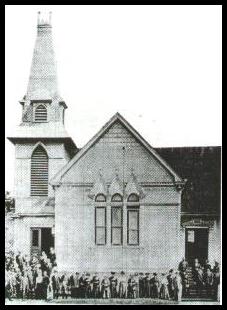 Second building of Cumberland Presbyterian Church--dedicated 1890, in time for meeting of Cumberland Presbyterian General Assembly--S. E. corner Sixth and Pearl. This building was torn down Arpil 1955.
---
CUMBERLAND PRESBYTERIAN CHURCH OF EUGENE
The earliest ancestor of Central Presbyterian Church in Eugene was a congregation of the Cumberland Presbyterian Church.
The Eugene congregation of this church was organized by the Rev. Jacob Gillespie on Sunday, June 19, 1853. Its first services were held in an old schoolhouse in what is now the Willakenzie area. The following members were in attendance as Charter Members: Jacob Gillespie and his wife Amelia, Polly B. Young, Agnes L. Gillespie and Permelia Gillespie (all three daughters of Jacob Gillespie), William A. Masterson, Eliza Masterson, Alexander A. King, and Verlinda McAlexander. The services were conducted by the Rev. Gillespie and Mr. Masterson was ordained a ruling elder.
Gillespie and his flock purchased a lot on the S. E. corner of Sixth and Pearl, from Eugene and Mary Skinner for $50.00 on August 23, 1856. Immediately, the church began the construction of a simple building. Jacob Gillespie who had paid for the land also stood most of the construction cost and helped in the building work with his own hands. The building was finished during the summer of 1857 and dedicated in September during a meeting of Presbytery, the dedication sermon being preached by Rev. Josephus A. Cornwall. Although not a large structure, early photographs of Eugene are dominated by this, its first, house of worship.
The church had a simple steeple and for it Gillespie purchased a bell in 1859 or 1860. Recent research has shown that this 20 inch cast steel bell, now the property of the Central Lutheran Church, is a very early example of English bell-casting in steel.
Since Cumberland Church had the only house of worship in Eugene at the time, several other congregations used it. Other denominations using the building did so on a staggered schedule, sometimes on alternate Sundays. Civil War tensions, which were marked in Oregon could have accounted for the suspension of Cumberland services in town during at least part of the period 1865-76. (They were moved back to the Bogart School.) Cumberland was predominately a Southern church, but, like the border states in which it arose, tended to be a house divided.
By 1889 the Church was again flourishing in its Eugene building and a new construction program was underway. The new church was designed by W. T. Campbell, the first man in Eugene to hang up a shingle reading "Architect." He designed it in Queen Anne Style with elaborate shingle work. Structural framework of hand-hewn beams and stone piers from the old building were incorporated into the rear portion of the new one. Services were held for the first time in the new church on Sunday, August 17, 1890. The cost of the structure was $4,144.13.
In June 1906, the Cumberland Presbyterian Church merged with the First Presbyterian to become "Central Presbyterian." This was a local manifestation of a movement throughout the country which reunited many-but not all-Cumberland congregations with the main body of the Church. On July 19, 1907, the Cumberland Church building was sold and a bit later occupied by United Lutheran Trinity Church which held services there until its new building was completed near the University of Oregon campus after World War II. In April 1955 this second building, elements of which dated from 1857, was torn down after 98 years of continuous use as a house of worship.
[Source: "Central Presbyterian Church, 1855-1955." Compiled and arranged by a Historical Booklet Committee. Eugene, Oregon, May 5, 1955, page 19]
---
Page Last Updated on April 29, 2002
Please send Corrections/Additions to the Archives
HOME
---